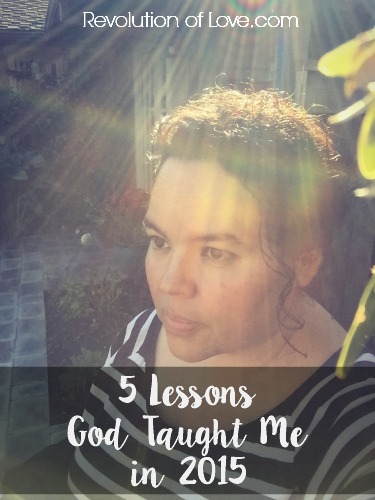 For other 2015 Recap posts:
2015 Recap (Part 1): Entertainment & Social Media Faves of the Year
2015 Recap (Part 2): 5 Lessons God Taught Me in 2015
2015 Recap & Link-up: 2015 in 12 Photos
2015 Recap (Part 4): Top 10 Posts of 2015
* * *
2015 has been a year of personal growth for me. 2013 and 2014 were years of survival and living with the cross of Brian's cancer. Now that Brian is cancer free this year, God has been able to spend a little more time teaching me a few things. I'm not exactly the easiest student, being so hard headed and stubborn at times but God's grace has always been my salvation. And I wouldn't say that I have these lessons mastered… it's more like I am aware and working on them.
Here are the highlights.
I Am the Daughter of a King
In April I went to my first alone trip away in decades. I drive down to SoCal to attend the Catholic Women's Blogging Conference. I was soo excited but as the dates got closer I seriously thought I would not be able to do it since my FIL was not doing well and doubts were filling my mind about meeting friends that have only known me through the screen. What if they meet me and think I'm weird or too old or too fat or too loud or too quiet or too whatever… Normally I am happy and ready to give someone a smile and a hug but sometimes feelings of inadequacy creep in and instead of participating in a group conversation I'll just smile and nod. My mind will want to respond with a story or something that happened to me and instead I'll hear a voice that says, "That's so dumb. No one wants to hear that story. It's best you just keep quiet." It doesn't happen all the time but when it does I feel like an introverted extrovert. So I worried that those negative thoughts would make me spend the weekend sitting quietly in the corner.
I spent Friday meeting up with some favorite bloggers for dinner and a movie. Then on Saturday I attended the first day. I truly had a wonderful day, learned so much and loved meeting other bloggers face to face but by the evening I was not feeling well physically and doubts started creeping up on me again. After the group dinner I called it a night and went to bed.
By Sunday morning I woke up feeling better. As I was taking a shower I was thinking about all the things I had learned on Saturday. I also kept thinking about the movie we watched Friday night – Little Boy. The premise of the whole storyline was the Scripture, "If you have faith the size of a mustard seed, you will be able to say to this mountain, 'Move from here to there,' and it would move. Nothing would be impossible for you." (Matthew 17:20)
God was speaking to my heart, that I may feel as small and insignificant as a tiny mustard seed in the grand scheme of things, but when I put my faith and trust in him, when I let go of fear and choose love, joy and courage, then He can do miraculous things. I may never see them but I can trust that the Holy Spirit will take care of everything. I just need to keep myself docile in His hands.
All weekend I kept hearing the message over and over in my head, "God wants to use your voice. God desires your gifts. You have a special place in God's plan…"  Tears started running down my face. As much as I mess up and despite all my shortcomings, God sees me as his beautiful daughter. He sees someone made in his image. He sees what I could accomplish if only I'd let go of the chains that bind me down.  It is hard to see myself like that but God is slowly peeling back the layers. He is showing me the rotten that needs to be cut out and the good that needs to be nurtured so it can bloom. It is scary as all hell but also liberating! Blessed be God. 🙂
To read the full post about my weekend, visit here.
* * *
Listen to the Holy Spirit When He Nudges You
I remember many years ago listening to a priest give a talk about the Holy Spirit. He said that the HS will often prompt us to do something, usually to help another person. Maybe something will pop into your head, such as – I should give so-and-so a call or I should offer that lady in the grocery story some help or I should tell that struggling young mom at school that despite what she may feel, she is doing an awesome job. The priest said that often these kind of things comes from the Holy Spirit. It really made me think about how we are Jesus' hands and feet. We are the ones who are called to share his love with others.
There are many times when I get these kind of ideas in my head. My first reaction is, "Yes! That would really be a kind thing to do." My second reaction is to think, "Yeah, but I'm kinda busy or that person is going to think I'm crazy if I go up and talk to them." I either procrastinate so long that the opportunity is gone or I just plain chicken out. Lately, I've been trying to listen to this little prompts in my head. I do a quick "test" of the action. Will it cause me harm? That eliminates prompts like, "Maybe I should pick up that scary looking hitchhiker on the side of the road." Um, no. Is it safe and doesn't take me away from my immediate duties? For example, I think I should bring over soup to a sick friend but I have to pick up my kids from school. Instead I make plans to bring the soup after I pick them up. Other spur of the moments ideas can be done right away – like offering a word of encouragement to someone. The only thing I may harm is my pride if I am rebuffed.
For example, on Mother's Day we were at Mass and we had the usual mothers' blessing. All the moms were asked to stand up and after the priest blessed us the ushers went around and handed us little angel pins as a gift. I noticed that there was one older mom/grandma standing on the opposite side of the aisle from me that was mistakenly overlooked. I felt bad for her and thought that I should go over there and give her my pin. My mind answered, "Wait, what? I can't just walk over to a stranger. She's not going to care about some pin. That's silly." But the thought would not go away so as soon as the priest walked passed me during the procession, I went over to her and told her that I noticed she didn't get a pin and I didn't want her to think she was forgotten so please take mine. She said she didn't want to take mine but I told her not to worry because there are more in the back of church and I'll get another. She looked at me and smiled and then gave me a big hug and said thank you. (I'm getting teary eyed just recalling that look on her face.) It was the simplest of gestures but for that woman, it was what she needed to hear just then. So the next time you get a little prompt from the Holy Spirit, take it to heart. God may need you to be his hands and feet at that moment.
* * *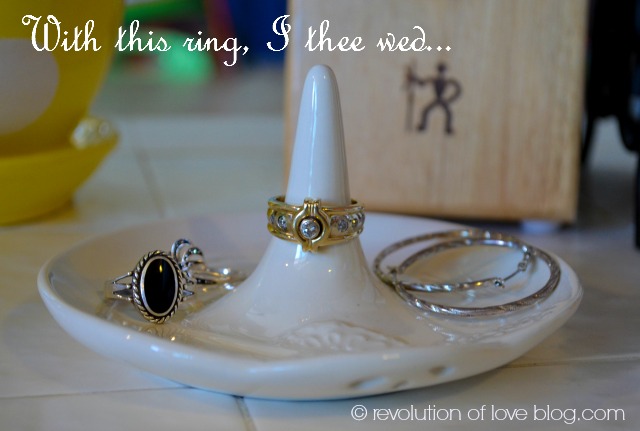 No Matter How Long You've Been Married, There Is Always Something to Learn
In February I wrote a post about 15 Lessons I've learned over the 15 years Brian and I have been married. (Make that 16 now since it was our anniversary on Monday!) Of those 15 lessons I wrote about, this one hit home the closest.
Don't expect your hubby to read your mind. 
I think this is my favorite lesson learned because I needed it so bad! I had the attitude that if Brian really knew me, I shouldn't have to say what was on my mind. He should just pick it up. Maybe it's a female thing but I think we women are able to perceive things without words being spoken. I expect Brian to be the same way and while there are moments when he and I can look at each other and read the other person' mind, when it comes to ins and outs of life, I need to spell it out. For example, when I would get mad or upset about something he'd try to comfort me and it only made me madder. (Yeah, my mom calls him a saint because he's married to me.) I finally told him straight out, "When I am mad, please leave me alone. Don't talk to me. Don't touch me. Just let me be. Then when you see that I've cooled off, please hug me and give me your comfort. At that point, your hug makes all the world right again."  He said okay and started doing just that. Since then it works like a charm! Likewise, it used to be that when I was overwhelmed and needed his help, I'd huff and puff and stew inside because he would not come over and help me automatically. Finally, I learned to just say, "Sweetheart, (or "hey!") I need some help. Can you (fill-in-the-blank) for me. He was always more than willing to help, I just had to ask.
To read the other 14 lessons, click here.
* * *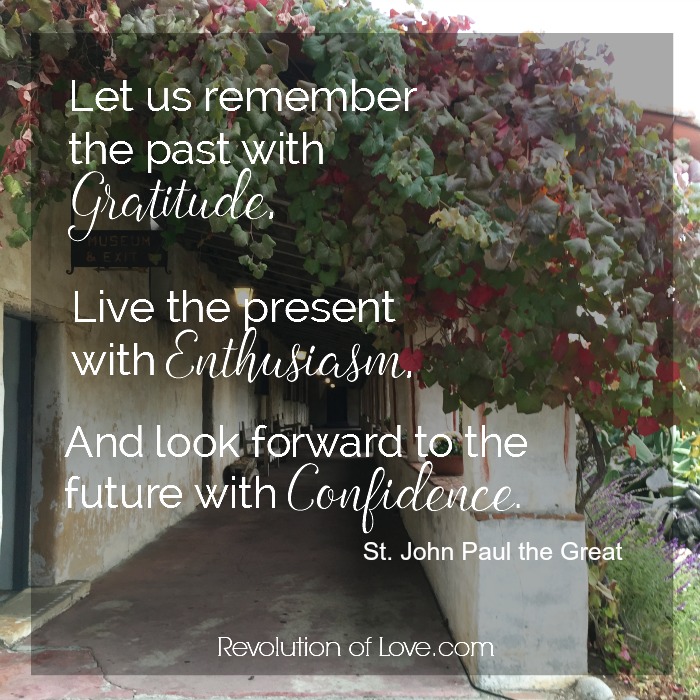 How to Live A Life of Gratitude
When Blessed Is She asked me to write a post about gratitude for Thanksgiving, I was excited since I just spent October writing 31 days of posts about gratitude. I had so much to be grateful for and I wanted to share with others ways that help me to cultivate gratitude in my life.
Many of the ways are obvious but I have always struggled with being grateful when things are going wrong or when I am carrying a heavy cross. This was a lesson that God has been teaching me for awhile but it really started making sense recently. Here is a snippet of the post Living A Life of Gratitude that appeared at Blessed Is She.
God Can Take It
There will be times in life when we are carrying a cross so heavy that gratitude feels out of our reach. I experienced this when Brian had cancer two years ago. There were days when the last thing I wanted to do was to be thankful. The love of my life was undergoing surgery and chemo and thoughts of his possible death wouldn't leave the back of my mind. Besides worrying about him, I had the added stress of caring for the kids and the household by myself.
There were moments when I just wanted to shake my fists at God and yell at Him for letting this happen. I remember my mom telling me to ahead and have it out with God. She said to yell into my pillow and get it out of me. Afterwards I was to pick myself up, take a deep breath and leave it at His feet because I had work to do and couldn't let myself get sucked into a 24/7 pity party. I followed her advice. After I let it go and surrendered myself, God showed my heart all the moments that He was taking care of me. He showed me how family and friends pulled together to help us in countless ways. He showed me "coincidences" that made our cross a little easier to carry. Suddenly I was realizing that I had so much to be grateful for. He had not abandoned me, rather, he was giving me, Brian and the kids all the things necessary to get through this crisis. (Thankfully, we got through the crisis and Brian is well now.)
To read the rest of the post, click here.
* * *
A Change in Perspective Turns the Mundane Moments into a Blessed Life
If you read my Christmas letter, then you already know this lesson. It is easy to look around and think that you aren't accomplishing much in comparison to others or that a mom's life is anything but glamorous. However, with a change of perspective, I can see that all those mundane moments are actually proof of what a blessed life I have.
What did this year look like?
There were countless dishes in the sink and laundry that multiplied when I was not looking. However, it meant that we had food to eat and warm clothes on our back.
There were the usual toys, markers and Legos on the floor that required Jedi like reflexes not to damage your feet when walking barefoot. However, there were also proud moments when a child showed me what he built or the picture she drew and their creativity gave me a glimpse at their burgeoning talents.
There were incredibly loud noise levels reached when all three boys (and their father) had light saber battles or played football in the hallway. However, the sound of their giggles and contagious laughter couldn't help but make me smile.
There was the driving – so much driving – to and from school, picking up kids on three different school schedules and the countless after school appointments and activities. However, there were those moments when a child saw me after school and his face lit up as he ran to me with open arms yelling, "Mommy!" It melted my heart every time.
There were meals to cook, toilets to scrub, work to be done, family to visit and deadlines to meet. However, I was paid above and beyond when a daughter placed her arms around me and rested her head on my shoulder, when a father-in-law kissed my cheek and thanked me for visiting him, when a reader sent a note of thanks or when my husband told me he loved me (even when I knew I drove him crazy at times.) Those are the moments that make life seem not mundane but blessed. Those are the rewards that make my heart light and give me strength when I am tired. Those are the times when I ask God to forgive my selfishness and for taking things for granted. That's when I ask for the grace of gratitude.
* * *
What lessons had God taught you this year?? Do share!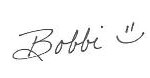 PS – You can follow RoL on Bloglovin, Feedly or another news feed. If you are a social media fan like me, we can stay in touch through Facebook, Twitter, Instagram, Pinterest, Periscope or Katch (past Periscopes), GoodReads, Letterboxd, or Spotify, 😉