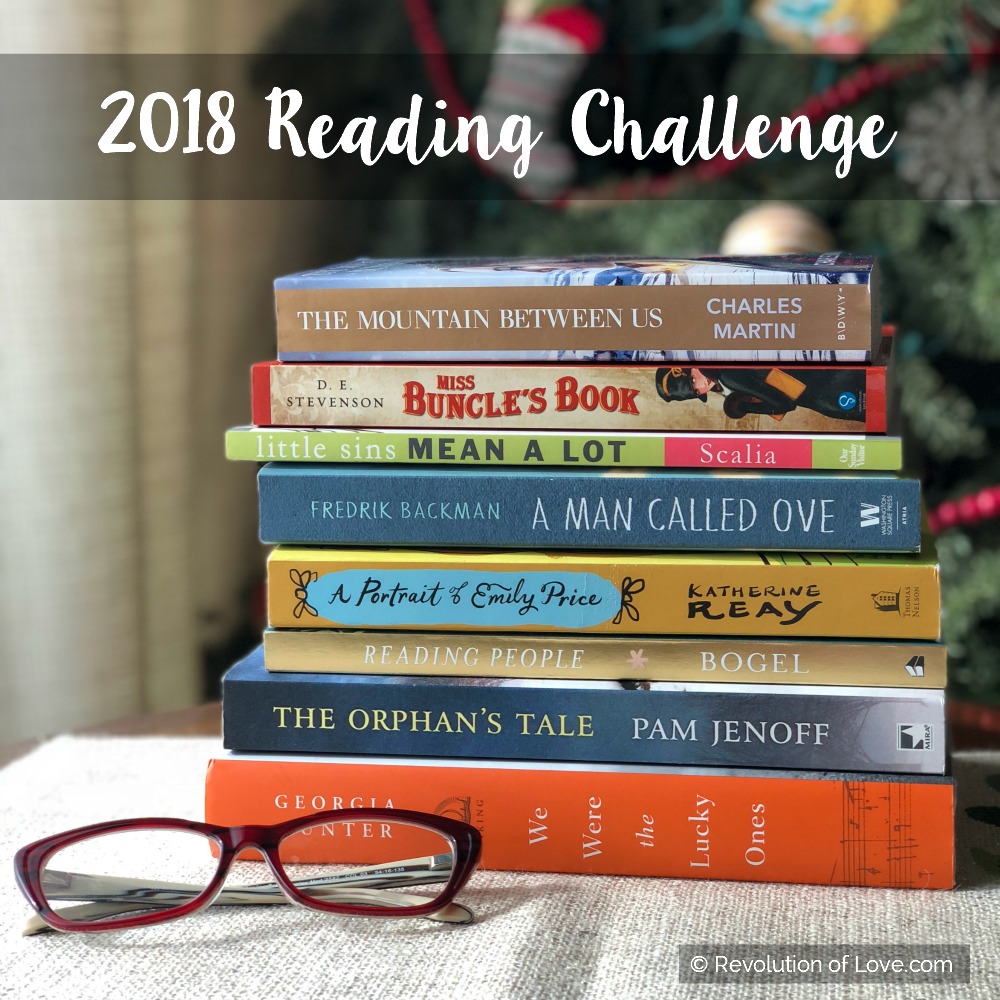 Happy 2018!! I hope you have been enjoying a wonderful beginning to the new year. After much celebrating and feasting, I am ready to sit down and review some of my goals for 2018. I signed up for the 2018 Goodread's Reading Challenge, pledging to read 30 books this year. I will also use the 2018 Modern Mrs. Darcy Reading Challenge to help me pick books from various categories. I already have a number of books on my TBR list that would fit nicely!
(NOTE: Revolution of Love is a participant in the Amazon Services LLC Associates Program, an affiliate advertising program designed to provide a means for sites to earn advertising fees by advertising and linking to Amazon.com.
I purchased these books on my own OR read them for free through Amazon Prime's Prime Reading OR through my subscription to Amazon's Kindle Unlimited service OR from my local library's Overdrive.)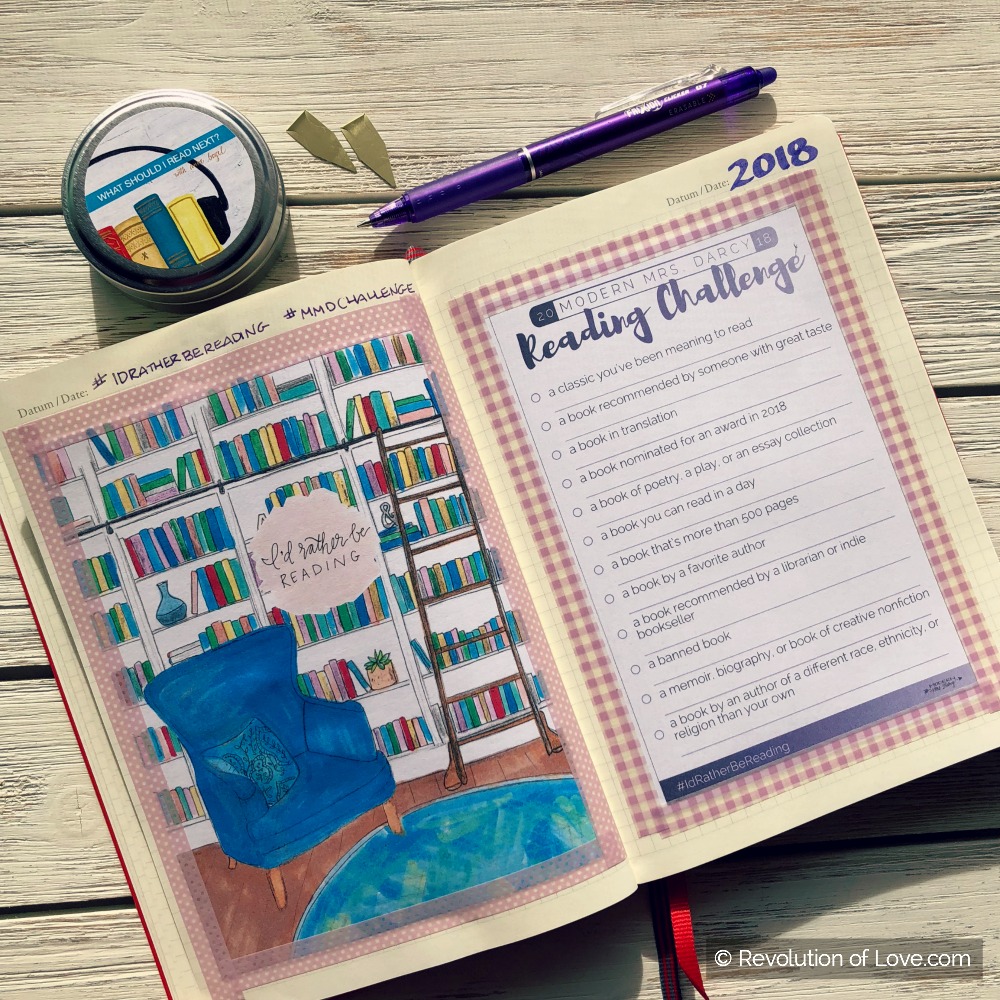 I am thinking that I will read Gone with Wind for a classic I've been meaning to read (although that may also be good for the book with more than 500 pages) and We Were the Lucky Ones for a book recommended by someone with great taste. There are just so many books I want to read and it is hard to choose which ones to read first!
Review of 2017's Book Reading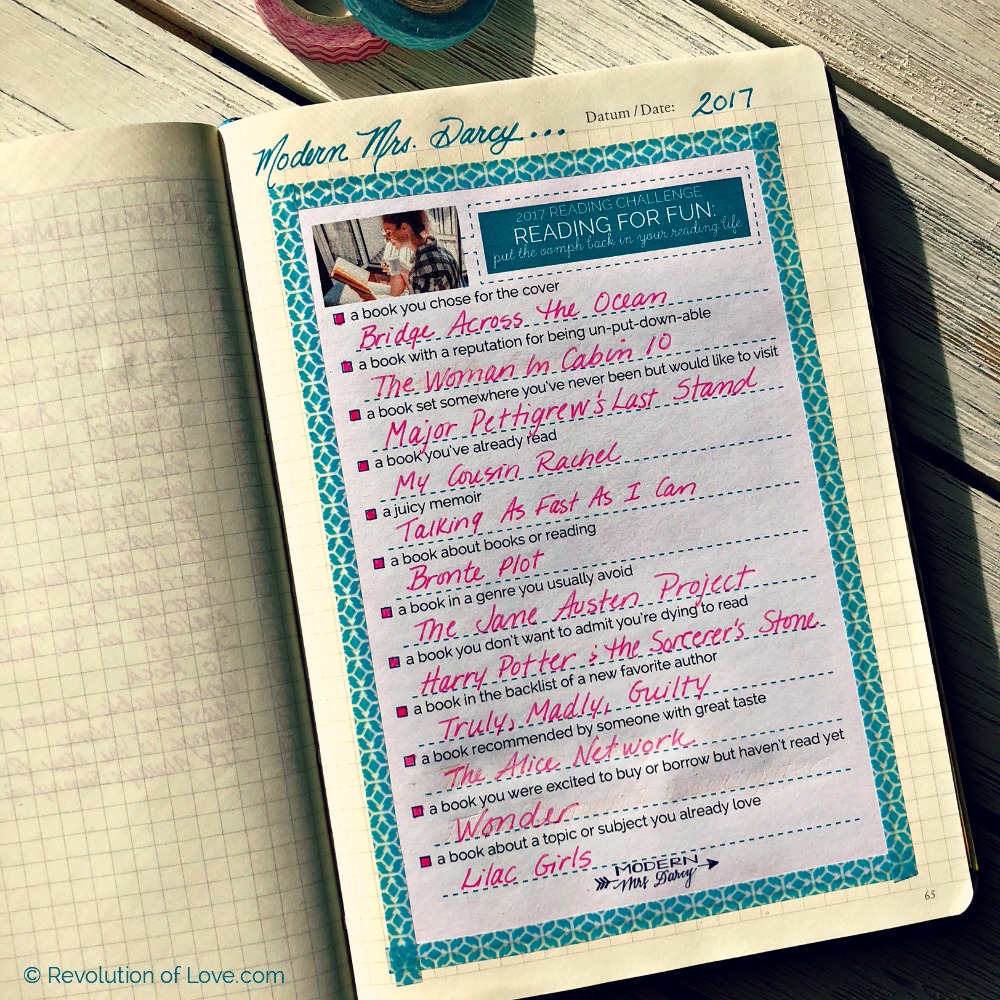 Now a review of last year's challenges. In 2017, I completed the Modern Mrs. Darcy's Reading Challenge.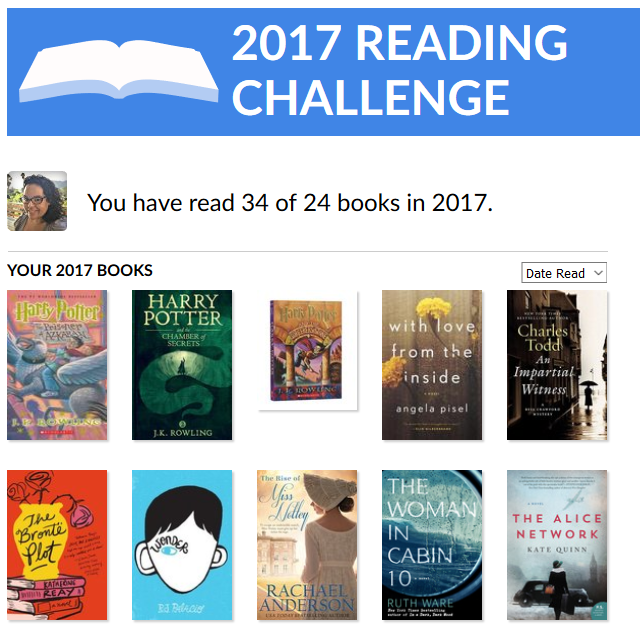 I also completed my Goodread's Reading Challenge by completing the 24 books I pledged, plus ten more. Since I never got a chance to finish reviewing the books I read in 2017 before the year end, I'll review the books I read from July to December below. Maybe you'll want to add one of these to your 2018 Reading List. 🙂
Author: Kate Morton
Length: 512 pages
Publisher: Washington Square Press; Reprint edition (June 7, 2016) Originally published in October 2015.
Amazon Summary:
From the New York Times bestselling author of The Secret Keeper comes a "moody, suspenseful page-turner" (People, Best Book Pick) filled with mystery and spellbinding secrets.
Living on her family's idyllic lakeside estate in Cornwall, England, Alice Edevane is a bright, inquisitive, and precociously talented sixteen-year-old who loves to write stories. One midsummer's eve, after a beautiful party drawing hundreds of guests to the estate has ended, the Edevanes discover that their youngest child, eleven-month-old Theo, has vanished without a trace. He is never found, and the family is torn apart, the house abandoned. Decades later, Alice is living in London, having enjoyed a long successful career as a novelist. Miles away, Sadie Sparrow, a young detective in the London police force, is staying at her grandfather's house in Cornwall. While out walking one day, she stumbles upon the old Edevane estate—now crumbling and covered with vines. Her curiosity is sparked, setting off a series of events that will bring her and Alice together and reveal shocking truths about a past long gone…yet more present than ever.
A lush, atmospheric tale of intertwined destinies from a masterful storyteller, The Lake House is an enthralling, thoroughly satisfying read.
My Thoughts:
It seems like lately many of the books I've been reading have two story lines that are intertwined by flashback. It can be interesting but confusing. I sometimes have to jot down notes about characters so I can keep straight who was who. The Lake House followed this same format with flashbacks and two stories. However, there was such intrigue that I had to keep turning the pages to figure out what happened. Although I was pleased overall,  I was also surprised at how neatly all the loose ends were tied, not to mention that a "coincidence" was reminiscent of a Hallmark movie. I hadn't expected that. But it hasn't stopped me from adding one of Morton's other novels The Secret Keepers to my reading list. I rate it 4 out of 5 stars. (Parental warning: Some adult content and language but nothing graphic.)


Author: Kathleen A. Flynn
Length: 384 pages
Publisher: Harper Perennial (May 2, 2017)
Amazon Summary:
London, 1815: Two travelers—Rachel Katzman and Liam Finucane—arrive in a field in rural England, disheveled and weighed down with hidden money. Turned away at a nearby inn, they are forced to travel by coach all night to London. They are not what they seem, but rather colleagues who have come back in time from a technologically advanced future, posing as wealthy West Indies planters—a doctor and his spinster sister. While Rachel and Liam aren't the first team from the future to "go back," their mission is by far the most audacious: meet, befriend, and steal from Jane Austen herself.
Carefully selected and rigorously trained by The Royal Institute for Special Topics in Physics, disaster-relief doctor Rachel and actor-turned-scholar Liam have little in common besides the extraordinary circumstances they find themselves in. Circumstances that call for Rachel to stifle her independent nature and let Liam take the lead as they infiltrate Austen's circle via her favorite brother, Henry.
But diagnosing Jane's fatal illness and obtaining an unpublished novel hinted at in her letters pose enough of a challenge without the continuous convolutions of living a lie. While her friendship with Jane deepens and her relationship with Liam grows complicated, Rachel fights to reconcile the woman she is with the proper lady nineteenth-century society expects her to be. As their portal to the future prepares to close, Rachel and Liam struggle with their directive to leave history intact and exactly as they found it…however heartbreaking that may prove.
My Thoughts:
I chose this book for the 2017 Modern Mrs. Darcy's Reading Challenge category – "A book in  a genre you usually avoid." For me, that would be fantasy.
I really, really wanted to love this book and although I liked it, I didn't love it. I had no problem with the concept of time travel and I found it fascinating to imagine what life was really like during the time of Jane Austen. What bugged me was Rachel's modern personality and having to read her opinions on sex, birth control and the like. It was not in-your-face or anything but it just rubbed me the wrong way. Besides that, it was enjoyable read, particularly for a category I don't usually give much time. I rate it 3 out of 5 stars. (Parental warning: Some adult content but nothing too graphic.)


Author: Kate Quinn
Length: 528 pages
Publisher: William Morrow Paperbacks (June 6, 2017)
Amazon Summary:
In an enthralling new historical novel from national bestselling author Kate Quinn, two women—a female spy recruited to the real-life Alice Network in France during World War I and an unconventional American socialite searching for her cousin in 1947—are brought together in a mesmerizing story of courage and redemption.
1947. In the chaotic aftermath of World War II, American college girl Charlie St. Clair is pregnant, unmarried, and on the verge of being thrown out of her very proper family. She's also nursing a desperate hope that her beloved cousin Rose, who disappeared in Nazi-occupied France during the war, might still be alive. So when Charlie's parents banish her to Europe to have her "little problem" taken care of, Charlie breaks free and heads to London, determined to find out what happened to the cousin she loves like a sister.
1915. A year into the Great War, Eve Gardiner burns to join the fight against the Germans and unexpectedly gets her chance when she's recruited to work as a spy. Sent into enemy-occupied France, she's trained by the mesmerizing Lili, the "Queen of Spies", who manages a vast network of secret agents right under the enemy's nose.
Thirty years later, haunted by the betrayal that ultimately tore apart the Alice Network, Eve spends her days drunk and secluded in her crumbling London house. Until a young American barges in uttering a name Eve hasn't heard in decades, and launches them both on a mission to find the truth…no matter where it leads.
My Thoughts:
I chose this book for the 2017 Modern Mrs. Darcy's Reading Challenge category – "A book recommended by someone with great taste."
I have mixed feelings about this book. A part of me really enjoyed it and there were sections where I could not turn the pages fast enough. However, I found the story of Eve far more fascinating than Charlotte. When a character acts a certain way or makes certain choices I like to try to understand where they are coming from and what moves them to act in such a way but I was having a hard time with Charlotte, especially with her behavior towards Finn. However, as the story progressed, as she accepted responsibility for "her little problem" and as she tried to reason with Eve and her final decisions I felt myself more sympathetic towards her.
Eve, on the other hand, was interesting from the get go. When you got past the shock of her harsh exterior and foul mouth, you then witnessed her story as a young, innocent girl who was tested through unimaginable circumstances and harrowing situations.
My only other problem with the story is reading it from a Christian worldview. I was torn between wanting to see justice done to the main villain but when does justice become revenge? What acts are justified and what acts are evil in and of themselves, no matter how honorable the intention. It definitely left me pondering afterwards.
With that said, I still really enjoyed the book and was glad that I read it. I rate it 4 out of 5 stars. (Parental warning: Language, adult content and violence, particularly a torture scene.)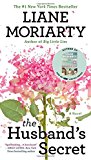 The Husband's Secret 
Author: Liane Moriarty
Length: 496 pages
Publisher: Berkley; Premium edition (June 27, 2017)
Amazon Summary:
At the heart of The Husband's Secret is a letter that's not meant to be read…
My darling Cecilia,
If you're reading this, then I've died…
Imagine your husband wrote you a letter, to be opened after his death. Imagine, too, that the letter contains his deepest, darkest secret—something with the potential to destroy not only the life you built together, but the lives of others as well. And then imagine that you stumble across that letter while your husband is still very much alive…
Cecilia Fitzpatrick has achieved it all—she's an incredibly successful businesswoman, a pillar of her small community, and a devoted wife and mother. But that letter is about to change everything—and not just for her. There are other women who barely know Cecilia—or each other—but they, too, are about to feel the earth-shattering repercussions of her husband's secret.
My Thoughts:
First, I enjoy Moriarty as an author but I must use my reading book journal to keep notes of all the characters and how they tie into one another. Her books often have numerous story lines going on at once and eventually they will collide. This one was not different. It is equally frustrating (at the beginning to keep everyone straight) and intriguing knowing that a big reveal is coming.
Second, she has a hit and miss record with me. I loved Big Little Lies, enjoyed What Alice Forgot and didn't care for Truly, Madly, Guilty. I have mixed feelings about The Husband's Secret. I enjoyed the premise of the book and surprisingly, the letter was revealed relatively early in the story. The intrigue came with how the contents affected various characters in the story. I found it interesting to put all the pieces together.
However, the main husband and wife are described as Catholic and the most religious in their group of friends. Well, that statement only works if you consider someone who doesn't go to church or live the faith at all, a Catholic. It started feeling ridiculous. Is this really what the author thinks about Catholics? I would have made more sense if the characters were agnostics who didn't follow any faith. Or at least to call them lapsed or simply cultural Catholics. To some, it will not matter at all. To me, it was like nails on a chalkboard.
For that, and an ending that seemed a little contrived, I rate it 3 out of 5 stars. (Parental warning: Some adult content and bad portrayal of Catholics.)


A Duty to the Dead: A Bess Crawford Mystery
Author: Charles Todd
Length: 352 pages
Publisher: William Morrow Paperbacks; Reprint edition (August 17, 2010)
Amazon Summary:
Charles Todd, author of the resoundingly acclaimed Ian Rutledge crime novels ("One of the best historical series being written today" —Washington Post Book World) debuts an exceptional new protagonist, World War I nurse Bess Crawford, in A Duty to the Dead. A gripping tale of perilous obligations and dark family secrets in the shadows of a nightmarish time of global conflict, A Duty to the Dead is rich in suspense, surprise, and the impeccable period atmosphere that has become a Charles Todd trademark.
My Thoughts:
I was browsing the books available at my library and picked up this story. The thought is a WWI whodunit with a female protagonist sounded intriguing. I really liked the character of Bess, a nurse during WWI, with her combination of heart, spunk and determination. It was refreshing to read a book without any language, sex or material you wouldn't want your mother to read. The plot was interesting and I didn't want to put the book down until I figured out what was truly happening. The ending wasn't earth shattering but I thoroughly enjoyed reading it and checked out the next book in the series to continue the adventures of Bess. (See below.)
I rate it 4 out of 5 stars.


Author: Ruth Ware
Length: 384 pages
Publisher: Gallery/Scout Press; Reprint edition (April 11, 2017)
Amazon Summary:
From New York Times bestselling author of the "twisty-mystery" (Vulture) novel In a Dark, Dark Wood, comes The Woman in Cabin 10, an equally suspenseful and haunting novel from Ruth Ware—this time, set at sea.
In this tightly wound, enthralling story reminiscent of Agatha Christie's works, Lo Blacklock, a journalist who writes for a travel magazine, has just been given the assignment of a lifetime: a week on a luxury cruise with only a handful of cabins. The sky is clear, the waters calm, and the veneered, select guests jovial as the exclusive cruise ship, the Aurora, begins her voyage in the picturesque North Sea. At first, Lo's stay is nothing but pleasant: the cabins are plush, the dinner parties are sparkling, and the guests are elegant. But as the week wears on, frigid winds whip the deck, gray skies fall, and Lo witnesses what she can only describe as a dark and terrifying nightmare: a woman being thrown overboard. The problem? All passengers remain accounted for—and so, the ship sails on as if nothing has happened, despite Lo's desperate attempts to convey that something (or someone) has gone terribly, terribly wrong…
With surprising twists, spine-tingling turns, and a setting that proves as uncomfortably claustrophobic as it is eerily beautiful, Ruth Ware offers up another taut and intense read in The Woman in Cabin 10—one that will leave even the most sure-footed reader restlessly uneasy long after the last page is turned.
My Thoughts:
I chose this book for the 2017 Modern Mrs. Darcy's Reading Challenge category – "A book with the reputation of being un-put-down-able."
It seems that whenever I read a modern day mystery, the female lead tends to be alcoholic, an emotional wreck and/or barely keeping it all together. Perhaps it is done on purpose so the characters in the story will not believe them when they cry foul. That seems to be the case of Lo in The Woman in Cabin 10.  There were definite page turning moments and a twisty ending but aspects of the book were a little depressing and I couldn't get 100% into it. Maybe it was just my mood at the time and I wanted something lighter.
For whatever reason, I rate it 3.5 out of 5 stars. (Parental warning: Language and adult content.)


Author: Katherine Reay
Length: 352 pages
Publisher: Thomas Nelson (November 3, 2015)
Amazon Summary:
When Lucy's secret is unearthed, her world begins to crumble. But it may be the best thing that has ever happened to her. Lucy Alling makes a living selling rare books, often taking suspicious liberties to reach her goals. When her unorthodox methods are discovered, Lucy's secret ruins her relationship with her boss and her boyfriend, James—leaving Lucy in a heap of hurt and trouble. Something has to change; she has to change.
In a sudden turn of events, James's wealthy grandmother, Helen, hires Lucy as a consultant for a London literary and antiques excursion. Lucy reluctantly agrees and soon discovers Helen holds secrets of her own. In fact, Helen understands Lucy's predicament better than anyone else. As the two travel across England, Lucy benefits from Helen's wisdom as Helen confronts ghosts from her own past. Everything comes to a head at Haworth, home of the Brontë sisters, where Lucy is reminded of the sisters' beloved heroines who, with tenacity and resolution, endured—even in the midst of impossible circumstances. Now Lucy must face her past in order to move forward. And while it may hold mistakes and regrets, she will prevail—if only she can step into the life that's been waiting for her all along.
My Thoughts:
I chose this book for the 2017 Modern Mrs. Darcy's Reading Challenge category – "A book about books or reading."
I was eager to read this since it was by a favorite author, who often makes reference to beloved literary classics, and it was about one of my all time favorite books, Jane Eyre. Although I did enjoy the book, I still liked Reay's Lizzie and Jane more. Maybe I had a harder time connecting with Lucy, although I did enjoy how she had to work though the problems in her past, particularly with her father, and forge her own way in life. The setting of the book was interesting and I love how Reay makes reference to so many classic novels and authors and ties it into the story. So although this was not my favorite of Reay's books, it was still an enjoyable read.
I rate it 4 out of 5 stars. (Parental warning: x.)


Wonder by RJ Palacio
Author: RJ Palacio
Length: 320 pages
Publisher: Knopf Books for Young Readers; 1 edition (February 14, 2012)
Amazon Summary:
I won't describe what I look like. Whatever you're thinking, it's probably worse.
August Pullman was born with a facial difference that, up until now, has prevented him from going to a mainstream school. Starting 5th grade at Beecher Prep, he wants nothing more than to be treated as an ordinary kid—but his new classmates can't get past Auggie's extraordinary face. WONDER, now a #1 New York Times bestseller and included on the Texas Bluebonnet Award master list, begins from Auggie's point of view, but soon switches to include his classmates, his sister, her boyfriend, and others. These perspectives converge in a portrait of one community's struggle with empathy, compassion, and acceptance.
"Wonder is the best kids' book of the year," said Emily Bazelon, senior editor at Slate.com and author of Sticks and Stones: Defeating the Culture of Bullying and Rediscovering the Power of Character and Empathy. In a world where bullying among young people is an epidemic, this is a refreshing new narrative full of heart and hope. R.J. Palacio has called her debut novel "a meditation on kindness" —indeed, every reader will come away with a greater appreciation for the simple courage of friendship. Auggie is a hero to root for, a diamond in the rough who proves that you can't blend in when you were born to stand out.
My Thoughts:
I chose this book for the 2017 Modern Mrs. Darcy's Reading Challenge category – "A book you were excited to buy or borrow but haven' read yet."
I needed a complete change of pace in my reading so I picked up a book that had been sitting on my shelf for ages. A librarian friend recommended it to me and the older kids and I was looking forward to reading it but never got around to it. However, when I heard the movie was coming out I wanted to make sure to read the book first. Wonder is an easy read physically but it definitely tugged at the heart strings and I loved it. The story of Auggie was both heart breaking and life affirming. I also enjoyed reading the book from the different viewpoints of various characters. It has many lessons to learn – both as an adult and as a child – with topics ranging from bullying to treating all people (however they look) with kindness and the inherit value of all God's children, especially in a day and age when abortion is used to rid those deemed as less than perfect.
I rate it 5 out of 5 stars.


Impartial Witness (Bess Crawford #2) by Charles Todd
Author: Charles Todd
Length: 368 pages
Publisher: William Morrow Paperbacks; Reissue edition (August 16, 2011)
Goodreads Summary:
It is the early summer of 1917. Bess Crawford has returned to England from the trenches of France with a convoy of severely wounded men. One of her patients is a young pilot who has been burned beyond recognition, and who clings to life and the photo of his wife that is pinned to his tunic. While passing through a London train station, Bess notices a woman bidding an emotional farewell to an officer, her grief heart-wrenching. And then Bess realizes that she seems familiar. In fact, she's the woman in the pilot's photo, but the man she is seeing off is not her husband.
Back on duty in France, Bess discovers a newspaper with a drawing of the woman's face on the front page. Accompanying the drawing is a plea from Scotland Yard seeking information from anyone who has seen her. For it appears that the woman was murdered on the very day Bess encountered her at the station. Granted leave to speak with Scotland Yard, Bess becomes entangled in the case. Though an arrest is made, she must delve into the depths of her very soul to decide if the police will hang an innocent man or a vicious killer. Exposing the truth is dangerous—and will put her own life on the line.
My Thoughts:
I loved the first Bess Crawford book and was eager to read the second in the series. Although I read some mixed reviews, I wasn't disappointed. Some may criticize Bess' knack to find herself in the midst of a murder investigation, I didn't mind at all. I enjoyed her spirit and tenacity. I had fun unraveling the mystery. And I enjoyed learning more about her parents and Simon along the way. (I am also hoping there is more #teamsimon in book 3, which I am checking out next.)
I rate it 4 out of 5 stars.


With Love from the Inside by Angela Pisel
Author: Angela Pisel
Length: 320 pages
Publisher: G.P. Putnam's Sons; First Edition edition (August 9, 2016)
Amazon Summary:
Angela Pisel's poignant debut explores the complex relationship between a mother and a daughter, and their quest to discover the truth and whether or not love can prevail—even from behind bars.
Grace Bradshaw knows the exact minute she will die. On death row for murdering her infant son, her last breath will be taken on February 15 at 12:01 a.m. Eleven years, five months, and twenty-seven days separate her from the last time she heard her precious daughter's voice and the final moment she'd heard anyone call her Mom. Out of appeals, she can focus on only one thing—reconnecting with her daughter and making sure she knows the truth.
Secrets lurk behind Sophie Logan's big house and even bigger bank account. Every day when she kisses her husband good-bye, she worries her fabricated life is about to come crumbling down. No one knows the unforgivable things her mother did to tear her family apart—not her husband, who is a prominent plastic surgeon, or her "synthetic" friends who live in her upscale neighborhood.
Grace's looming execution date forces Sophie to revisit the traumatic events that haunted her childhood. When she returns to her hometown, she discovers new evidence about her baby brother William's death seventeen years ago—proof that might set her mother free but shatter her marriage forever. Sophie must quickly decide if her mother is the monster the prosecutor made her out to be or the loving mother she remembers—the one who painted her toenails glittery pink and plastered Post-it notes with inspiring quotes ("100 percent failure rate if you don't try") all over Sophie's bathroom mirror—before their time runs out.
My Thoughts:
This is not the type of book I would normally pick up but I borrowed a free copy and enjoyed it much more than I thought I would. The story is about Grace, a mother of two who is accused of murdering her toddler son. Now on death row, she claims that she is innocent and wants nothing more than to reconcile with her estranged daughter before she dies. It is a story of forgiveness, hope and elements of faith. It was both sad and uplifting.
I rate it 3.5 out of 5 stars. (Parental warning: Adult subject matter.)


Harry Potter and the Sorcerer's Stone  by JK Rowling
Author: JK Rowling
Length: 309 pages
Publisher: Scholastic; 1st Edition edition (September 1998)
Amazon Summary:
Harry Potter has no idea how famous he is. That's because he's being raised by his miserable aunt and uncle who are terrified Harry will learn that he's really a wizard, just as his parents were. But everything changes when Harry is summoned to attend an infamous school for wizards, and he begins to discover some clues about his illustrious birthright. From the surprising way he is greeted by a lovable giant, to the unique curriculum and colorful faculty at his unusual school, Harry finds himself drawn deep inside a mystical world he never knew existed and closer to his own noble destiny.
My Thoughts:
There is little to say about Harry Potter that you have not already heard and read before, but it's safe to say that, like yoga and leggings, people have very strong opinions on both sides. Some feel it is harmless and holds valuable lessons and others find its magical content harmful. (I've heard similar thing about the Lord of the Rings books and the Star Wars movies.) I am not here to debate the sides, simply to say that after 20 years of hearing about the stories and having numerous practicing Catholic friends talk about the virtues in the books, I wanted to read them for myself. My verdict, I loved the first and second book in the series. I didn't like the third as much and was definitely concerned about some things such as Harry's divination class. As an adult, I enjoyed that the story was filled with adventure, human drama, humor and lessons of love and self-sacrifice. However, I do see the concern about having an impressionable child read the book without guidance. So personally, although I have read them, my boys won't be reading them anytime soon.
I rate it 4 out of 5 stars. (Parental warning: Contains magic/ elements of the occult and a few scary sequences (such as the murder of Harry's parents) for the younger set. I'd only recommend this after you've read the book first and feel your child is old enough and mature enough to handle the subject matter and knows the difference between pretend magic and the dangers of "real" magic/occult practices. Otherwise, skip it. There are other great books to read instead.)

Okay, that's it for now!Want to share more books? Follow me on Goodreads.
What is a book you want to read this year?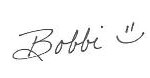 PS – You can follow RoL on Bloglovin, Feedly or another news feed. If you are a social media fan like me, we can stay in touch through Facebook, Twitter, Instagram, Pinterest, GoodReads, Letterboxd, or Spotify, 😉
Save
Save