Happy Christmas Eve! I thought I wouldn't have time for Theme Thursday but the kids are in bed but not asleep. They are filled with Christmas anticipation so who knows how long I'll have to wait. Since this Santa's helper can't get to work until they are asleep, I thought I'd make a quick post. Here are the latest #holylens photos and other Instagrams of the last two weeks.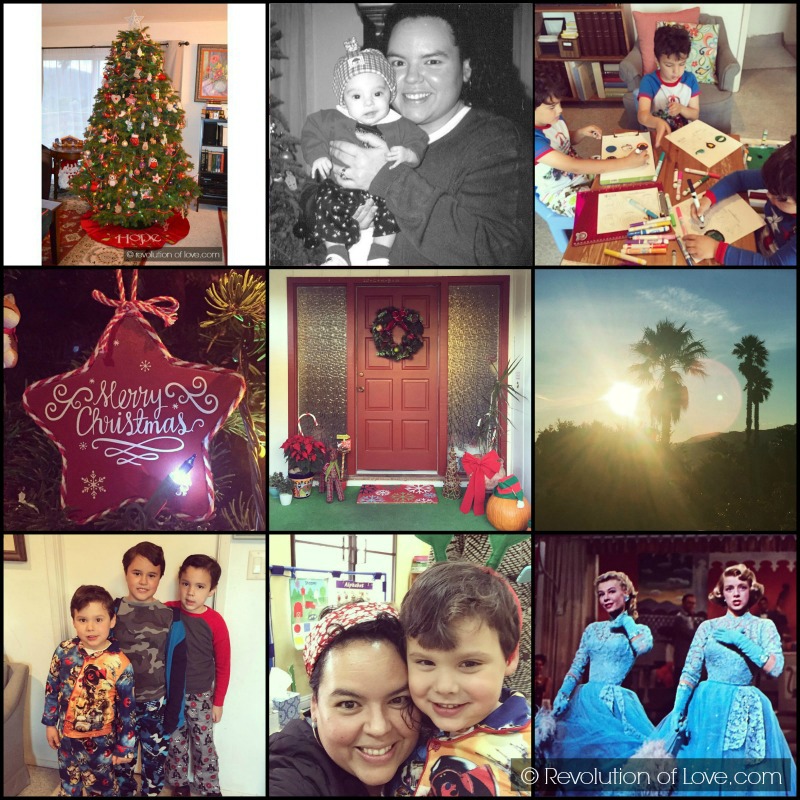 1. The TREE looked a lot smaller in the big tree lot! (Just don't mention to Brian how heavy it was to carry!) On the plus side, it fit 16 yrs of ornaments! #holylens
2. I'm feeling nostalgic, thinking about the first Christmas with my DAUGHTER fourteen years ago. #holylens
3. I could feel guilty that we are so behind on our Jesse Tree but instead I'm to going to REJOICE that the boys are quietly coloring the symbols while I read them bible stories. (The fact that they're quiet is a miracle in itself! #holylens
4. A STAR from our Christmas tree. #holylens
5. I like to CHANGE our front porch according to the season. #holylens
6. After weeks of family sickness (including my bronchial infection), yesterday's cancer testing (so far Brian is doing ok!) and general holiday/ family stress, I am ready to start a new, better day on this very chilly but gorgeous morning
7. It's pajama day, class Christmas party and last day of school for 2015. It was officially declared best day ever! (Until mom made them take this photo. Lol)
8. Attending three class parties at once wasn't easy but I did it! Now it's two weeks of vacation. Woohoo!
9. Every time I watch White Christmas I can't help but think of my sisters. I love and miss you BYM, EML, & JDC!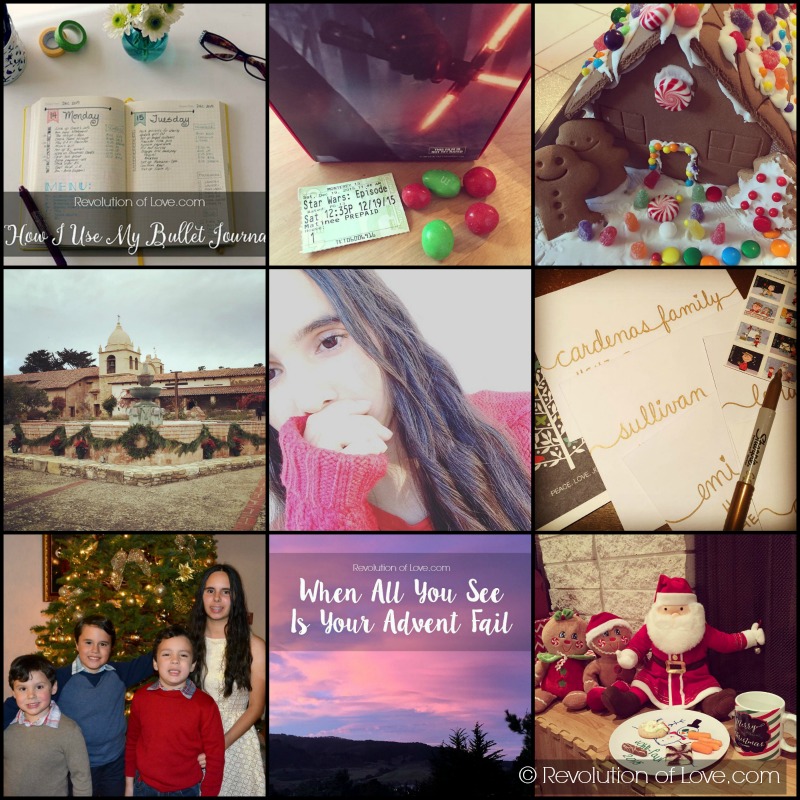 10. I love that my bullet journal lets me plan and CREATE at the same time. #holylens
11. It's an early anniversary date with my hubby to see the saga that continues to thrill GENERATIONS. Next week we take the older kiddos to experience the magic. #holylens
12. For the third year in a row our awesome babysitter made a gingerbread house with the kids while Brian and I went out for the afternoon.
13. Happy fourth Sunday of #advent!
14. Long before I was married I dreamed of having a little girl named Isabella. Today I know Bella's NAME is perfect because she's beautiful inside and out. 💕 #holylens #mamalove
15. Shall I SPEAK about one of my fave Christmas traditions – sending out Christmas cards? (I'm trying a NEW font.) The only thing more exciting is getting a card in the mail. My heart makes a little LEAP.
#tripleplaytoday #holylens
16. Even though life gets a little hectic, every day these four help me realize that I'm BLESSED. #holylens
17. I feel like a MESSENGER that's gotta ask – Do you feel like it's been an #adventfail? I did… until now. A quick message on the blog. #holylens
18. After a beautiful Christmas Eve mass at the mission, it's time to PREPARE for Jesus' party. Santa can choose the cookies or carrots. #holylens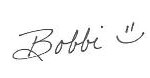 PS – You can follow RoL on Bloglovin, Feedly or another news feed. If you are a social media fan like me, we can stay in touch through Facebook, Twitter, Instagram, Pinterest, Periscope or Katch (past Periscopes), GoodReads, Letterboxd, or Spotify, 😉
(Visited 11 times, 1 visits today)