I'm sorry this recap is so late but I have been swamped with family and school activities and have not had a moment to myself to unwind with my fingers flying across the keyboard…and then going back and correct all the typos. 😉
Well, what did you think? Did you enjoy the finale?? I did, very much. Although I do have to admit that the first hour of it I was a little miffed with all the cantankerous characters. I didn't know who was going to send me to the confession box sooner – Lord Sinderby, Princess K or Mr. Stowell. Egads, what a trio! However, many of the dangling story lines were neatly tied up and numerous love connections made.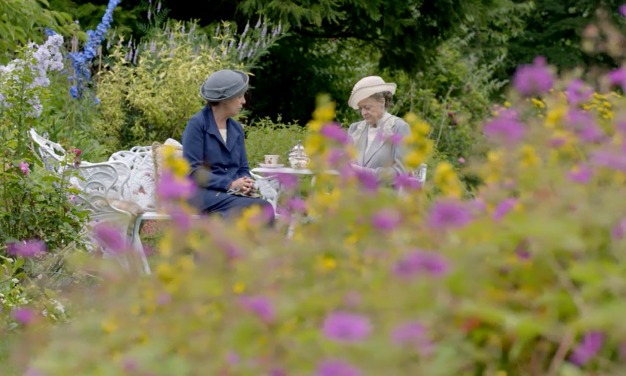 Before I get into the story lines, I have to say that I was mesmerized by the gorgeous scenery! The one scene where Violet and Isobel were in the garden and the camera pans over all the wildflowers first left me breathless. So much beauty!! Love it! But back to the show…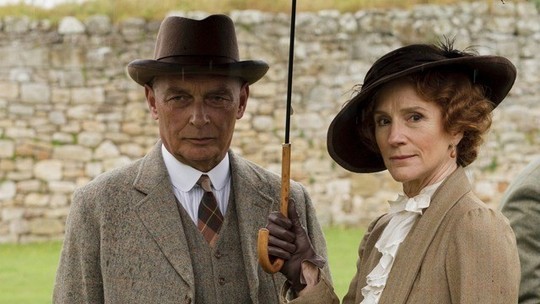 Photo Credit: ITV
Lord Sinderby and Rachel invited the Crawleys to visit them at the Brancaster Castle. (The filming took place at the Alnwick Castle. If you are a Harry Potter fan you'll recognize it as Hogarts from the first two HP movies.) Sinderby brought his own butler Stowell and, boy, is that guy a piece of work! (The actor also played the inspector in Bleak House, another fave show.) Stowell made Spratt look like a peace loving hippy. He is rude and condescending, particularly towards Thomas and Tom. Of course I love Tom and hated seeing him treated so badly but it upset me just as much to see Thomas brought low. I mean it's one thing for Thomas to be brought down a peg from the fellows at Downton because it's family. But when an outsider starts picking on one of our guys, well those are fighting words. No one messes with family.
In the end, Mary basically ordered Thomas to get even with Stowell so he concocted a scheme to get Stowell in trouble with Sinderby. However, it backfired and Thomas was humiliated in front of everyone when Sinderby called him a fool. Thomas turned his sights on getting back at Sinderby next. He cajoles Stowell, who has been drinking too much, to spill Sinderby's secrets. Well, he find out a whopper. During one of the dinners, a woman named Diana Clark and her little boy arrived unexpectedly. Sinderby nearly had a heart attack when he saw them because he's the baby daddy.
Rose saw how upset Sinderby was and she ingeniously pretended that the woman was her old friend coming for a visit. She pulled Mary and Robert into the charade and Robert's response pretty much summed up the whole situation, "Oh, crikey!" Luckily the day was saved and Atticus and his mom were spared any embarrassment. A thoroughly humbled Lord Sinderby thanked them and make amends for his harsh and intolerant behavior. Stowell was also feeling remorseful at the thought of Sinderby finding out he was the one who spilled the secret. Rose promised to keep quiet if he started being kind to Tom. Everyone leaned their lesson. For now.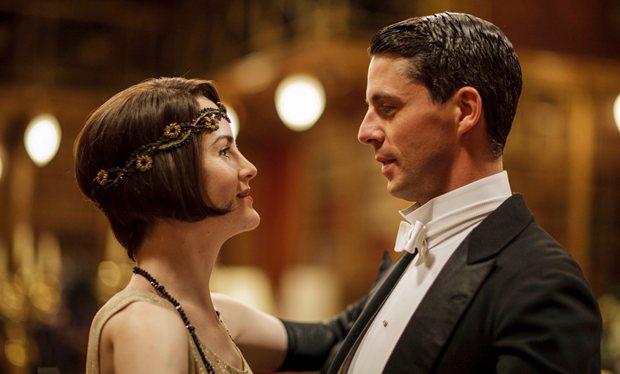 Photo Credit: Radiotimes.com
The shooting party introduced a couple of new men into the Downton world. Mary was paired up with a friend of a friend Henry Talbot. (Every time I see him though I can only think of him as Wickam from Death at Pemberley.) He is good looking and clever, as he saw straight through the Sinderby/love child charade. Although he seemed into Mary he had just enough disinterest to attract her attention. However, I don't think it was until he leaped into his "snappy chariot" and sped off that she felt her ice queen heart melt a bit. 😉 (Although I admit that the sight of the car speeding down the road was giving me Matthew flashbacks!)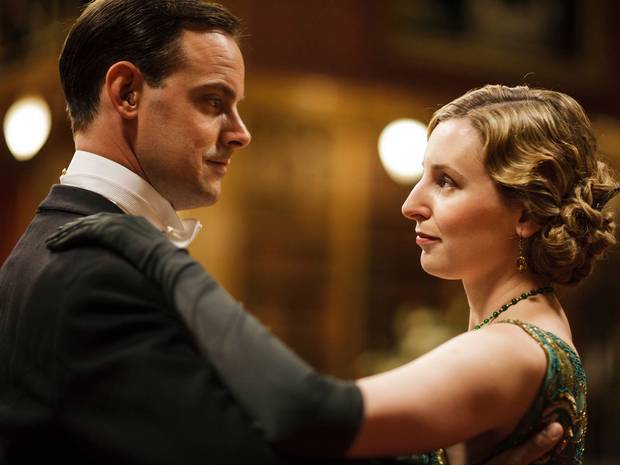 Photo Credit: ITV
Oh, Edith. How many times we have lamented her bad luck or poor choices but today we relish her happiness! Marigold has filled Edith's life with joy and laughter. The fact that she has been accepted by her father and Tom, despite her circumstances has lifted her spirits tremendously. She also seemed to have a lovely time with the agent Mr. Pelham. He is not as dashing at Henry Talbot and Atticus admits that they all "feel a little sorry for him." Frankly, he sounds like a guy version of Edith. 😉 It'll be interesting to see if he shows up again next season.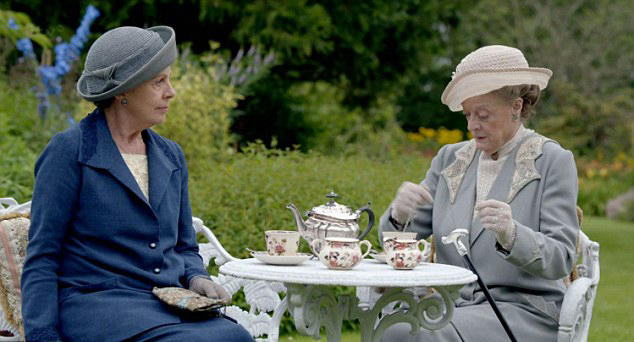 Photo Credit – ITV
Meanwhile, Our Queen of Quips, Violet, was spewing out the one liners faster than I could write them in my notes! Plus, we finally got to meet the infamous Princess K. I'll admit that during the last episode I started suspecting that something was amiss with Prince K because he kept insisting that he and Violet run away together. As desirable as Granny may be, I thought he may be a gold digger or something. However, now that I've met his wife I can see why he's trying to ditch her. (I don't condone it but I understand it.) She wasn't exactly a Suzy Sunshine. No matter how Violet tried to help or whenever any positive remark that was made, she zapped it down with a negative remark. Finally she excused herself for the night and Prince K made one last ditch effort to lure Violet. (Maybe he would have had a chance had he cut his hair. Despite being a handsome man and being dressed up, he still managed to look somewhat greasy.)
Violet turned him down but we did learn the story behind their love affair. Picture Violet as young woman, perhaps like Mary full of spirit and spite. She fell madly in love with Prince K and she abandoned her husband and two children to run away with him. The Princess found out their scheme and was in hot pursuit of them. She caught up to them and literally pulled Violet out of the carriage with her husband and threw her into the another carriage to take her back  home. Since then, Violet has (perhaps begrudgingly) credited the Princess with saving her marriage and her life as she knows it. Although, it seemed that Violet's heart did hurt at having to turn the Prince away a second time in her life.
Speaking of heartbreak, Isobel was also unlucky in love. She tried one last ditch effort to get Lord Merton's son Larry on board for the marriage. He wrote Isobel a letter that basically said he would when hell freezes over. Not willing to marry into a family that does not want her, Isobel decided to break it off with Lord Merton. I really did feel bad to him. I have grown very fond of him and would have liked to them happy together. In the end Violet pointed out that the Doc would be happy to find out they aren't getting married. Hearing Granny's gleeful giggle at the joke made me laugh out loud.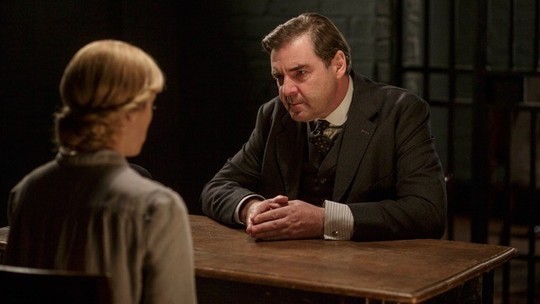 Photo credit – ITV
I will spend as little time as possible on this storyline since it only causes me to get upset when I think about how this whole thing has dragged on tediously and taken turn and leaps that make absolutely no sense, even for a soap opera. In a nutshell, Anna is still in jail. Mary visited. Granny said a hilarious zinger about Mary visiting. "New evidence" cropped up against Anna. We learned that when she was young, her step-father molested her. In defense, she cut him with a knife. Therefore, it will be argued that it is in Anna's nature to kill a man. Anna's lawyer is useless. My brain exploded over all this. Bates decided to sacrifice himself. He confessed to the murder and fled to Ireland. Anna is released. Moseley decided to help prove Bates is innocent by finding the pub he visited. I scratched my head over this because even if he is proven innocent, wouldn't Anna just go back to jail? Mr. Murray, the lawyer, summed it up best, "It is a very frustrating situation."
However, my concern is alleviated by the fact that Baxter paired up with Moseley to help him on his mission. I danced a little jig. Moseley and Baxter are successful. They found the pub. Bates is proven innocent. Anna is allowed to stay home for now. The witness was confused once again. Maybe it wasn't a burly man with or a petite woman but actually a zombie ghost. My eyes roll. Anna stood teary eyed during the Christmas festivities. Bates sneaks up on her and wishes her a Happy Christmas. They move into another room and kissed. The door mysteriously closed behind them. Most likely, the work of the zombie ghost. I try to be happy and swoon over their reunion. I can't, not until this whole ordeal is behind them. Boo.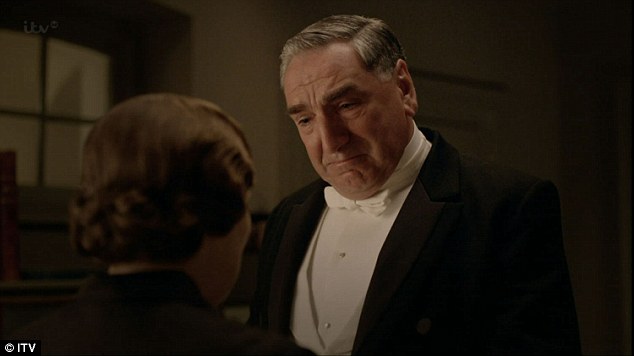 Photo Credit – ITV
Well, whatever ill feelings that may have left in me, they were long forgotten when I think of the love birds Mr. Carson and Mrs. Hughes spend their free time looking at prospective properties for them to purchase together. When Carson make a decision about one Mrs. Hughes finally explained to him why she could not partner with him. She has a sister that is mentally unstable and since her mother died, Mrs. Hughes has been paying for her care. She has no money for retirement, and in honesty, she never can retire. I believe this news spurs the smitten Carson to finally act upon his feelings towards Mrs. Hughes. He confesses his love for Mrs. Hughes and asked her to marry him. Brian just shook his head as I was AWWWW-ing all over the place but it was so sweet. There may not have been a kiss shared but the look on Carson's face was priceless. Now if we can just get Baxter and Moseley walking down the aisle, we'll be set. 🙂
The final Christmas Eve scene was filled with sweetness and a touch of humor as Robert had more than just a nip of sherry. It was a wonderful way to end a great Season 5 of Downton.
Favorite Quotes (There were lots!)

Violet (Regarding Mary visiting Anna in jail): "Did she take a cake with a file in it?"
Robert: "I don't know why you are making such a fuss, Mama. You'd visit Denker if she were locked up."
Violet: "Only to check if the locks were sound."
Violet: "Oh, you know me. Never complain. Never explain."
Edith: "You don't usually have much trouble complaining."
Bates: "I'd cut my arm off if I thought it would do any good."
Thomas: "Oh, I don't think that would be sensible, Mr. Bates. We can't have you wobbly at both ends."
Violet: "Why do you always talk to me as if I were a salmon who laid my eggs in the gravel and then swam back to the sea."
Mary: "You are very maternal, aren't you, Granny. If it suits you."
Violet: "Lord Sinderby, Branson, and Barrow. Now what I'd call a recipe for a peaceful week's shooting."
Isobel: "It makes you wonder what they'll be shooting at by the end of it."
Mrs. Patmore (to Daisy): "Oh, dear. We're not having another crisis, are we?" (Amen! Get on with it, Daisy.)
Violet: "I've asked Lord Merton. He can talk to the Princess. They can discuss syringes and stitches and things."
Isobel: "What fun you make it sound."
Violet: "The presence of strangers is our only guarantee of good behavior."
Prince K: "Nothing is more tedious than other people's misfortunes."
Lord Merton: "Well, if you are going to be miserable, you might as well do it in charming surroundings."
Violet: "I will never again receive an immoral proposition from a man. Was I so wrong to savor it?"
Violet: "There is point, Spratt, when malice ceases to be amusing."
Mr. Carson: "Do your ears have wireless aerials, Mr. Barrow?"
Cora: "Please be careful if you decide to drink on Christmas Eve. You'll get plastered on a sniff of sherry."
Robert: "Paradise."
Robert (to Cora): "There is not now, nor ever will be, anything you have spoiled for me."
Tom (to Robert): "I love the way you love her."
Isobel: "And you never strayed again?"
Violet: "I've never risked everything again."
Cora: "That's not quite what I asked.
Violet: "That's all the answer you'll get. Remember, we were the Edwardians."
Mrs. Hughes: "Who knows what the future may hold or how much longer we'll even be here. Suppose yu want to move away and change your life entirely. You don't want to be stuck with me.
Mr. Carson: "But that's the point.
Mrs. H: "What is?"
Mr. C: "I do want to be stuck with you."
Mrs. H: "I'm not convinced I can be hearing this right."
Mr. C: "You are if you think I'm asking you to marry me. Well?"
Mrs. H: "Well, you could knock me down with a feather."
Mr. C: "Are you not offended."
Mrs. H: "Mr. Carson, I can assure you the very last think in the world that I am in this moment is offended."
Mr. C: "You can take as long as you'd like. I won't press you. Because one thing I do know: I'm not marrying anyone else.
Mrs. H: (handing him the glass of spirits): "Well then…"
Mr. C: "What exactly are we celebrating?
Mrs. H: "We're celbrating the fact that I cna still get a proposal at my age.
Mr. C: "And that's it?"
Mrs. H: "Of course I'll marry you, you old booby. I thought you'd never ask."
Okay, now tell me what you thought? Favorite scenes? Lines?  Do you think we'll see more of Henry Talbot and Mr. Pelham? Will Daisy find love with Andy? (Did you see the way she giggled when he looked at her?) Will Mosley and Baxter get together? What are your predictions for next year? Do tell. 🙂
Find other Downton Abbey Episode recaps here.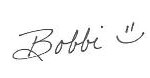 PS – You can follow RoL on Bloglovin, Feedly or another news feed. If you are a social media fan like me, we can stay in touch through Facebook, Twitter, Pinterest, GoodReads or Instagram. 😉