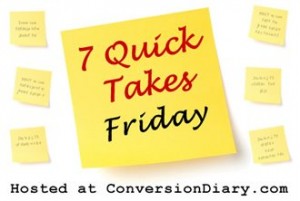 Hosted by Hallie for Jen.
~~ 1 ~~
Prayers Needed – For those of you who may not know, Jen the host of 7 Quick Takes, was in the hospital yesterday with bilateral pulmonary embolisms in both her lungs. As of late last night, she was released from the hospital to recover at home. Please remember Jen and her unborn baby boy in your prayers! (UPDATE: As of this evening, Jen is back in the hospital. It is unknown when she will be able to return home. Please continue praying.)
~~ 2 ~~
Happy New Year – Well, it's 2013 now. Can you believe it? How was your New Years? It was pretty quiet here. For the first time in a long time we didn't go to So Cal to see my family again. (We were just there for Thanksgiving.) We thought it made more sense to split up our two big trips down there and go in spring instead. I hated not seeing them but I didn't mind not having to pack and travel.
Instead I stood up and spent New Years Eve watching the Dick Clark special and Ryan Seacrest. Well, actually I recorded the shows and started watching at 11 PM and fast forwarded through 75% and just watched some of the bands/singers that I like.
I used to disregard Top 40 music but ever since I tried to increase my walking I needed more upbeat music to keep me motivated. I'm addicted to Spotify and have a number of playlists. One of the songs I like is Glad You Came by The Wanted. I had no idea what they looked like until I saw them on the New Years Eve show.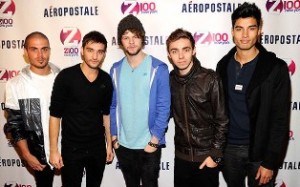 I couldn't stop laughing at the fact that these guys I listened to were from a little boy band. Are they even allowed to stay up past 11 PM? The next thing you know I'll be listening to One Direction. (Oh, wait. I think one of their songs is on my playlist too.) Sigh. How did it come to this? Maybe the Mayans were right.
~~ 3 ~~
2012 Recaps – The blog has the usual end of the year recaps. You can read the top RoL posts of 2012 here. There's a link-up so feel free to add your Top Post(s) to it as well. I'd love to read them! It's open through the month of January.
Also, Dwija has a link up for 2012 in 12 Photos. I posted mine here but it was so hard to choose only one photo for each month!
~~ 4 ~~
Shopping Fred Mertz Style – One of my favorite I Love Lucy episodes is "Ethel's Birthday." Every birthday or Christmas we always joke that Brian repeats Fred's line, "What did I give you? I mean, how do you like what I gave you?" That's because, truth be told, I usually pick out my own gifts. (Yeah, I am one of those wives.) Well, when I was visiting my family in So Cal over Thanksgiving, I went to their local Hobby Lobby. We don't have one here and everyone had been raving about them so I thought I'd check them out. There were so many cute things and they were having their after Thanksgiving sale so items were super discounted. Here are three things I particularly liked and saved as my Christmas presents.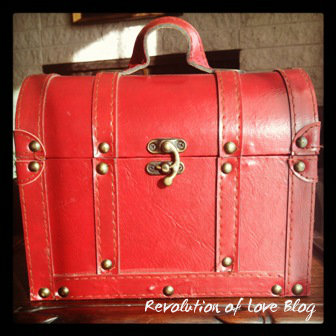 I love this small carrying case!
(Purchase the complete set here.)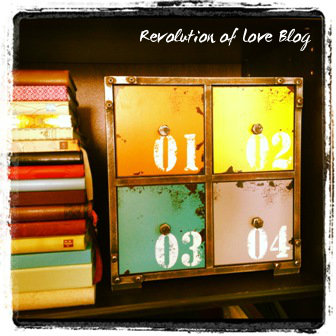 I love this retro metal chest of drawers. I had to stack my journals up in order to make room for it on my bookshelf. I think it reminds me of my youth. It reminds me of Doc Martens and 80's/90's alternative music. 😉
(Purchase online here.)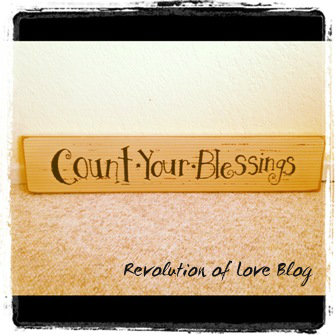 I bought this plaque to hang up in my kitchen.
(Purchase online here.)
Plus with all the trouble Hobby Lobby has been in for fighting the HHS mandate, I was happy to give them my business. In fact I saw on Twitter that tomorrow (Saturday, 1/5/12) is Standing with Hobby Lobby Day so plan on doing some shopping. UPDATE: If you don't have a Hobby Lobby where you live, you can order online. I added links to the items I bought above. There is also a 40% off coupon for one item and discounted Shipping for today 1/5.
~~ 5 ~~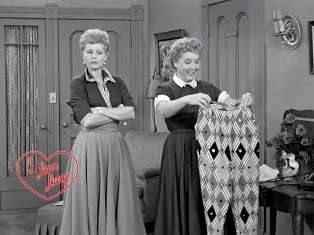 You Should Have Picked the Toaster – Speaking of the Lucy episode "Ethel's Birthday," do you remember the pants Lucy bought Ethel? I found a similar pair at Macy's.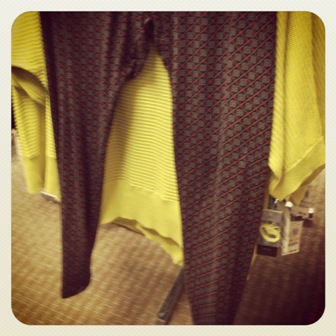 Now I know what to wear at all those smart dinner parties I give.
~~6 ~~
Twitter Style – Okay, there was one gift I received from Brian that I wanted but did not see beforehand. He bought me the One Line a Day: A Five-Year Memory Book.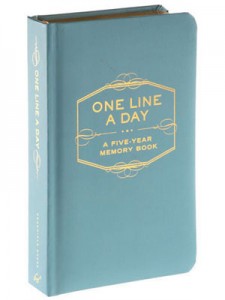 I know, I know, like I need another journal. But I hardly write in my regular journal these days and this style is much easier because it is the Twitter version of journaling. I simply record a thought or two about the day, which I can certainly handle. Then when I want to go into greater detail, I make a notation on the entry and expand my thoughts in my regular journal. It's great.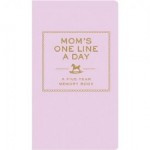 There is also a version just for moms. This would be a great gift for a new mom who is more worried about taking a shower that week than writing more than a sentence a day.
~~ 7 ~~
Going Sol0 – Okay, I better wrap this up. This weekend I'll be flying solo as Brian just left for a weekend retreat. It took awhile to convince him to go but I'm glad he did. It will be good for him to get away and spend some time in prayer. Plus, the retreat place is up in the woods so it is a perfect setting to reconnect with God. So please say a prayer for him (and a prayer for my sanity. 😉 )
Oh and be sure to stop by next week for Making It Count Tuesday. For Christmas I made Shutterfly photobooks for my parents and Brian's parents. I'll share with you how it turned out. 🙂
Have a great weekend and blessed Epiphany!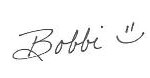 (Visited 1 times, 1 visits today)