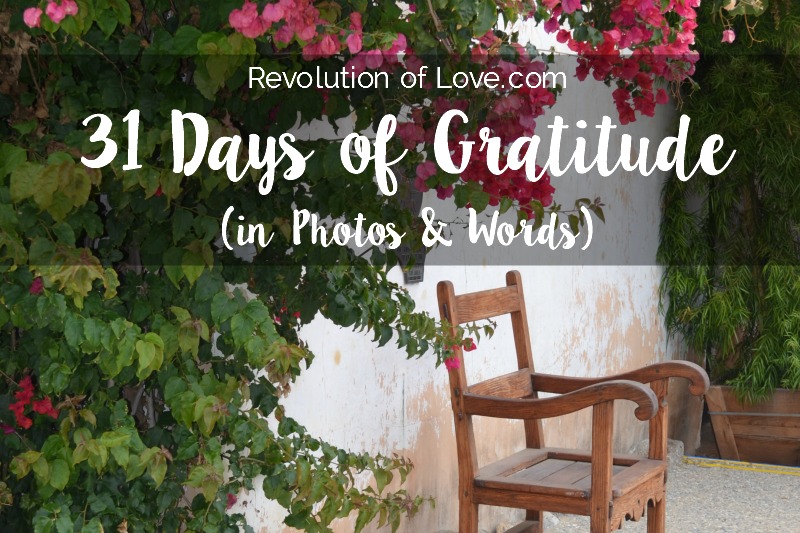 It's Day 4 of the #write31days challenge. My topic is 31 Days of Gratitude. You can see my previous Gratitude posts here.
Want to join the writing challenge but are unable to write everyday? Join me for the Weekly Writing Challenge in October instead.
Now for today's post…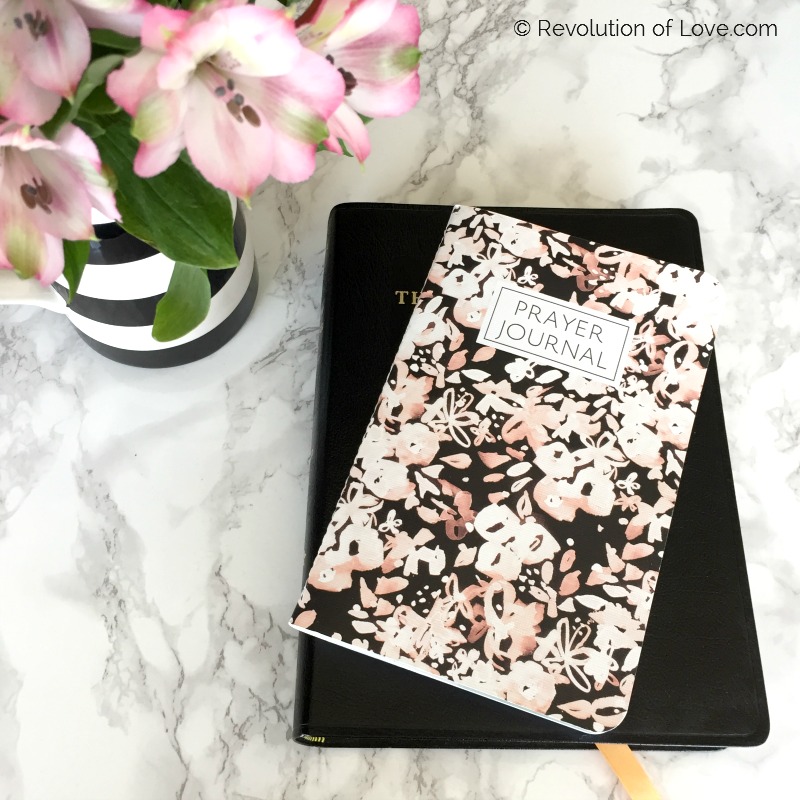 Anyone who has followed my blog for awhile knows that I have a thing for cute paper products. I love planners but have little love for plain black and white ones. I need to seduce my lazier side with color and cheery pages in order to trick myself into being more organized. I will sometimes play the same tricks with my prayer life. Now I shouldn't need glitz to get myself to pray (more on that topic tomorrow) but let's face it, sometimes you gotta do what works.
That's where the lovely May Designs notebooks come in. I heard a lot of great things about them and got a coupon on Facebook so I decided to give them a try. You are able to custom order your notebook and they have so many options! I bought a graphed notebook, a fitness journal and a prayer/gratitude journal. The prayer/gratitude journal is my favorite because it is gorgeous inside!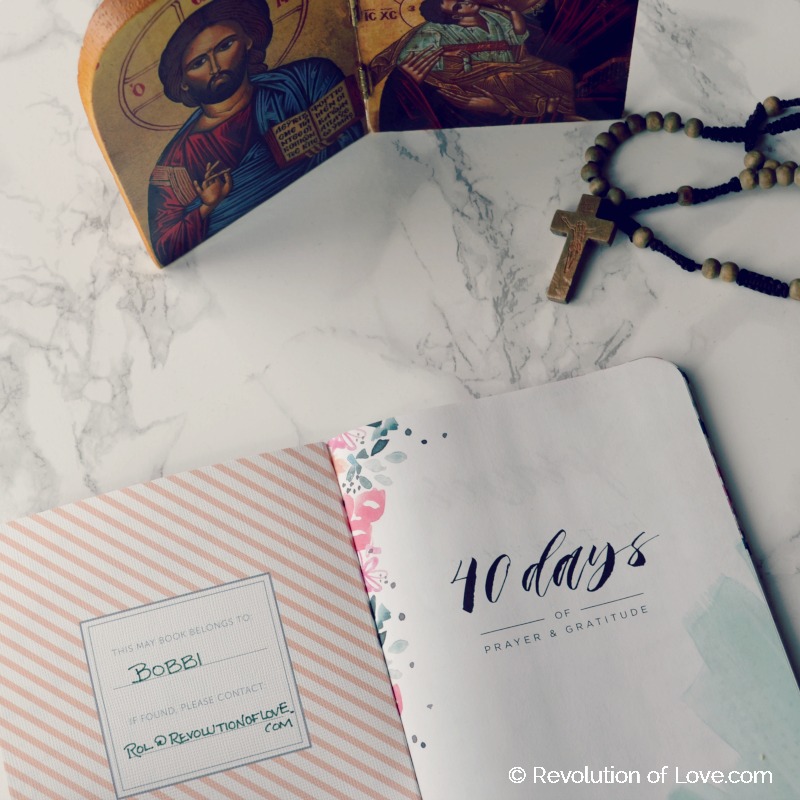 The prayer journal is set up for 40 days of prayer and gratitude. Here's the inside cover.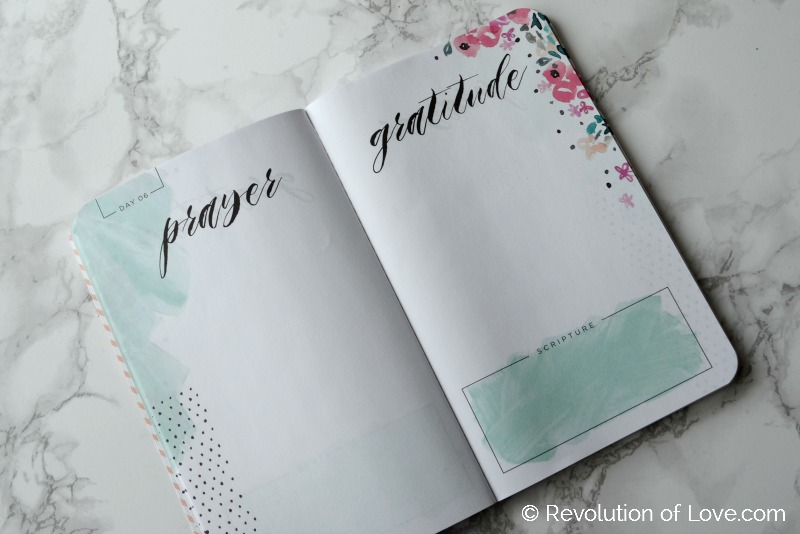 The pages look like this. So pretty, right?
I thought it would be the perfect tool on my 31 Days of Gratitude because I want this to be more that just a quick writing exercise. I really want to go deeper and make it mean something in my life. Getting page views and likes on FB are fine but that mean squat if the words I write here are not heart felt and making a difference in my spiritual life.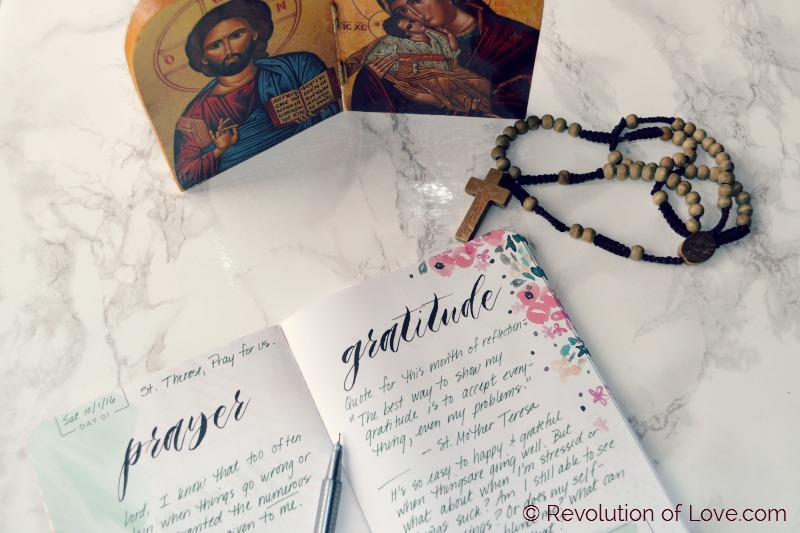 So my pretty little prayer journal inspires me to turn off my phone, log off the computer, turn off Netflix and the stereo and quiet myself before God so I can pray. Then I can reflect on what God is speaking to my heart, write it in my journal and later share a bit of it with you.
It may be superficial and frivolous (go ahead and roll your eyes) but I can't help it. Today I am grateful for my pretty prayer journal and the opportunity to actually use it. 😉
What are you especially thankful for today?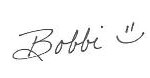 PS – You can follow RoL on Bloglovin, Feedly or another news feed. If you are a social media fan like me, we can stay in touch through Facebook, Twitter, Instagram, Pinterest, GoodReads, Letterboxd, or Spotify, 😉
Save
Save
Save
(Visited 115 times, 1 visits today)