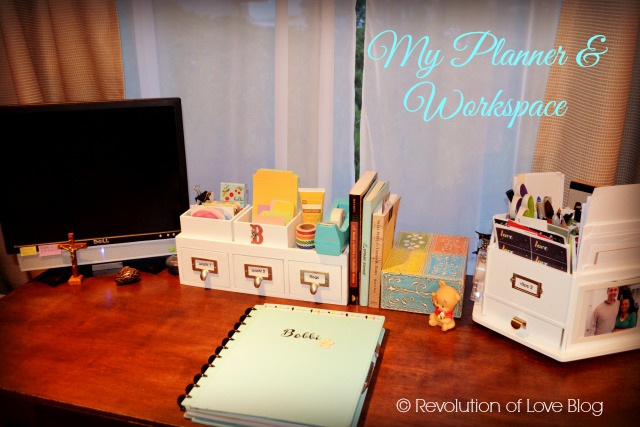 I have always loved planners and have always had one. Whether I was a young girl making lists in my Hello Kitty notebook or single and working or staying at home with babies. I have had various sizes – pocket, compact, standard, and binder sized. Each year it changes a little to accommodate my needs.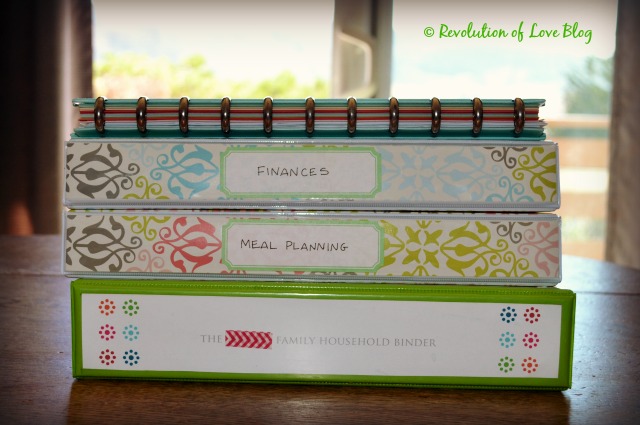 Last year I posted about my home management binder, my finance binder and my meal planning binder and they have pretty much stayed the same. However, I did get rid of my old planner and started new with a Martha Stewart Discbound Notebook. It worked so well last year that I am using it again this year.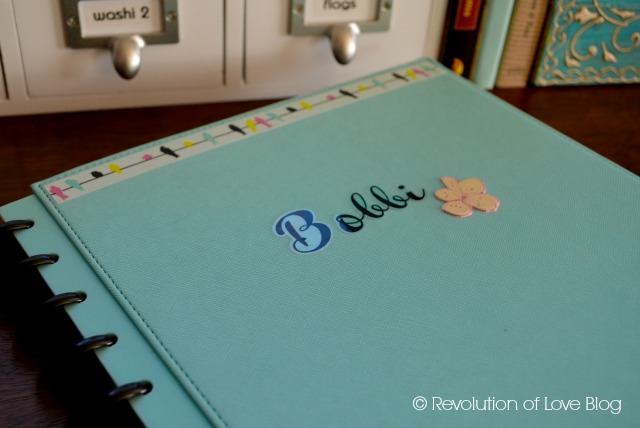 When looking for planner sheets that work for me, they must be colorful and inviting or I'll get bored and never use my planner. I have found my favorite planner sheets from Jen at I Heart Organizing.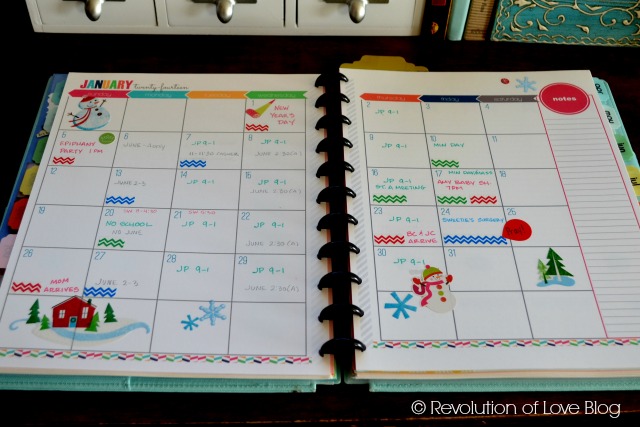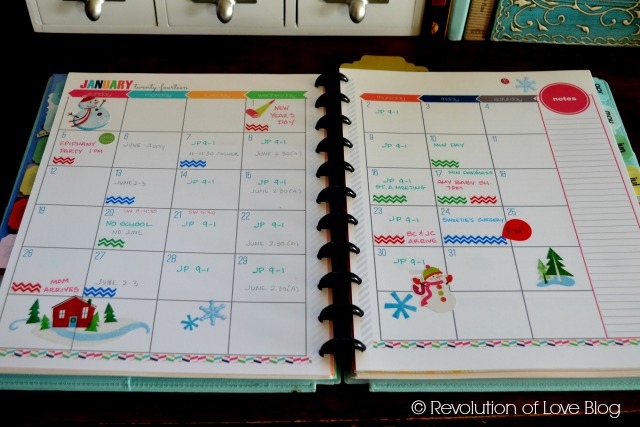 Here is the monthly calendar view.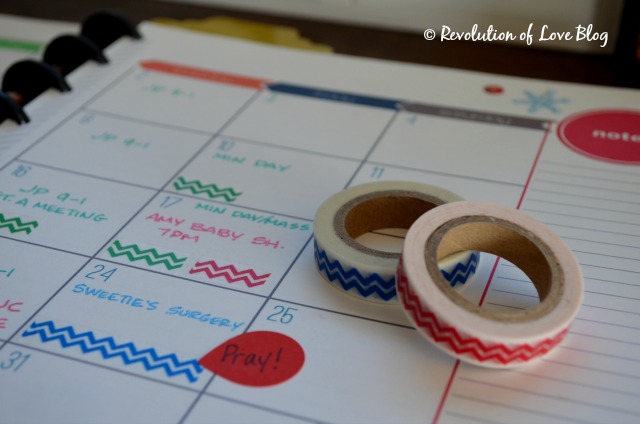 I like to color code events and appointments with washi tape. I use red for special occasions and outings. Green for school. Blue for doctor and other appointments and orange for birthdays. Sometimes I will also use flags or the Martha Stewart tear drop stickers. It depends on my mood that month. Although I like it colorful, I don't like it too busy or it just gives me a headache. LOL. 😉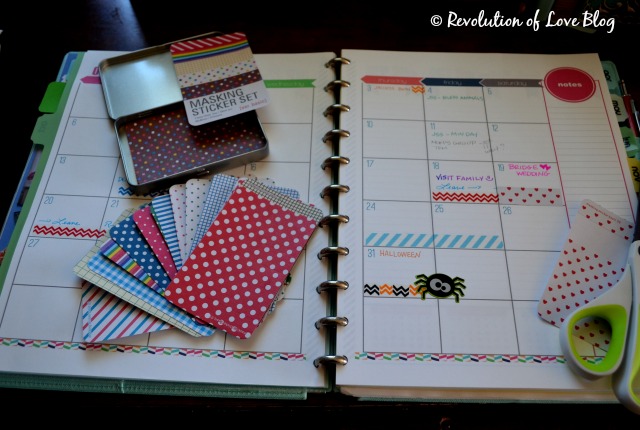 If you aren't into washi tape, there is also this cute Masking Sticker Set. Each sheet has precut strips and dots you can add to your planner.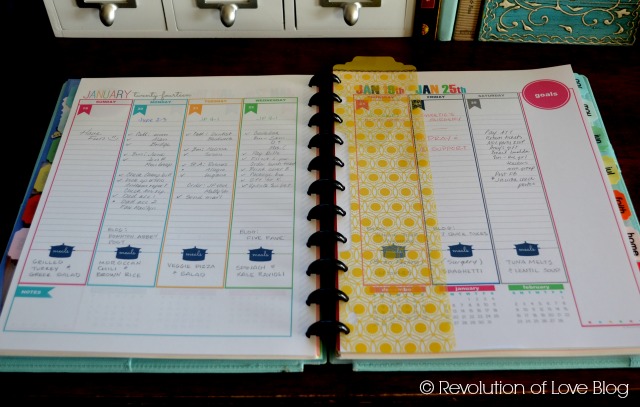 This is the weekly view. There is a long column for each day where I keep track of all my To Do's. For my bookmarker I used one from my Project Life kits and punched holes with my Discbound Punch.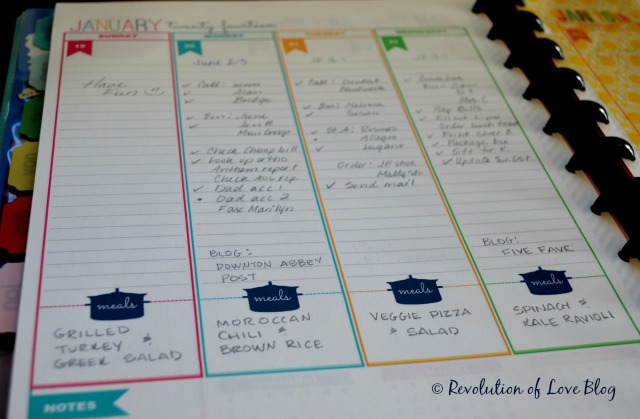 I bought the planner pages that came with a menu section so I could keep track of the week's meals.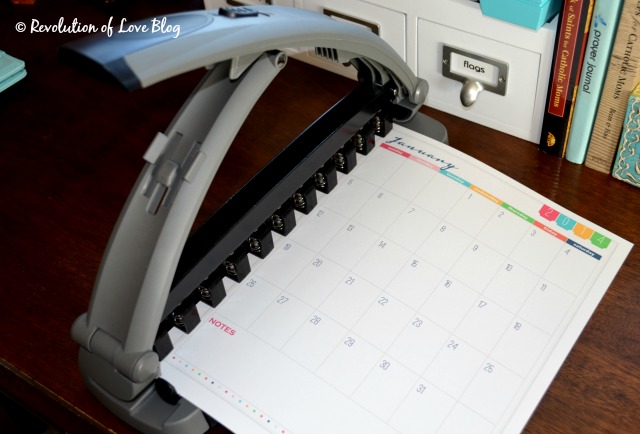 I also love the Discbound because, like a binder, you can add anything you want after you've punched holes in it. However, I prefer it to a binder because you can fold it back like a spiral notebook, rather than having to keep it open. I was a little concerned at first about the papers coming loose and falling out but I use thicker sheets so it hasn't been a problem at all. For my weekly pages I use 32 lb white and I recently started using cardstock (65 lb, white) for my monthly calendars. It has worked perfectly.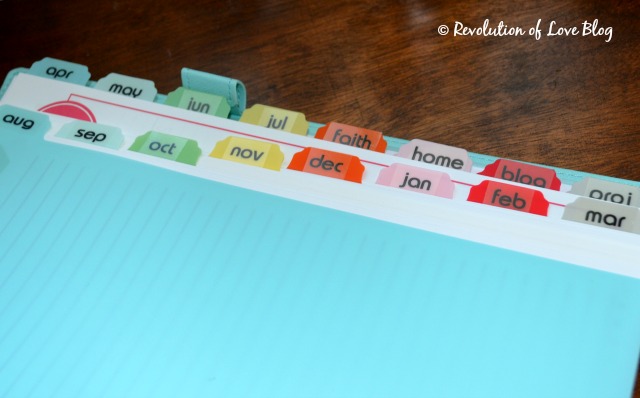 I bought two packs of Martha Stewart Discbound tabs and used my own label maker for the months. I like to follow the school calendar so I go from Aug to July. With my 4 extra tabs I have faith, home, blog and projects.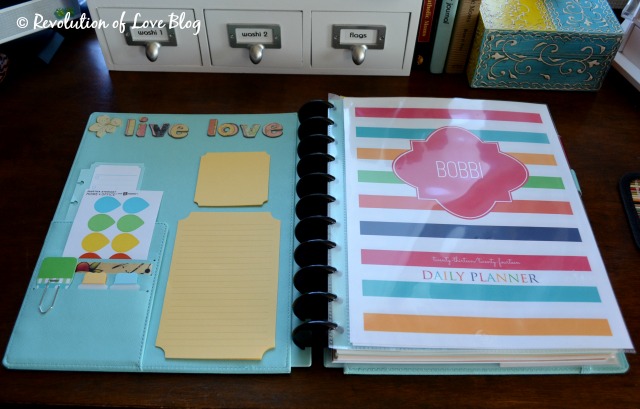 For my dashboard, I keep flags, posts, stickers and my mommy calling cards in the pockets. To keep the sticky pads in place I added glue dots to the back. The ordered the personalized coversheet.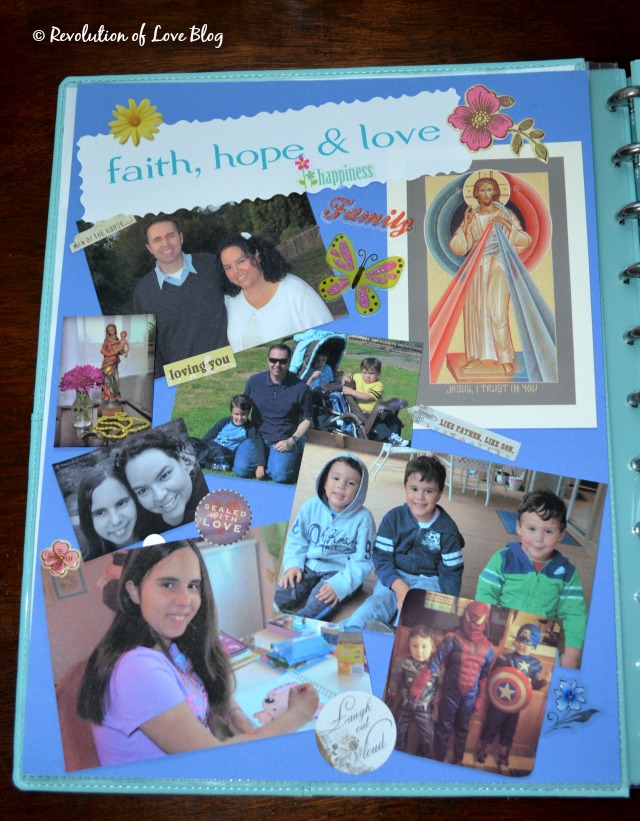 On the other side of the coversheet, I added this collage of the ones I love the most.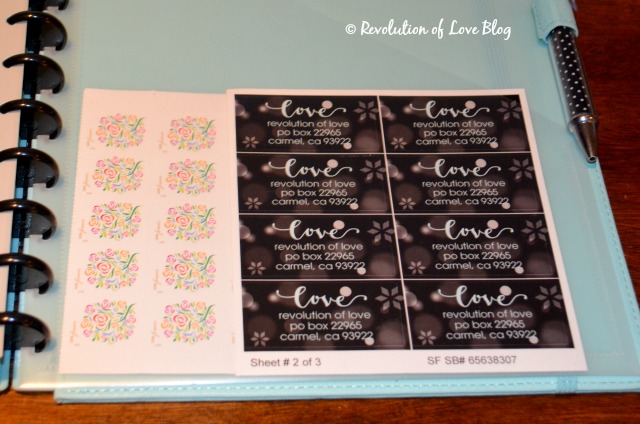 The last page of my planner is a plastic pocket where I keep things like stamps and address labels.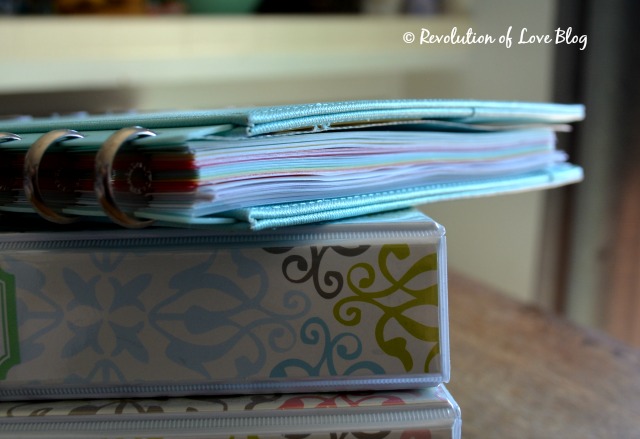 This is a photo of how thick the binder is with the standard MS discs. I bought the larger silver MS discs and hated them. I tried the larger Levenger discs (2″ I think) and they worked well but it made the notebook too big. I switched to the 1 1/2″ discs and they work great. I have extra room but it isn't too big for me.
Now, although my planner is not too big on my desk at home, it is not ideal to carry around in my purse. Last month I decided to get a small planner that I can keep in my purse to take notes while I am on the run and to keep track of my daily appointments.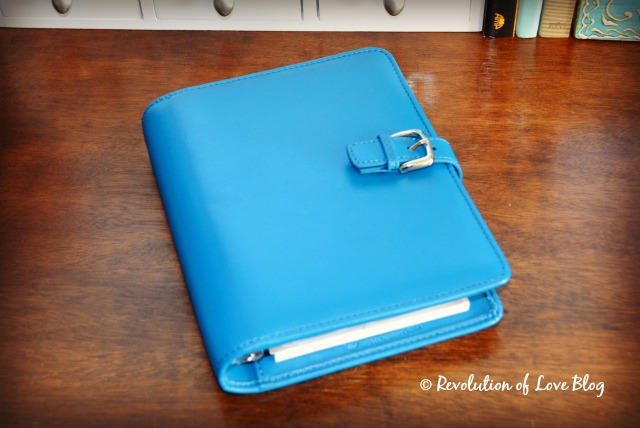 I thought about getting a Filofax but it was out of my budget and I did not like the plain planner pages that came with it. Instead I bought this Lily binder in aqua from Franklin Covey.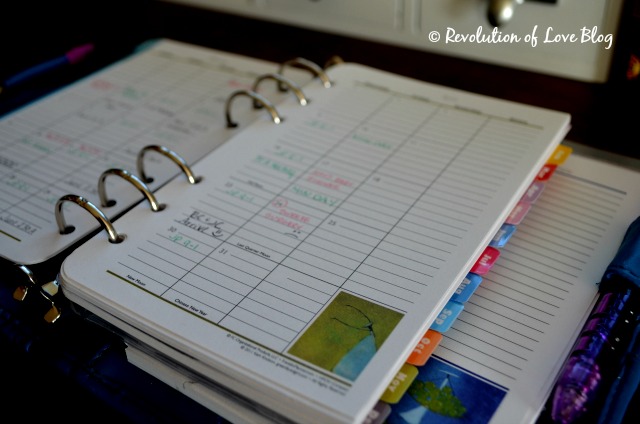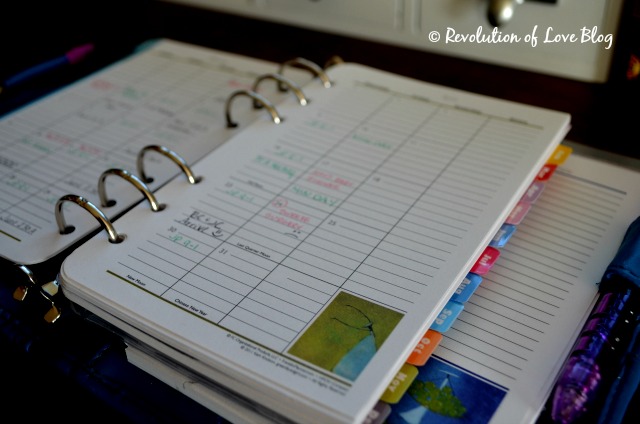 I chose the Her Point of View planner pages.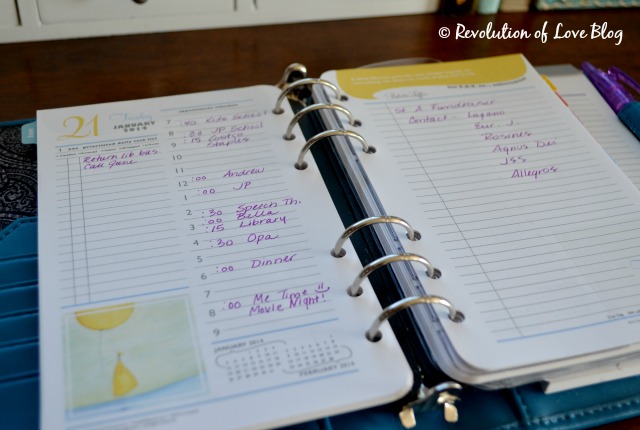 So far it has worked well. It fits perfect in my purse. I keep track of my schedule. I have space for any To Do's I think of away from home. And I have a blank page to jot down notes. Plus, it is so cute. 😉
Lastly, my favorite item to go with my planners is still my traveling office. 🙂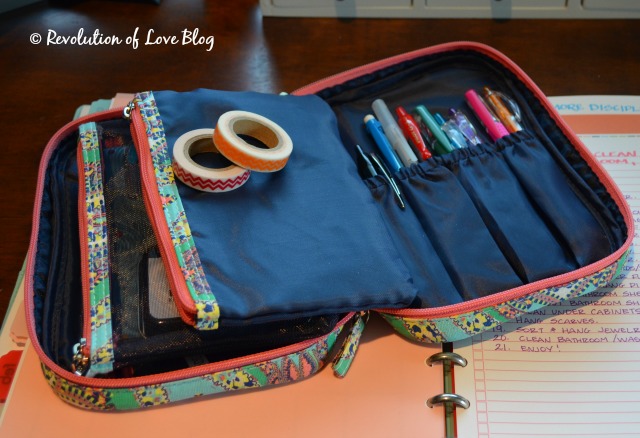 If you are looking for colorful planner pages, I also recommend The Rainbow Planner from A Bowl Full of Lemons. I have many of her smaller planner kits and they match my current planner wonderfully. If you don't want to spend money on planner pages, you can try this one from iheartnaptime.net. Or you can check out this list of free planners put together by Jenny at Plain Grace.
UPDATE: Looking for other planner posts? Check out these: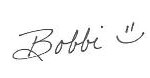 PS – You can follow RoL on Bloglovin, Feedly or another news feed. If you are a social media fan like me, we can stay in touch through Facebook, Twitter, Pinterest, GoodReads or Instagram. 😉
(Visited 462 times, 1 visits today)