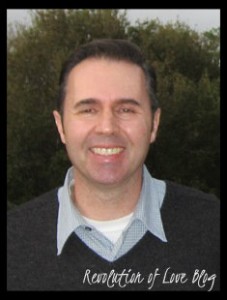 It is late on Tuesday night and it's been an exhausting day but so many of you have been praying and emailing me about Brian, I wanted to give you  quick update.
Recovering – As I mentioned the other day, Brian needed to have surgery on Sunday to remove a polyp they found. The surgery went well and they were able to remove the polyp (as well as his appendix, which was very close to it.) Afterwards, he was in some pain and just needed to rest, but that was to be expected. On Monday he was feeling a little better and was able to get out of bed. By the afternoon he was taking small walks around the hospital with his IV Pole on rollers. We'd go from his room to the fountain/fish pond area.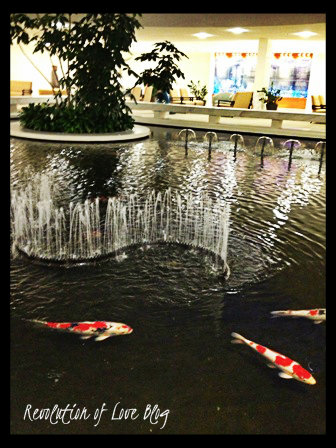 Fresh Air – This morning when I visited Brian he talked the nurse into letting him unhook his IV for 15 minutes so we could walk out in the "healing garden" where they had fountains and a small waterfall. (I posted a photo of the view from Brian's window last week.)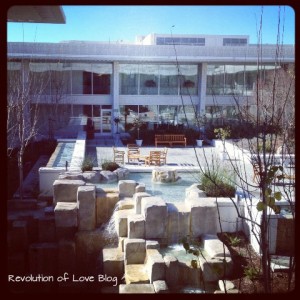 He bundled up and looked like a kid on Christmas morning, he was so eager to be outside in the fresh air. We walked hand in hand and talked and enjoyed this moment of happiness in our rollercoaster week. Surprisingly, he even let me snap a picture.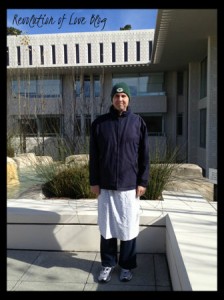 Good Bad News – By Tuesday evening we received the news from Brian's biopsy. The polyp they removed was stage 1 cancer. However, his doctor and the surgeon were very pleased with the results because the infected area was removed and the tests they ran on his lymph nodes, bloodwork and other panels all came out clean. They said it was a good thing that Brian pursued the problem and took care of things immediately, otherwise we may have had a different result.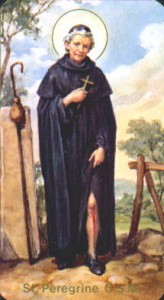 St. Peregrine, Pray for Us. – It is a relief to know that it is out of him and that my sweetheart can come back home (hopefully) on Friday but it is still scary. I am trying to look at all the positive and be thankful for how God (over and over again) took care of all the big and little details to help us get through this but it still scares me. Now that it has been in Brian once, he'll have to get tested regularly to make sure nothing else starts to grow. My mind wants to play "what if…" But I have to push that out of my head. I can't dwell on that. God spared him and that is what matters.
Blessed – On another positive note, Brian and I have been completely touched by the prayers, well wishes and generosity of family and friends – both "real time" and "virtual." I was reading Brian some of the emails and he couldn't believe how many people cared about him and us as a family. And I know all your prayers are what helped us get through this! (Yesterday Brian's dad told me that it was people like this that showed him that there is still goodness in the world.)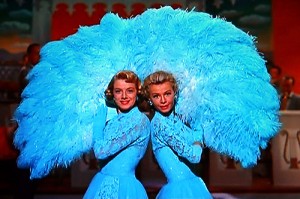 Sisters…Sisters – Lastly, I give a big thank you to my sis (and her boss who gave her the time off) for staying with me this week. It meant sooo much to me to know my kids were in good hands and to know that all the housework and laundry was being done and to know that when I came home from the hospital at night all I wanted to do was have a scoop of ice cream and laugh with her as we watch a funny show on TV. You kept me sane, sis. Thanks!
My sis has to leave in a couple days but thank God my mom is flying in on Sunday evening and will stay with us for a week as Brian will be on modified bed rest. Blessed be God. I could really use a hug from mom right now!
Okay, this was supposed to be brief. Sorry I went on and on. I'm physically and emotionally exhausted and it is officially Wednesday morning so I better get some sleep. Thanks again for all your love, support and prayers. I love you guys!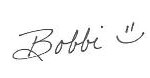 (Visited 57 times, 1 visits today)