A couple months ago I posted about Abigal, the little girl in Mexico that we sponsored through Christian Foundation for Children & Aging (CFCA). Yesterday we received our first letter from her and I was so touched.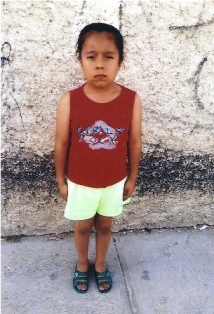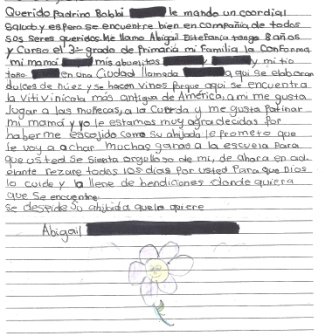 Abigal tells us about her life and her family but it is the closing paragraph that brought tears to my eyes. The translation reads:
"I promise I will make a big effort in the school so that you become proud of me. I will pray every day for you from now on so that God takes care of you and pours blessings upon you wherever you are. I have to close for now. I love you.
Your sponsored friend,
Abigal"
This little girl living in poverty is praying for me, that I will be blessed. It's amazing. I am trying to help out by giving to someone else and instead I am the one who receives the blessings. God is so good.
This sponsorship has also been a great family project! We pray for Abigal and her family every night during our decade-rosary. Bella especially has a soft spot for Abigal since she doesn't have a sister of her own. She writes to her and draws her pictures.
I am hoping to save enough money to sponsor a second child in the future – a little boy that our boys can write to.
There are many, many more kids looking for sponsors, as well as teens and elderly. Advent will be here before you know it. As you prepare to welcome the Christ Child in your heart, prayerfully consider welcoming one of these children into your heart as well.

"Truly, I saw to you, as you do it to one of the least of these my brethren, you did it to me."
Here are just a few kids waiting for someone to help them!
Evelyn from Guatemala (Age: 4) Evelyn is very dynamic at school. She lives with her mother and father and her little brother. Evelyn's mother is a housewife. Her father sells firewood by the meter, but his income is seasonal. Evelyn's family is very interested in moving forward. Talents and pastimes: Drawing and listening to music; Jobs at home: Sweeping in the yard of the home; Favorite school subjects: Natural science; Birthday: January 9, 2007 (CH673993)
********************
Niyati from India (Age: 5) Niyati is well-behaved. She lives with her parents and her younger brother and sister. Niyati has humble parents who struggle to provide an education to their children. Her father is a laborer. He works hard, but earns a low income. Niyati's mother is a housewife. She tries to encourage her children to get an education to improve their lives. Talents and pastimes: Sketching; Jobs at home: Studying; Favorite school subjects: English; Birthday: March 13, 2006 (CH681981)
********************
Eliana from Bolivia (Age: 12) Eliana is a quiet child who likes to help others. She lives with her parents and has three siblings. The family moved to their current location with the hope of better opportunities. Eliana's mother stays home to look after the household. Her father earns a meager income by cutting sugarcane and performing a variety of odd jobs. A Hope for a Family sponsorship can make this family's dreams for a more promising future attainable. Talents and pastimes: Dancing, singing, playing; Jobs at home: Making the bed, washing the dishes; Favorite school subjects: Mathematics; Birthday: April 17, 1999 (CH643300)
********************
Mikel from Costa Rica (Age: 2) Mikel is a joyful and playful boy. He likes to eat a lot. He lives with his mother and grandmother. Mikel's mother stays home to look after him. She is struggling to get ahead with her son. The family lives off the grandmother's pension. Although it is a steady source of income, it is not enough to cover the family's basic needs. Talents and pastimes: Crawling; Birthday: August 20, 2009 (CH652202)
********************
Santiago from Mexico (Age: 3) Santiago is very energetic and he likes doing new things. He lives with his mother and father. As a couple, Santiago's parents trust each other and get along well. They spend time with their child. Santiago's mother is a housewife. His father does upholstery work, but his job is not fixed. Talents and pastimes:
Making puzzles; Jobs at home: Sweeping and cleaning; Birthday: May 6, 2008 (CH672537)
********************
Ronald from Kenya (Age: 6) Ronald loves drawing and playing with his age mates. He lives in a single, rented room with his mother and father and three siblings. Both parents are tailors and they try their best to meet the family needs, especially school fees. Their income is not always enough. Talents and pastimes: Playing football and with toys; Jobs at home: Running errands; Favorite school subjects: Mathematics and English; Birthday:
January 13, 2005 (CH676845)
********************
Remart from the Philippines (Age: 10) Remart is shy yet playful. His ambition is to become an electrician. Remart lives with his parents and his three siblings. His family lives together in a small, rented house. Remart's mother does laundry for others. His father is a plumber. Remart's father works hard to provide a better life for his children. Talents and pastimes: Singing; Jobs at home: Babysitting his younger brother; Favorite school subjects: Mathematics; Birthday: May 27, 2001 (CH673199)
To specifically sponsor one of these children, go to this CFCA link and in the "Help me Find" section to the right, put in the child's country and name. Their profile should pop up. You can also call CFCA at 800.875.6564.
God will bless you for your generosity and sacrifice.
(Visited 92 times, 1 visits today)