NOTE: This is my second post today. If you are looking for a substitute for your Google Reader check out this post – The Pros and Cons of Feedly and Bloglovin'.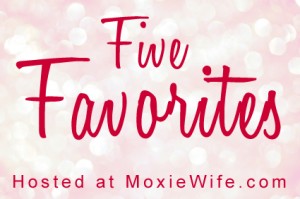 Everyone has been playing the "5 Things about Me Game" and Jessica tagged me next.  Fun! Then Rebekah (with the cool new blog banner) nominated me for a Liebster Award. ("Liebster" is a German word meaning "sweetheart, beloved person, darling." The award is passed on from blogger to blogger to smaller blogs with less than 200 followers.) Yay! I'd love to make 3 separate posts with 5 Faves, 5 Things & Liebster but mama ain't got no time for dat so you are getting the combo deal.
Here are 5 Favorites that I haven't already shared on my about me page.
~~ 1 ~~
My Favorite Flowers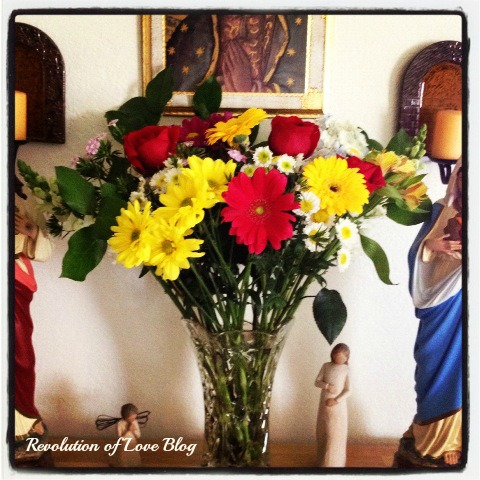 I'm not a soft pink and delicate flowers girl. I love red gerber daisies and other bold red and yellow flowers that make you smile. 🙂
~~ 2 ~~
Favorite Icons in My Home (We have quite a few.)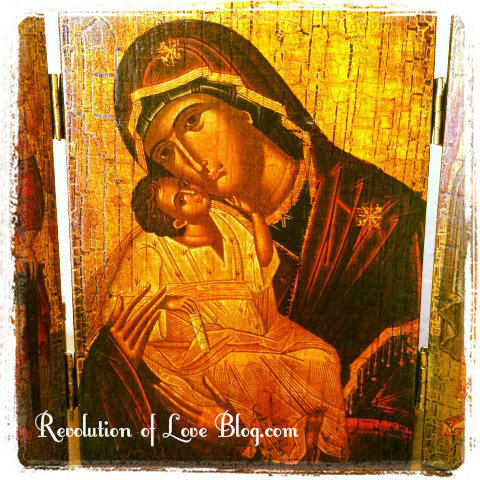 It's a tie between this icon of Our Lady that has been with me during all the birth of my children…
Or this Divine Mercy icon Brian and I bought on our honeymoon.
~~ 3 ~~
Favorite Retro TV Show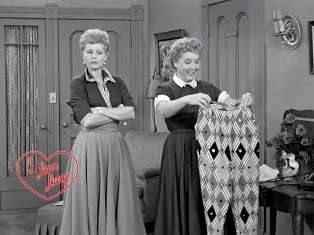 Hands down I Love Lucy. It reminds me of home since we watched it all the time growing up. Whenever I am missing my mom I just pop in the DVD and feel like she'd here laughing with me. (We still quote lines to each other when we talk on the phone.) 🙂
~~ 4 ~~
My Favorite Book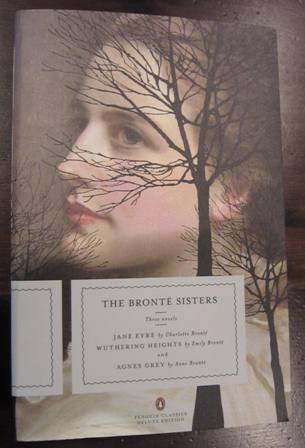 As much as I love Jane Austen, my all time favorite novel is Jane Eyre by Charlotte Bronte. When I was younger I was intrigued by the drama and mystery. However, I was more touched that Jane endured a broken heart and forsake the only man that ever loved her because she would not break God's commandment. It made a deep impression on me.
~~ 5 ~~
My Favorite Childhood Memory to Relive with My Kids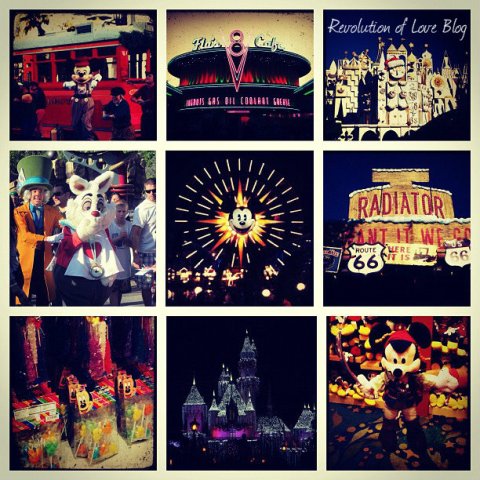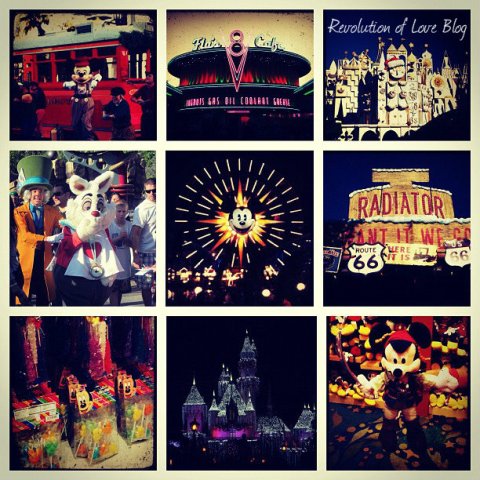 Source: My sis JC
If you don't count going on nature walks or going for a drive then going to Disneyland!
If you are short on time or prone to boredom, stop here.
So you're still with me? All right,  chica! Poor yourself another coffee/juice/wine and enjoy.
Next is the Liebster Awards. Now the official rules are –
Thank/link the person that nominated you (Thanks, Rebekah!)
Tell 11 things about yourself.
Answer the 11 questions asked of you
Make 11 questions for your own 11 nominees.
Link to those 11 nominees, and tell them about it at their blogs.
11 Things about Me
(I actually did a meme like this last year but I'll only repeat 1 or 2.)
"Bobbi" is not a nickname but my actual name. I love my name and I'm happy that the first born child was going to be named after my dad, boy or girl. (Thanks for not naming me Roberta, mom and dad.)
I've never had a professional manicure or pedicure. (But considering that I had my first professional haircut just two years ago,  there may still be hope.)
I am impatient, nosey, messy (close to hoarder territory) and I'm always late. (Although I admit that I'm working on those faults.)
On the other hand, I am caring,  a good listener and I love doing little things to brighten a person's day.
I'm not a pet person. If it can't wear a diaper or go in the toilet, I don't want it in the house. (Although I finally let the kids get two fish. But again, I am stuck cleaning the poop.)
My mom often told me I was a drama queen. (Sooo exaggerated.)
I'm a sucker for guys in jeans, white tees, high hair and  horn rimmed glasses. (Sweetie, guess what you are wearing for Easter? ;-))
I have two weird driving fears. One is when I'm under a tunnel I fear we will have a big earthquake and I'll be crushed to death. The second is when I'm driving behind a truck with long objects in the bed of the truck (like planks of wood) I'm afraid the driver will get into an accident, the long objects will come loose, crash through my windshield and decapitate me. (Aren't you glad you don't live in my head? And now that I think about it, maybe #6 wasn't so wrong.)
I sometimes watch Disney shows like "Good Luck, Charlie" and "Austin & Ally" even when the kids aren't home. (omg, did I just admit that out loud?)
If I could eat any convenience store junk food without worry I'd have chili cheese fritos and an orange crush. (I'm so hungry right now.)
I can easily be moved to tears – both happy and sad.
Questions from Rebekah
1. What is your very first memory, even one people deny you can actually remember? My most vivid early memories are riding in the back seat of my dad's Chevelle and scooting to the edge of my seat and leaning my head on his head rest and feeling the wind blow on my face. This was before the days of mandatory seat belts!
2. What is a talent of yours you feel others underestimate? I don't know if I'd call it a talent but people don't know I can be  funny until they get to know me. I remember when I switched departments at work before I got pregnant, my new boss told me that she always thought I was quiet and reserved but after she got to know me she realized what a funny cheek I could be. I am still reserved with new people to this day. I feel better expressing myself writing. (Is that a blogging prerequisite?)
3. What fictional character would you like to spend an afternoon with? Mary Poppins. I'd love her to clean my house and tame my kids. 😉
4. Kirk or Picard? Han Solo, baby.
5. What song can you not stop listening to right now?
Hmmm…if the kids are in the room I'd say TobyMac's Eye on It. when I am cooking dinner I usually turn on the radio and the boys (Andrew is particular) love to come and "break dance" while I sing along. This is their current fave.

But if I'm alone and in a mellow mood I am still in love with this song from The Lumineers.
6. What day in your past would you like to relive?  My wedding day. It was hands down the best day of my life and I'd love to relive all those memories again.
7. When you were little, what did you enjoy telling people that you wanted to be when you grew up? I planned to be a mother, a teacher and an author. In school I wanted to be a psychologist but worried that I wouldn't be able to stay emotionally detached from someone's pain.
8. What advice would you give yourself as a first time mother? Take a deep breath and stop worrying. You are more capable than you think. Trust your gut. And when you can't take one more day of sleepless nights, crying fits (the baby's, not yours) and not showering for days, just keep repeating to yourself, "And this too shall pass."
9. What is your most looked forward to moment of the day? When I kiss the kids goodnight and I receive their hugs and "I love yous" and then I get to snuggle on the couch with Brian and watch a movie (provided Matthew is asleep and didn't take a late nap.)
10. Who would play you in a movie about your life? Hmm..how many short, plus-sized comedic actresses are there? I don't know! But since I did mention "Austin and Ally" above , if you take the actress that plays Trish and cut her hair into a dried out frizzy bush, then heck, you've got me as a kid!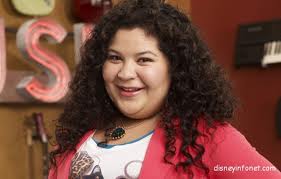 Now I'm supposed to tag 5 bloggers for Five Things about Me and 11 bloggers for the Liebster but I'm just tagging 5 people. You can do The 5 Thingy or The Liebster or Both. (Or none, if you poop out at parties.) Have fun! 😉
Oh, and if you've already been tagged. Sorry. You can skip it too.
I would like to tag Hallie but being in the pregnant state that she is in, I will leave that to her discretion. In the meantime, I tag my sis EML, Andrea, Missy, Colleen, and Kelly.
Here are the questions:
1. Where were you on 3/13/13 when you saw the white smoke or heard that we have a pope?
2. If you had a whole day to yourself (without your kids or hubby) what would you do?
3. What was your favorite childhood cartoon?
4. If you could visit anywhere in the world, where would you go?
5. What is your favorite prayer or devotion?
6. What is your favorite "go to" outfit to wear?
7. What is something that not many people know about you?
8. Are you a Downton Abbey fan or a "what's all the fuss about" girl?
9. How did you meet your hubby?
10. What was your favorite song/album/band/artist growing up?
11. What is a lesson you've learned that you want to pass on to your children.
That was fun! I hope you enjoyed it too. 🙂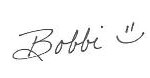 (Visited 14 times, 1 visits today)