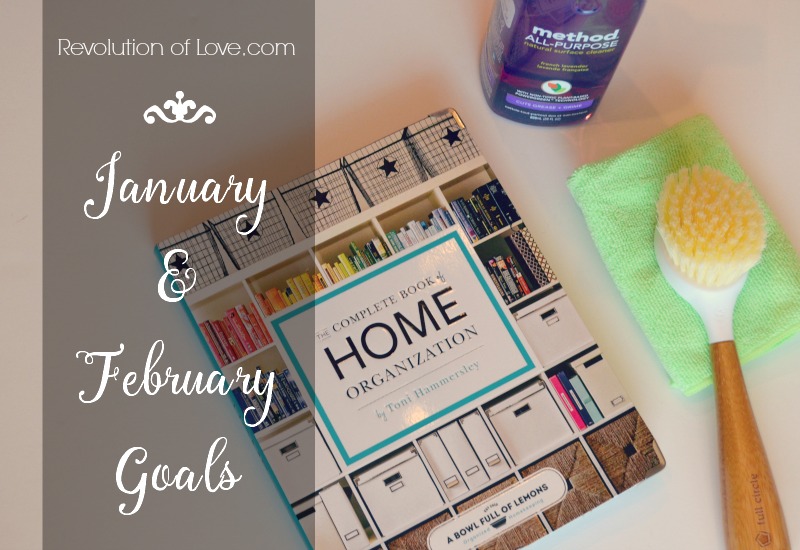 A new year is full of new possibilities so it was extra fun planning out my goals for January and February of 2016 but before I dive into that, I like to review over the goals of the last time interval – November and December.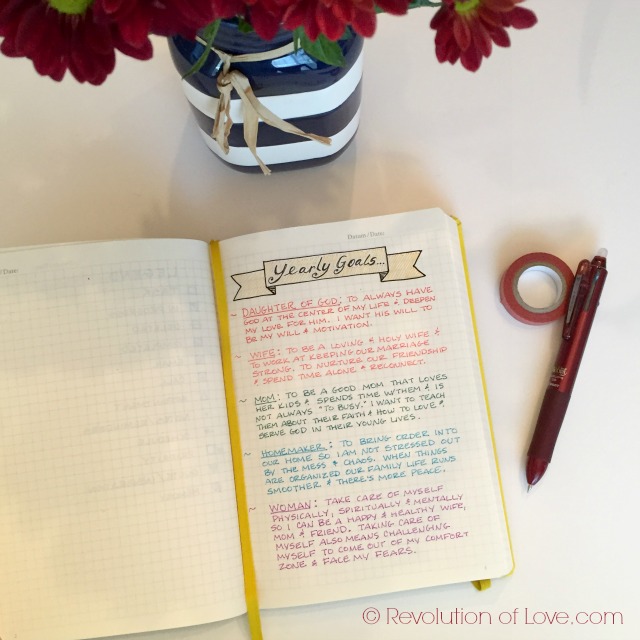 My main goals do not change but my mini-goals change depending on the two month interval and what projects I want to complete. So here is a summary of my progress and my mini goals for January/ February 2016.
* * *
Main Goal #1: To always have God at the center of my life and to deepen my love for Him. I want his will to be my will and motivation.
Nov/Dec Mini-Goals Reviewed

Continue with the 15 minutes of prayer in the morning using the Jesse Tree devotion for the first time this Advent. I won an Advent Devotional Book for Women from Jenny at The Littlest Way

(Yay! Thanks, Jenny!)

so I'll be using that along with the beautiful new Advent cards from Blessed Is She. –

Progress made but it did not go well during Christmas break. It was like I took a break from everything! Prayer was too often hit and miss.

Short exam and Act of Contrition at end of the day. – About 50/50. Needs more work.
Jan/Feb Mini-Goals
I'm going to keep at it until I get it down completely.
15 minutes morning prayer.
Short exam and Act of Contrition at end of the day.
* * *
Main Goal #2: To be a loving and holy wife to Brian and to work at keeping our marriage strong, to nurture our friendship and spend time alone to reconnect.
Nov/ Dec Mini-Goals Reviewed
Plan weekly date nights and monthly out of the house dates. Our lives are so centered around the kids and work that we really need to keep this up. It helps out so much I don't want to it to let it slip away. –

We did have our monthly outings but I think a little more effort needs to go into the stay at home dates so it's more than just plopping on the couch and watching TV together.

Continue to make a conscious effort to thank Brian more when he does something for me or the kids and not just take it for granted. – For the most part, yes.
Jan/Feb Mini-Goals
Continue to plan weekly date nights and monthly out of the house dates. Step up the at home date nights so there is more one-on-one and not just passively watching a movie.
Brian works so hard for us, do little things to make his day easier. (ie. Make his lunch or clean out his coffee machine or take out the trash – things that he would normally do.)
* * *
Main Goal #3: To be a good mother that loves her kids and spends time with them and is not always "too busy." I want to teach them about their faith and how to love and serve God in their young lives.
Nov/Dec Mini-Goals Reviewed

Make an Advent Plan to help us keep our eyes on Christ and not get wrapped up in the materialism and busyness of the season. This year we will be doing the Jesse Tree for the first time and I will pick one (or two) of our other Advent Activities to do with the kids. – It wasn't perfect but I did relatively well, all things considered.
Jan/Feb Mini-Goals
Use my free morning time to get all my stuff done so I can spend more one-on-one time with the kids during homework time in the afternoon. No computer/phone use in the afternoon.
Work with Andrew as he prepares for his First Reconciliation next month.
More family time activities on the weekend.
* * *
Main Goal #4: To bring order into our home so I am not stressed out by the mess and chaos. When things are organized our family life runs smoother and there is more peace.
Nov/Dec Mini-Goals Reviewed

Make a travel plan for our yearly Fall trip to Disneyland and visiting my family so I can enjoy the trip and be adequately organized. –

Done! 🙂

Make a Christmas plan and budget and stick to it so I am not overly stressed and over budget. –

I made my plan and s

tress was greatly reduced. The budget was almost followed?? Okay, the truth is I went over but it was better than some years. So a kinda-win.

😉
Jan/Feb Mini-Goals
I've been slacking on my meal planning and going to the store too often so back to weekly meal plans on Sunday.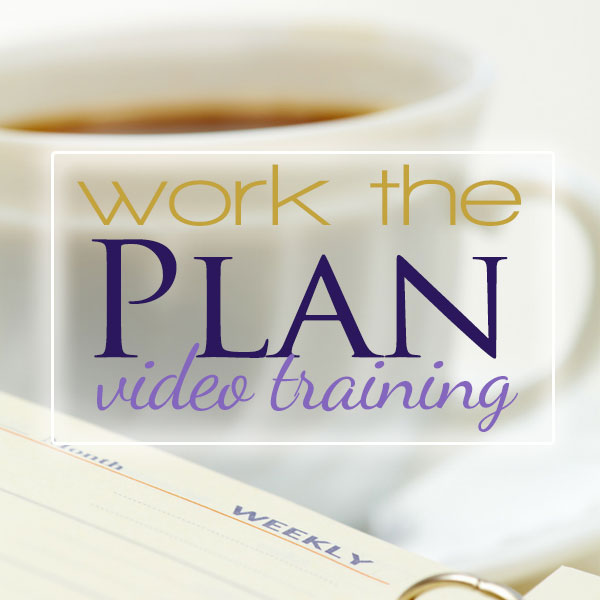 The Complete Book of Home Organization: 200+ Tips and Projects by Toni Hammersley
The mess in the house after the holidays has reached fever pitch so we need some serious decluttering and getting rid of things we no longer use. I am joining A Bowl Full of Lemon's 2016 Home Organization 101 Challenge. Toni has all the info and printables available on her blog but she also has a cool new book (that is gorgeous to look through) with tips and more information to help you complete the challenge. I purchased a copy with an Amazon gift card I had and I can't wait to dive in! It says we should have an accountability partner. Do you want to join me? I am going to talk about my progress on my Facebook Group RoL's Operation Clean and Organize. 
* * *Main Goal #5 – To take care of myself physically, spiritually and mentally so I can be a happy and healthy wife, mother and friend. Taking care of myself mentally also means challenging myself to come out of my comfort zone and facing my fears and trying new things.
Nov/Dec Mini-Goals Reviewed

Basics – water, vitamins, walk at least 20 minutes and in bed by 11 on school nights. – Water was good. Vitamins good until Christmas break. Slacked. Walking was no bueno, especially with all the rainy days. Bed by 11 was good on school days. Again, during vacation I was in bed well after midnight since I could sleep in a little. Now that January is here the party is over and back to business.
Follow the plan! Don't do what I FEEL like doing but get the priorities finished. This month's motto – suck it up and get it done!…with a smile. 😉 – Now that I am using my bullet journal this has really helped with this goal!
Jan/Feb Mini-Goals
Continued basics – water, vitamins, walk at least 20 minutes 5x a week and in bed by 11 on school nights.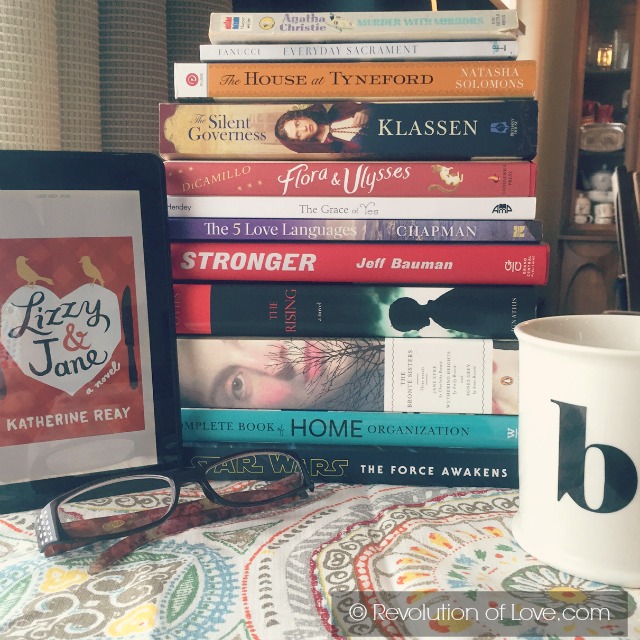 Turn off TV and spend 15 minutes reading before bed. I pledged on Goodreads to read 12 books in 2016. I am following Modern Mrs. Darcy's Reading Challenge for added fun. Here are some books on my 2016 reading list. A couple of them are from last year's list that I didn't quite complete.
Do my evening recaps in my bullet journal and plan for the next day.
What about you? What is the one thing that you really want to work on this month? Any thoughts about my goals? Are you doing a reading challenge? Do share!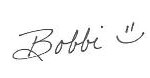 PS – You can follow RoL on Bloglovin, Feedly or another news feed. If you are a social media fan like me, we can stay in touch through Facebook, Twitter, Pinterest, Periscope/Katch, GoodReads Letterboxd, Spotify or Instagram. 😉
PPS – Disclaimer: "Revolution of Love.com is a participant in the Amazon Services LLC Associates Program, an affiliate advertising program designed to provide a means for sites to earn advertising fees by advertising and linking to Amazon.com."
In other words, if you click on my affiliated links and make a purchase, I get a small compensation that goes towards keeping the blog online. Big hugs to those who click and help support the blog! xoxo 🙂
(Visited 25 times, 1 visits today)