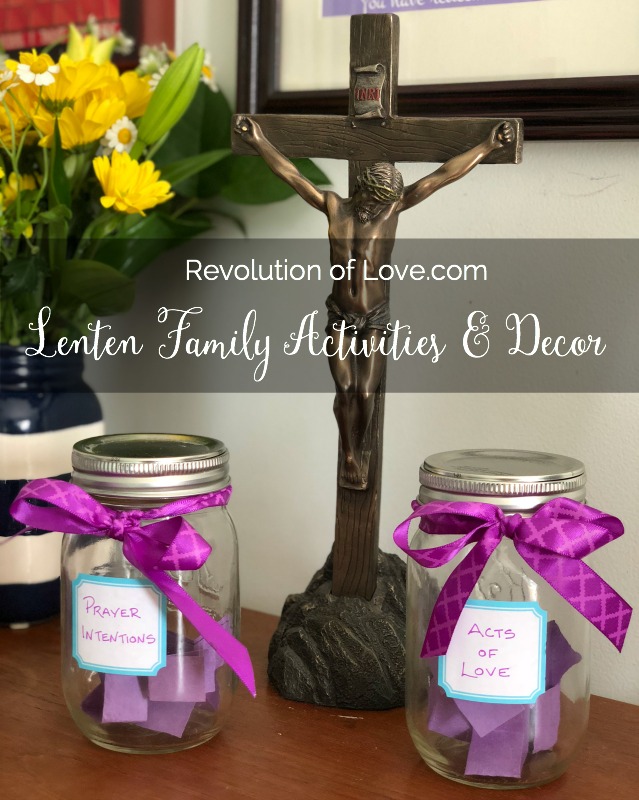 Happy Ash Wednesday! Today on Instagram's Stories I was talking about decorating our house for Lent. A couple people asked me to share how I decorate so I thought I would do a quick post about how we set up our Lenten decor and family activities.
Normally, our home already has Sacred Spaces – tables or tops of shelves where we have icons, candles, a Bible or statues. I share about the various spaces in our house in the post Creating a Sacred Space for Prayer. Today I'll just be focusing about Lent.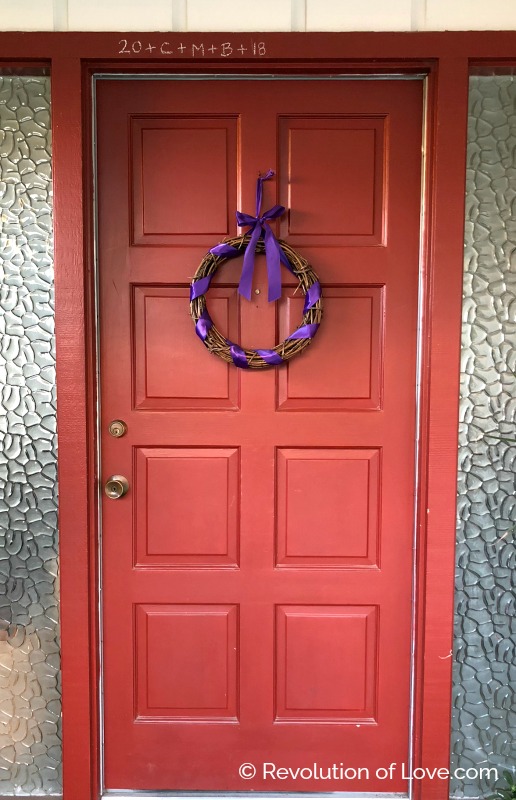 First, I love putting wreaths or seasonal welcome signs on our front door. For Lent, I made a simple Lenten wreath to mark the season. I used a grape vine wreath and purple ribbon I purchased at a craft store. Super simple.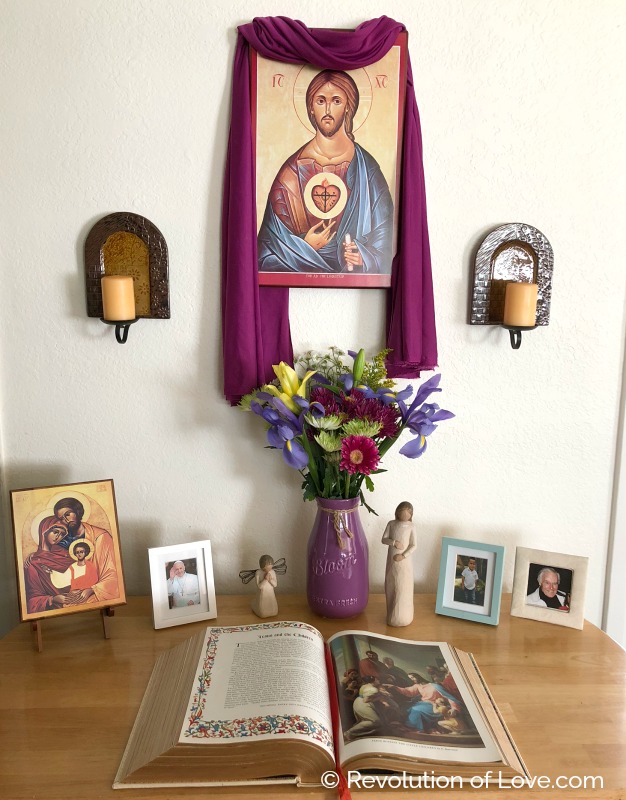 In our home's entryway we have a prayer table that pretty much stays the same year round (except during Advent.) During Lent, I drape the Sacred Heart icon with a purple piece of cloth that was material remnant from a craft store. I use a purple vase and usually have purple flowers.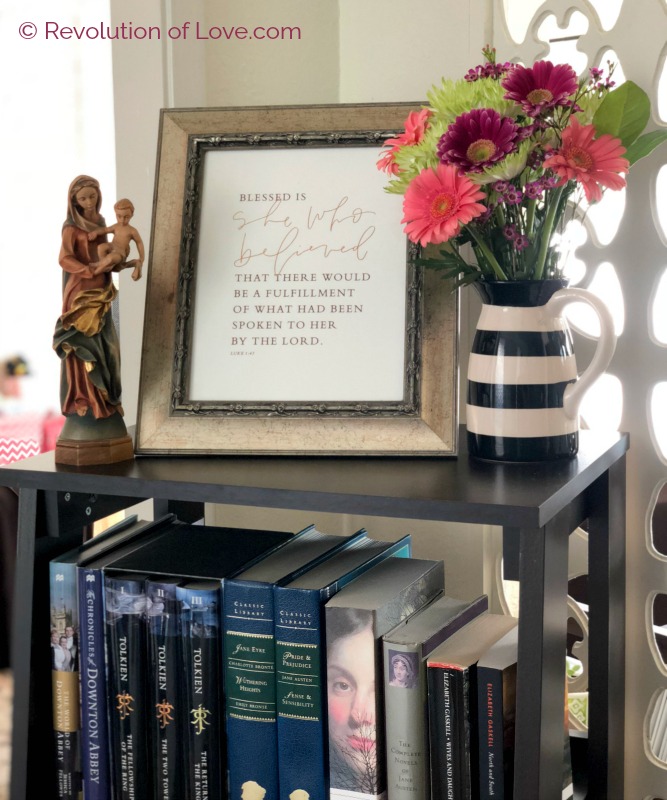 Also in the entryway we have a small bookcase and I placed the Blessed Is She "She Who Believed" Print in a frame with a statue of Our Lady and some flowers. (There were lots of Valentine flowers from my Sweetie to put around the house!)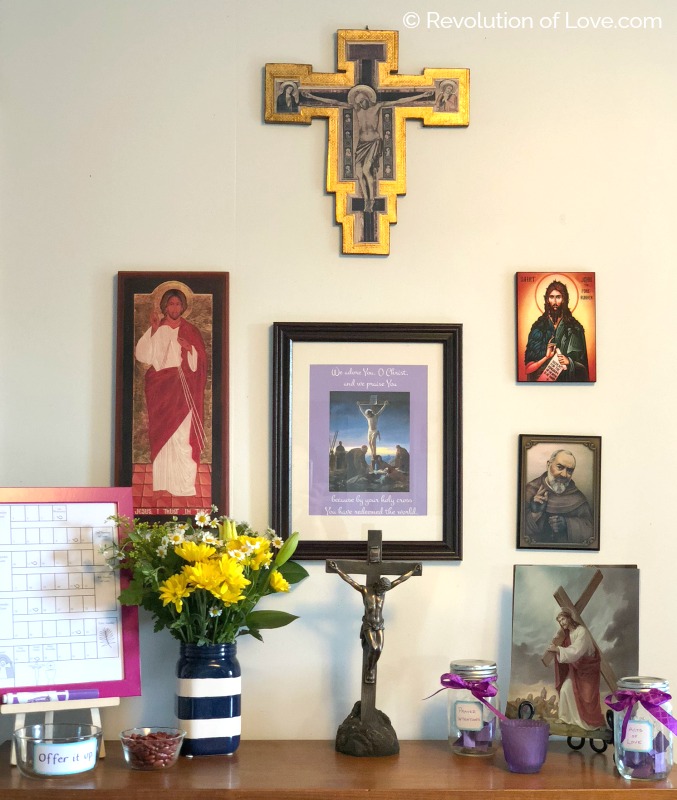 The family room is where we are the most often to eat, watch TV or say our family night prayers. I use the top of a low shelf to make this seasonal prayer space. For Lent we remove the St. Michael the Archangel and St Therese icons and place John the Baptist and Padre Pio to remind us of the importance to repent and turn back to God.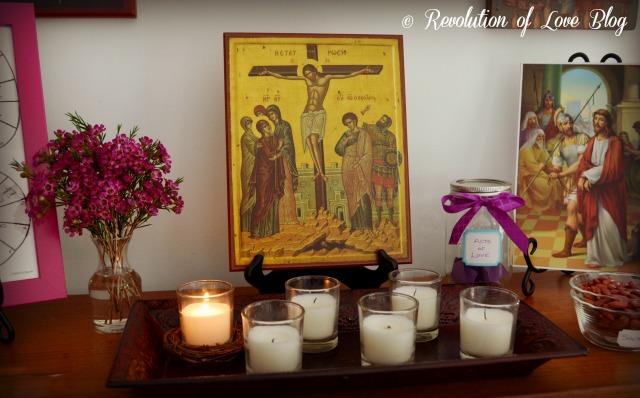 This photo was taken last year when I also set up a candle centerpiece using a long rectangular tray filled with six votive candles for the six weeks of Lent. (This year I forgot to buy more votive candle at Target so I'll do that this weekend.)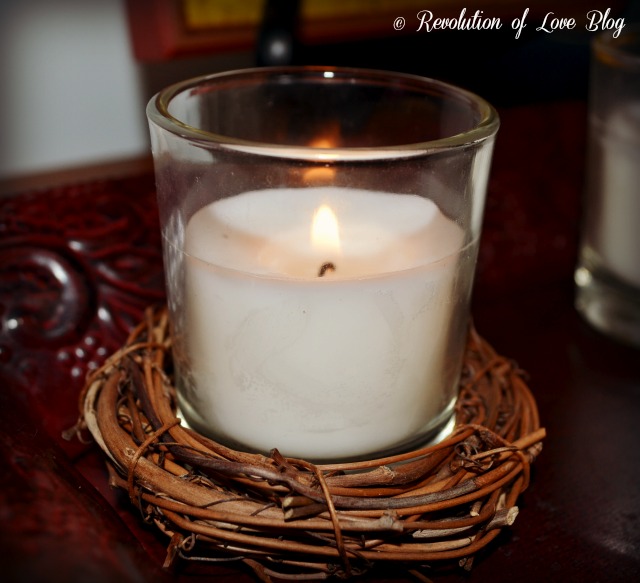 I purchased tiny wreaths from Michael's Craft Store that fit around the candle. We add a wreath to a candle on each Sunday of Lent. We light the candles in the evening during our family prayer.
Two years ago I purchased/ printed off this Lent Calendar from Do Small Things with Great Love.com. I placed it in an inexpensive frame from Ikea. (It was made with plastic front, not glass.)  At first we used a dry erase pen to mark a cross on each day as it passed. It is great for the kids, who have no sense of time, to see how many more days until Easter. After a few years of use, however, the front of the plastic frame was getting beat up so I removed it and they mark straight on the paper.
We also like Kendra's idea of using Sacrifice Beans. Every time a family member makes an Acts of Love or makes a sacrifice they put a dried kidney bean in the bowl. On Easter Sunday the dry beans are changed to jelly beans (or some other treat.)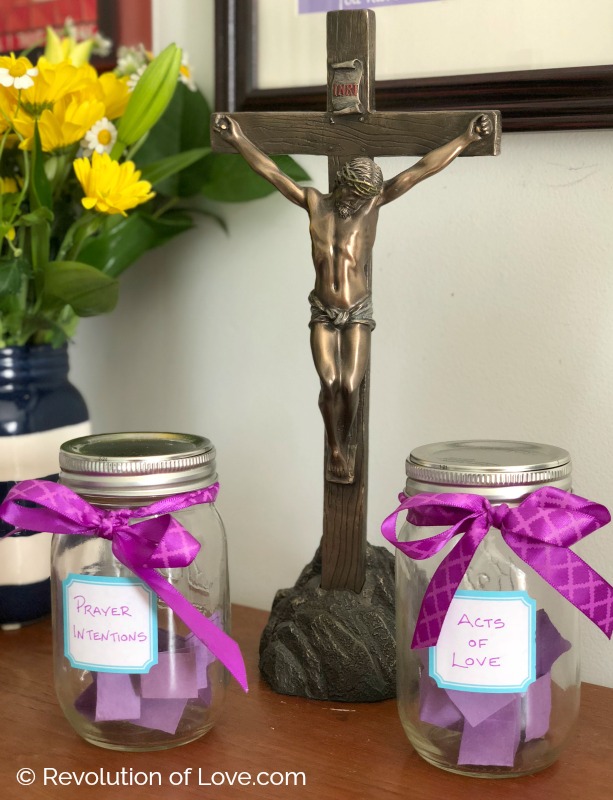 Another activity the kids enjoy is the Act of Love Jar. They are able to make their own sacrifices but if they need a little inspiration, they can choose something out of the jar. It will say things such as: I will share a toy with my brother. I will not complain today. I will clean up my room without being asked. I will make a card for someone to cheer them up. I will be nice to someone I don't usually talk to at school. Things like that.
The Prayer Jar has a special intention for each day. During our evening prayer we pick out a petition to pray for such as: For pregnant moms. For our firefighters. For our priests. For those entering the Church on Easter. For the souls in purgatory. For people sick in the hospital. For the homeless. Etc. Anyone can also add their own intention into the jar too.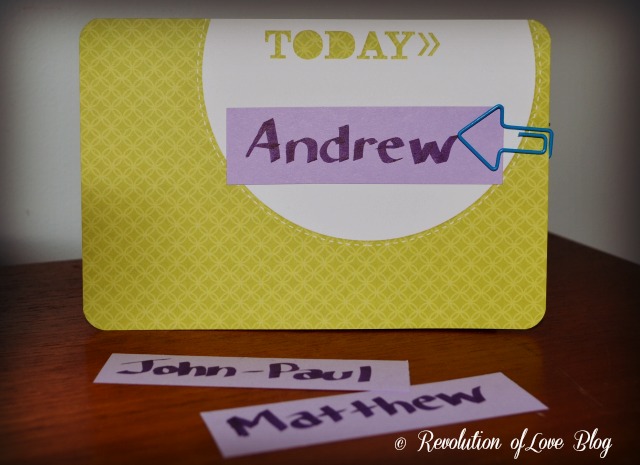 When we first started family prayer time the boys were younger and a lot more wild. There were nights when prayer ended with boys literally coming to blows and screaming over who got to blow out the candle or pick the prayer intention, which then followed with me yelling at them and Brian sending them to their rooms for misbehaving. (Aw, peaceful prayer time.)
Since they are used to having a "Student of the Day" in school so we took that same concept with the "prayer helper of the day." The name rotates and that person is in charge of leading prayer, marking the day on the Lent calendar, picking the petition, blowing out the candle etc. It's our third year doing it and my then 3, 5 and 7 year olds are now 6, 8 and 10 doing prayers without a single punch or fight. LOL. Frankly, they are doing an awesome job. (Although we are still battling a few "do we have to pray" attitudes now and then…. and, truth be told, its not always from the kids… she admitted guiltily.) 😉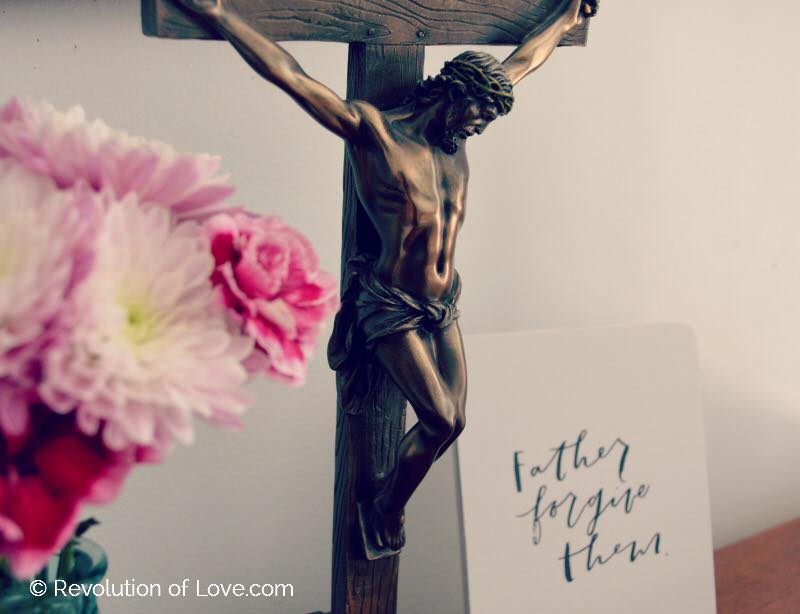 A couple years ago we started using the Blessed Is She stations of the cross cards. I added them to the prayer space using a little stand and rotating them.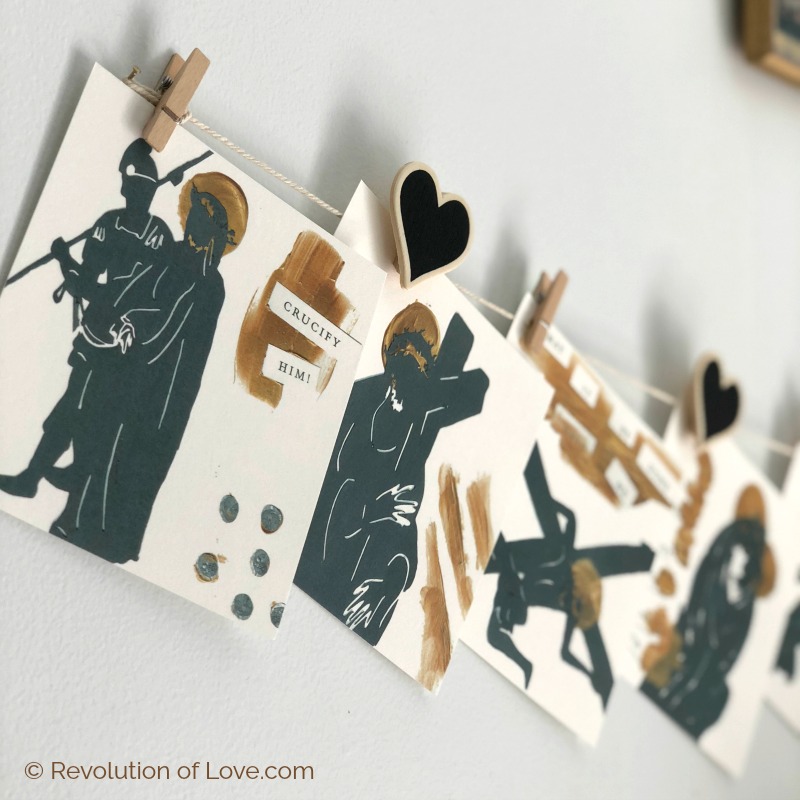 This year, Blessed Is She put out new Mary's Way of the Cross Cards. I pinned them to some twine I hooked to the wall next to our prayer space.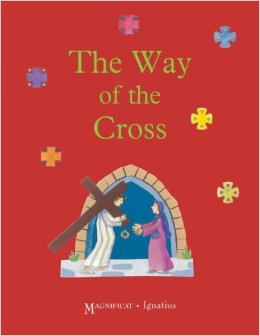 During the week we pray a decade of the rosary. This lent we will pray Stations of the Cross on Fridays. We will use this book The Way of the Cross from Magnificat/Ignatius.
What about you? Do you have a favorite Lenten family activity? Do you decorate your house during Lent? Share in the comments. 🙂
Have a blessed Lent.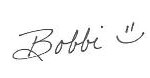 PS – You can follow RoL on Bloglovin, Feedly or another news feed. If you are a social media fan like me, we can stay in touch through Facebook, Twitter, Instagram, Pinterest, GoodReads, Letterboxd, or Spotify. 😉
(Visited 65 times, 1 visits today)