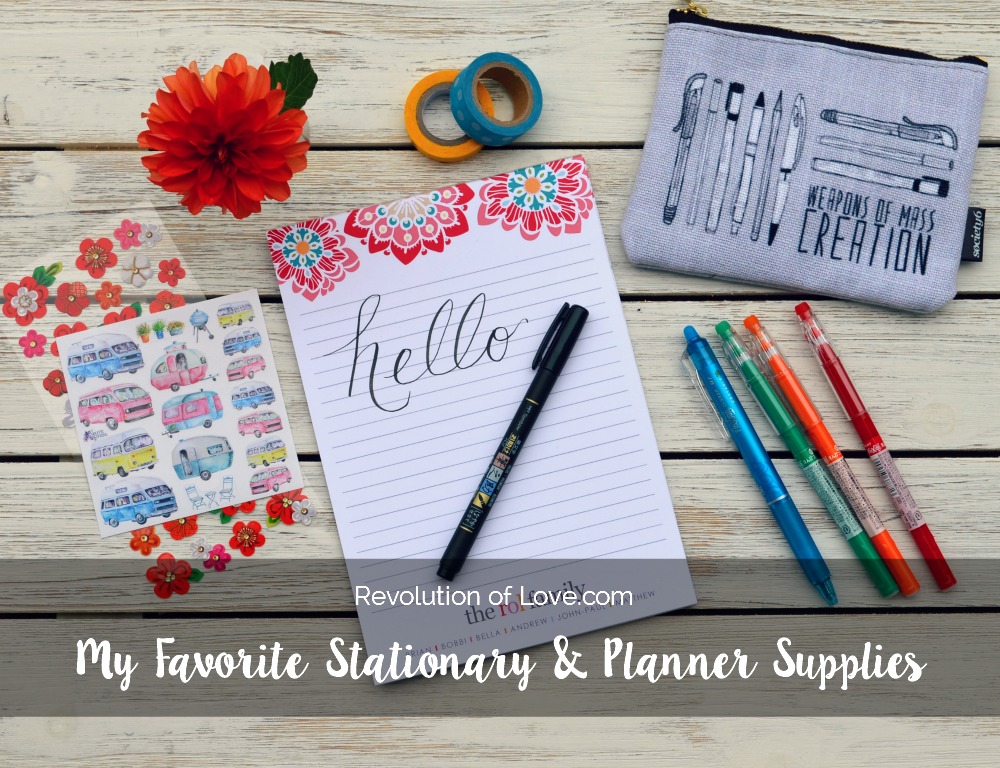 Yesterday I shared with you how I set up my Blessed Is She planner. This is part two with my favorite planning supplies. 🙂
* * * * *
Whenever I write a post about planners, journals, snail mail, or lettering, etc, I always get messages and emails asking me about the supplies I use and where I bought them. To make it easier for you, I compiled a list of my favorite stationary supplies. Hopefully it will help you find a new favorite. 🙂
(NOTE: Revolution of Love is a participant in the Amazon Services LLC Associates Program, an affiliate advertising program designed to provide a means for sites to earn advertising fees by advertising and linking to Amazon.com. I purchased these items on my own and am sharing my honest opinion about them.)

Erasable Pens for My Planner
When I write in my planner, I MUST be able to erase. I used to use pencil until I found these awesome erasable pens. I have three sizes:.
The thicker Pilot Frixion Colors Erasable Markers.
The thinner Pilot FriXion Pencil, 0.7mm Ballpoint Pen, 12 Colors Set. (Also available in the 24 pen set.)
The even thinner Pilot Frixion Ball Knock Retractable Gel Ink Pen, 0.5mm, 10 Colors Set.
(One note: It has been said that the ink of these pens disappear in extreme heat but the ink will reappear if book is placed in the freezer. I have never had an issue but I also don't live in extreme heat.)
Colored Pens
These are my favorite regular thin pens. – Staedtler Color Pen Set, Set of 36 Assorted Colors

If you don't need as many as 26, this 20 pack of Staedtler pens is nice and it comes with a cool plastic case that can stand.
Handlettering/Brush Lettering Pens
My favorite black drawing pens are Micron. I use this when I am practicing hand lettering.
These are my favorite for hand lettering with a brush pen in black ink. I use Tombow Fudenosuke Brush Pen 2 Pens Set. It comes with a hard and soft tip.
For colored ink, I use the Tombow Dual Brush Pens.
Handlettering Introductory Books
I've been wanting to improve (and learn more about) brush lettering so I've been using these books to practice.
Written by Hand: Techniques and Tips to Make Your Everyday Handwriting More Beautiful by Erica Tighe (Erica is the one that does all the beautiful hand lettering for Blessed Is She.

Creative Lettering and Beyond: Inspiring tips, techniques, and ideas for hand lettering your way to beautiful works of art (Creative…and Beyond)

Calligraphy & Hand Lettering Notepad: Beginner Practice Workbook & Introduction to Lettering & Calligraphy (Practice Makes Perfect Series)
If you don't want to spend money on a book there are plenty of practice sheets to be found on Pinterest. I have also used these at Tombow.
Colored Pencils

Here are the colored pencils I use – Prisma Scholar Colored Pencils. Costco had this art set available. I haven't seen them there anymore but found it on Amazon.

If you don't need all the extras, you can buy just the pencils.
Pen/Pencil Cases
I'm (almost) embarrassed to tell you how many pencil pouches and cases I have! 😉 Here are a few of my favorites.
Weapons of Mass Creation Pouch – Love this. It's available in three sizes. 🙂
Star Wars Tattoo Flash Nylon Pencil Case 8 x 4in – When I wrote my last planner post, this pencil pouch was sold out. I am adding the link anyway in case they get more or you find another Star Wars style you may like. (They were also sold out of the matching Star Wars backpack I bought but have since got those back in.) 
YOUSHARES 120 Slots Pencil Case – I use the above Star Wars pouch for one set of erasable pens that stays with me and my planner in my purse. The other pens and pencils I keep in this larger case that stays at home. I bring it out when I have time to decorate my bullet journal or planner.
I use this smaller Designed for Arrangement pencil case as a little traveling pen/pencil holder when I need a variety of pens to take out of the house.
Magnetic Bookmarks/ Bookclips
London Magnetic Bookmarks – These little book magnets are cute ways to mark my pages. 🙂
Forest Friends Magnetic Bookmarks – I'm a sucker for cute forest friends.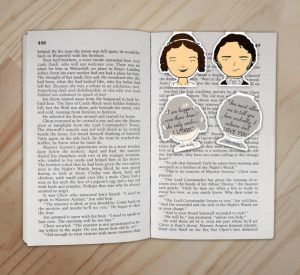 Photo credit: Jane's Tiny Things
I also love all things Jane Austen so these Elizabeth and Mr. Darcy magnetic clips from Jane's Tiny Things were a must! ( Note: I just ordered the Anne and Captain Wentworth version to go with them.) 🙂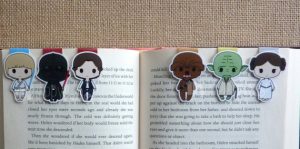 I LOVE these Star Wars book markers. I change them around my planner to suit my mood. (Darth Vader hangs out by the Mondays. Han by the Fridays. 😉 ) You can find them at HappyHelloCo at Etsy.
Planner Accessories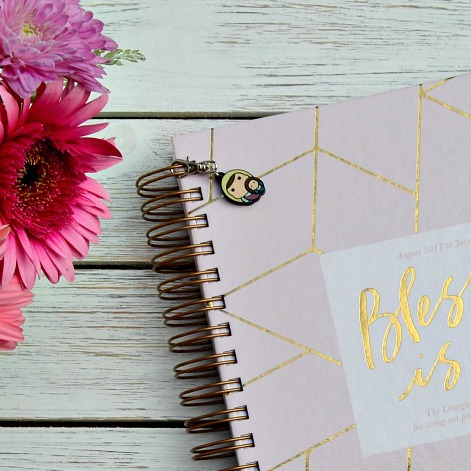 Tiny Saints Charm – We have lots of these cute saint charms on backpacks and adding my patron saint (also patron of mothers) to my planner seemed appropriate. 🙂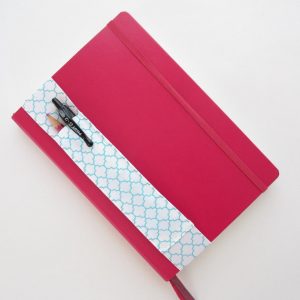 Photo credit: LuckyDuckDesigns. – For my bullet journal, I purchased this pen holder from this great etsy shop. I love her holders and have a few designs but she often sells out so you'll have to keep checking back. I also recently found this shop that sells journal pen holders. They are made of a thicker material that doesn't lay as flat, but she has some cute designs.
Sticky Notes
These are the sticky notes I used for my planner dashboard.

Write It Down Shaped Sticky Notes: 175 Decorated Stickies
Monthly Sticker Subscriptions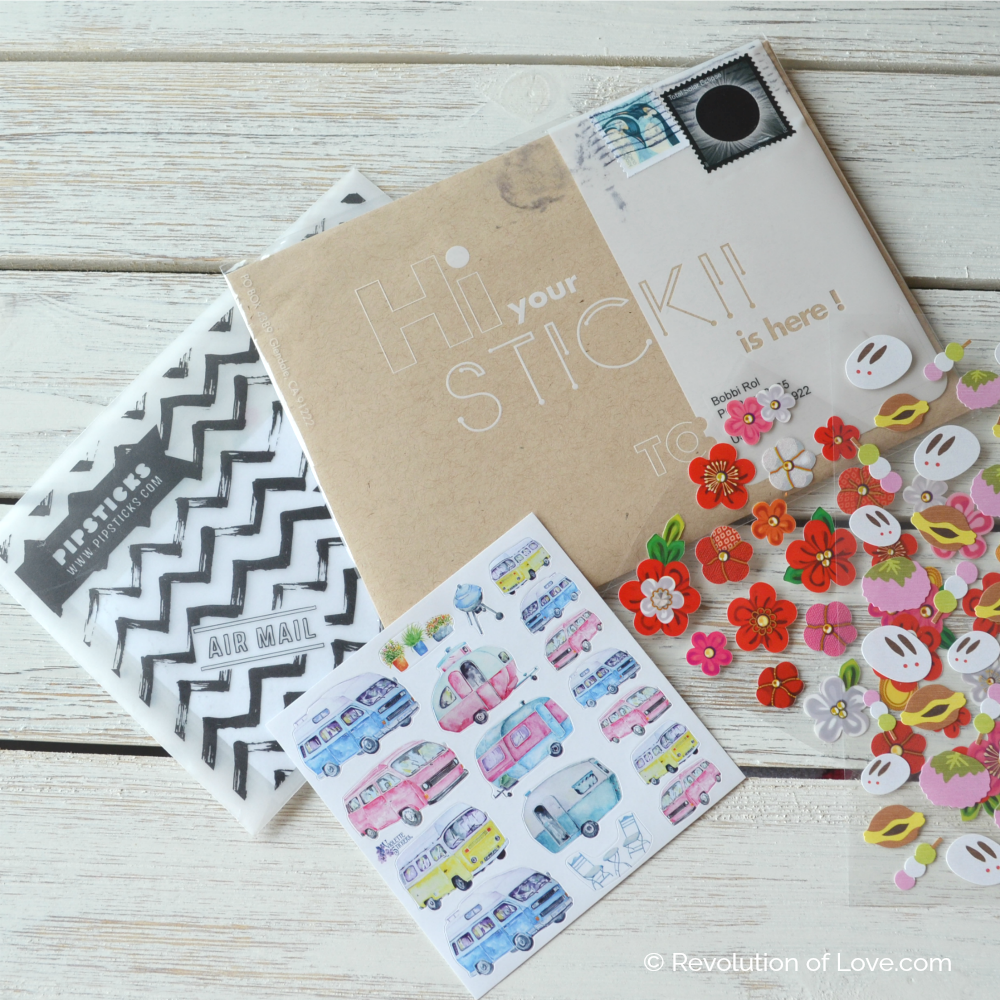 I re-live my childhood by continuing my sticker collection. I use them to decorate my planner, bullet journal, snail mail and more. These are two monthly sticker subscriptions that I love.
Pipsticks – There are two different subscription packs: Kids and Adults Pro Club. The Classic Pro Club pack includes 15 sheets of stickers, 1 postcard and 1 quote card. Cost is $14.95. The Pro Club Petite pack includes 7 sheets of stickers and 1 mini quote card. Cost is $9.95.

Stickii Club – There are three different subscription packs for you to choose from: Cute/ Retro/ Pop. Each pack includes 5 or more sticker sheets, 1 bag of sticker flakes, and sometimes an extra stationery item. Cost is $10 a month.
Washi Tape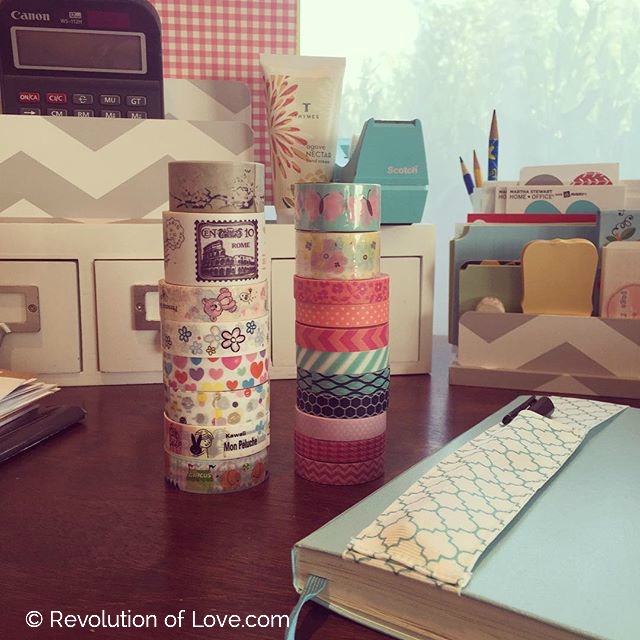 Washi tape can be found at most stores that carry stationary, including Target. I usually wait until Michaels puts them on sale or clearance or use one of their weekly coupons. You can also order cute washi on Amazon.
Other favorites pictured in my planner photos.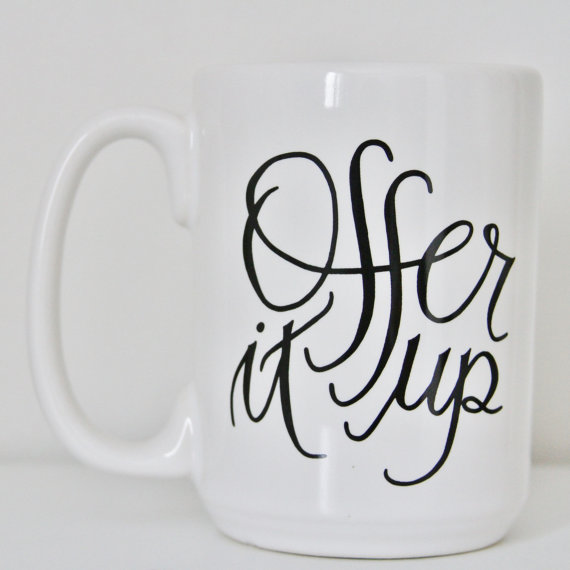 Offer It Up mug by Rose Harrington Shop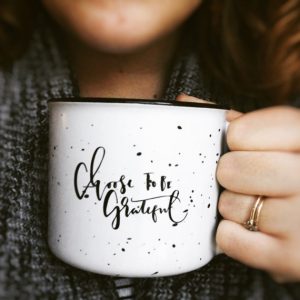 This Choose to be Grateful mug from FawnlyPrints is my current fave.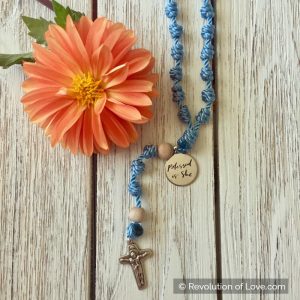 I love my Blessed Is She rosary.
* * * * *
Well, that was a look at many of my favorites! I have been collecting these over the years and many have been gifted to me by family and friends who know I love stationary items.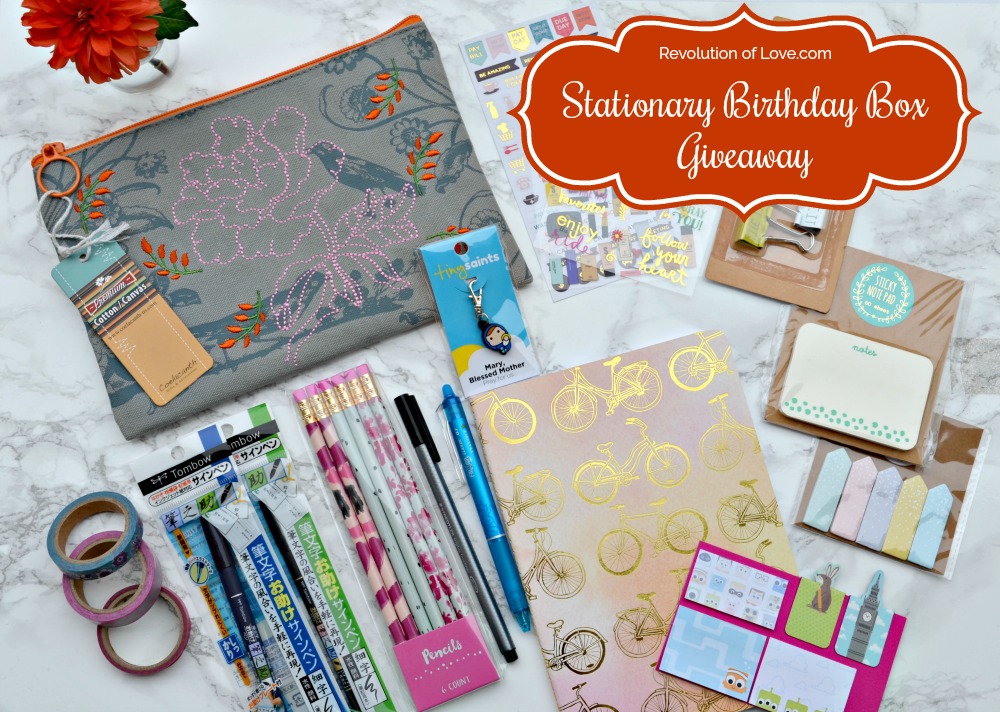 Stationary Birthday Box
Since my birthday is in a few of weeks, I want to share the birthday love and gift something to you! I have a Stationary Birthday Box that I will mail out to one of my blog readers/online friends.The box will include:
A beautiful canvas pencil pouch
A dotted notebook

Tiny Saints

Blessed Mother charm
2 Tombow brush pens
1 black Staedtler pen
1 aqua Pilot FriXion erasable pen
3 rolls of washit tape
Package of decorated pencils
Binder clips
Sticky notepad
A sample of Disney Pixar mini sticky notes
2 magnetic book clips
Stickers
To enter, just leave a comment below and tell me what is your favorite stationary or planner accessory that you currently use or something new you want to try. I'll choose a winner in two weeks (Aug 11) and mail the package in time for my b-day (18th.) Have fun and good luck!
UPDATE: The contest is over. Congrats to our winner Mary M. 🙂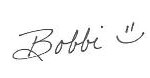 PS – You can follow RoL on Bloglovin, Feedly or another news feed. If you are a social media fan like me, we can stay in touch through Facebook, Twitter, Instagram, Pinterest, GoodReads, Letterboxd, or Spotify, 😉
Save
Save
Save
Save
Save
Save
Save
Save
Save
Save
Save
Save
Save
(Visited 624 times, 1 visits today)