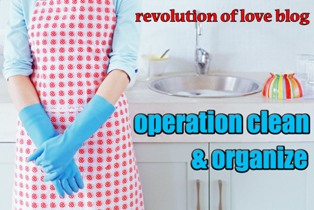 Taming the procrastinating, ADD, mess cat within me.
(To read the introductory post, click here.)
It is week two of Operation Clean and Organize and this week I've been working on a menu board. Some moms prefer to make a monthly menu but that doesn't work for me. Planning one week ahead is all I can handle right now!
I looked at various styles of menu boards to see what appealed to me. I previously had a dry erase board but over time the erase ability of the board deteriorated. I thought of using a magnetic board because I really liked this one but it was too big and I wanted it to be weekly not monthly.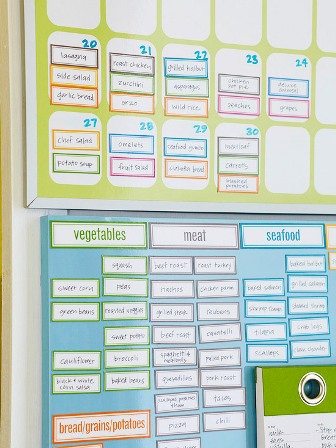 source
I decided to make my own smaller magnetic weekly menu. I spent a total of about $20 for a magnetic board the right size to fit on my fridge, a pack of Avery Printable Magnetic Sheets, and "Days of the Week" magnets that I found at Target in the Back to School seasonal section. (You can find similar products at Amazon – Board Dudes Magnetic Board, Board Dudes Days of the Week Magnets and Avery Magnet Sheets.)
Next I sat down and made a master list of all the meals, side dishes and veggies I normally cook. In a Word document I made four columns of labels and typed up the list of foods. I wanted to keep track of days when I had appointments so I would know to plan easy or slow-cooker meals on those days. I also wanted to mark days when I had to pack the kids' lunches for school.
I color coded the labels: main dish – blue, sides – orange, veggies – green, appointments – purple, and school lunches – red. I made sure to have a number of blank labels to fill in later as I tried new recipes. Next, I printed and cut out the labels. Lastly, I arranged the meals on my board along with a shrunken down copy of Bella's school lunch menu.
Here's what it looks like.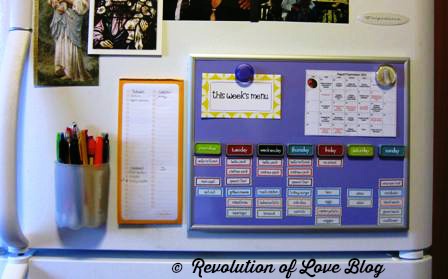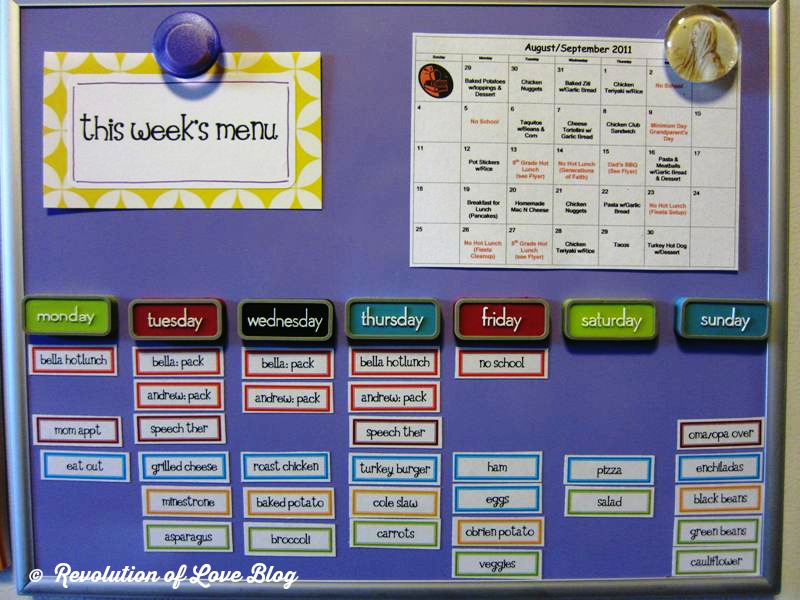 Click on the photo for a larger view.
The first week using it has been great. We'll see how it stands the test of time. 🙂
That's it for this week. Next week I'll be working on organizing my pantry and making master shopping lists. Share your own ideas in the comments and happy organizing!
POSTSCRIPT:
In the spirit of full disclosure, I must admit that this organizing business is getting fun. Who knew? But you must make sure that your motherly duties are attended to first. Otherwise you will have to find out that your earlier statement of "he should be able to eat his yogurt alone without making too much mess while I make a quick post" was not only false but stupid thinking. So be forewarned. Wait until the kids are asleep. (And this was after I cleaned off his hair and face.)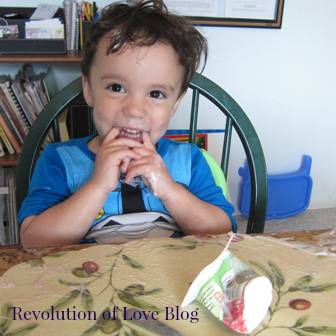 * * * * *
UPDATE (May 2014): I have since updated my menu board. The new version can be found here.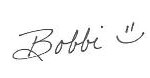 PS – You can follow RoL on Bloglovin, Feedly or another news feed. If you are a social media fan like me, we can stay in touch through Facebook, Twitter, Pinterest, GoodReads, Letterboxd or Instagram  😉
PPS – This post may contain affiliate links.
(Visited 81 times, 1 visits today)