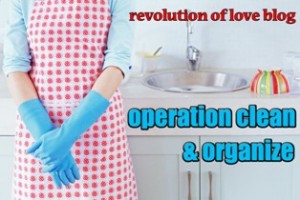 Taming the procrastinating, ADD, mess cat within me.
This is Part 2 of my Home Management Binder post. (You can read the Part 1 post about my daily planner here.) As I said, I divided my information into five categories/binders:
My Daily Planner
Main Household Management Binder
Meal Planning/Shopping/Pantry Binder
Finance Binder
Blogging Binder
Main Household Binder
For my household binder, instead of starting my own sheets from scratch, I turned to one of my favorite organizing gurus – Jennifer at iheartorganizing.blogspot.com and ordered her Family Household Binder Kit. I have already used a number of her worksheets in the past and have been very happy with them. I received the personalize cover and spine as well as numerous household worksheets and lists. (I blocked out our family name to privacy. ;-))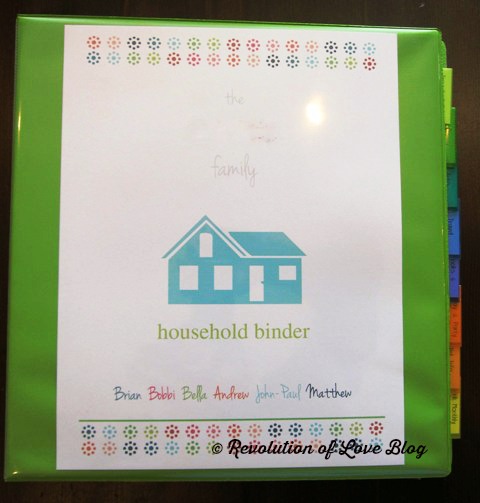 I purchased Avery Plastic Dividers with Slash Pockets (11903) and divided up my main binder into eight categories.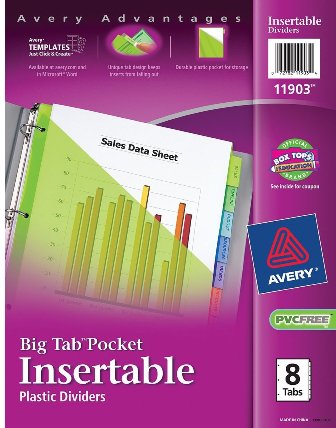 Financial, Medical, Insurance info
Contact List of Important Numbers
Important Dates (Birthdays, Anniversaries, Baptismal Dates etc.)
Babysitting Notes (Info for our babysitter, when we finally get one!)
4. Travel & Outings

I already had a travel list made on my computer, although I haven't updated it in awhile. (It's been a long time since I've carried a separate video camera.) Here is a sample.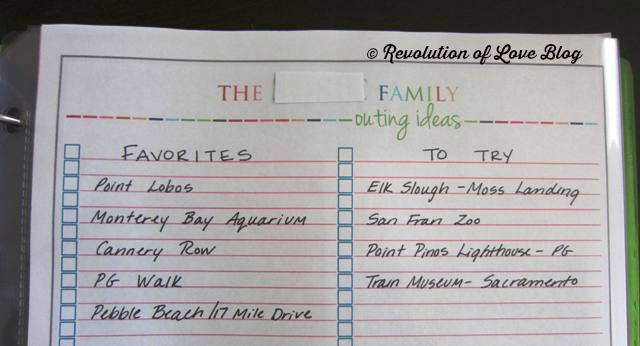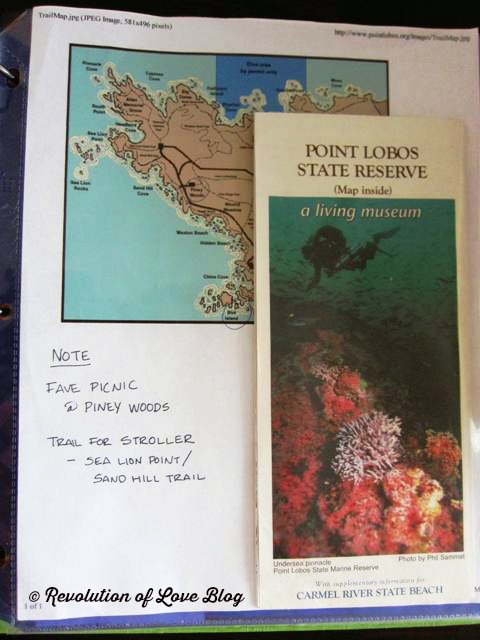 For the places we like to visit often, in a plastic sheet protector I keep the place's map, info and notes on things like our favorite spot to picnic or trails that are stroller friendly.

5. Books & Entertainment

I keep our library receipt in the divider's pocket and in the log I keep track of how many books, dvd's or mags we've checked out and when they are due back.
Book/DVD Check-out Log (Items we've loaned out.)
6. Holiday & Party Planning
Holiday Gift Giving Worksheet
7. Pet Log

8. Blank Monthly Calendars
Okay, that's all I have time for at the moment. I'll post about my Meal Planning Binder next.
Feel free to leave your comments and tips!
UPDATE: Here is Part 3 – Meal Planning & Finance Binders.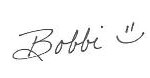 PS – This post may contain affiliate links.
(Visited 77 times, 1 visits today)