(Sorry for the delay. This was supposed to be posted Tuesday!)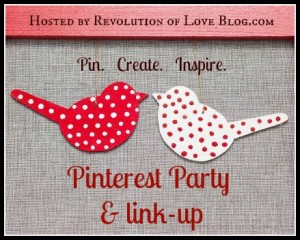 Welcome to the RoL Pinterest Party. Join me as we link up and share how we made, cooked, baked, crafted, planned, organized, followed or created one of the pins on our Pinterest boards OR share something original that others can pin onto their boards.
Not on Pinterest? No problem. Link-up your own creation to inspire us so we can pin in to our own boards. It can be a recipe, sewing project, Catholic craft, homeschool project, organizing/ homemaking tip, themed birthday party, whatever you'd like.
Don't have a post ready? The link-up will be open for a month so there's still time. Plus, feel free to link up a new post or an older post that hasn't had much traffic lately. 🙂
* * * * *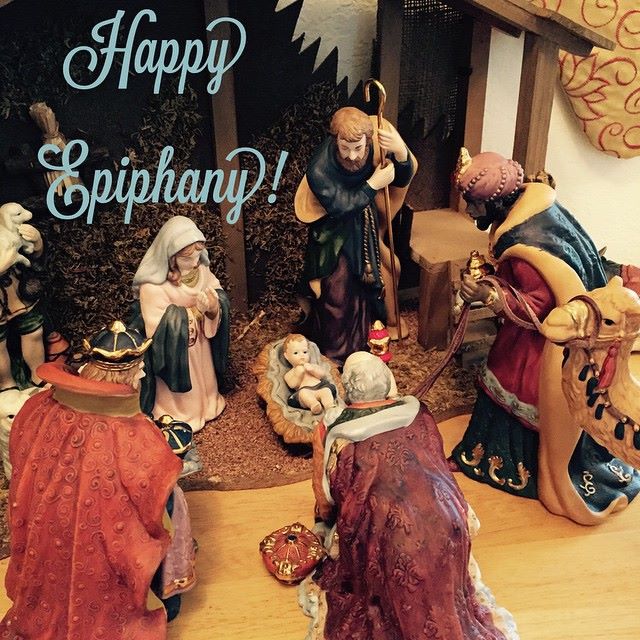 Since we celebrated the Epiphany this week, I thought it would be appropriate to do this month's Pinterest Party about the Epiphany party we hosted last year.
We invited a number of local Catholic families so we had Packer football for the guys. (Brian stipulated that I could have a party only if he could still watch his game. 😉 ) We had a simple craft for the kids and the moms didn't need direction since they know how to fill the hours with conversation and laughter without any help. 🙂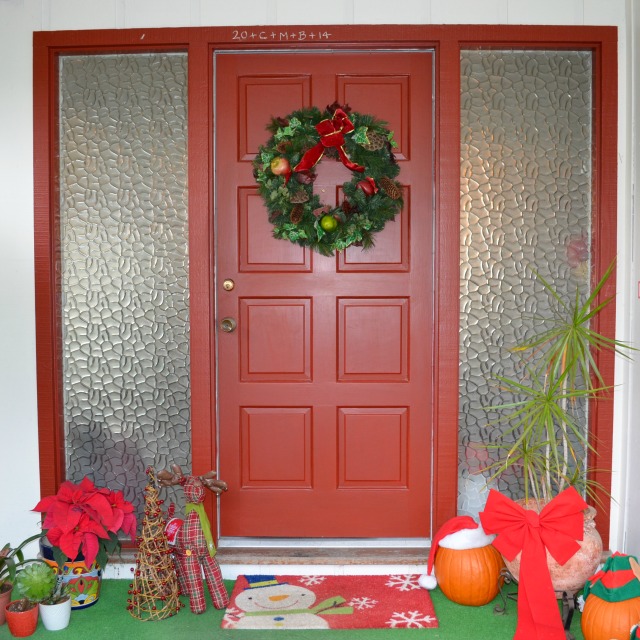 We started out the day with a blessing of our house. There is a long blessing that you can find at Catholic Culture.org –Catholic Prayer: Blessing of the Home on Epiphany. With a big crowd we kept it simple and just said the last part of the blessing:
Leader: Let us pray. Bless, O Lord God almighty, this home, that in it there may be health, purity, the strength of victory, humility, goodness and mercy, the fulfillment of Thy law, the thanksgiving to God the Father and to the Son and to the Holy Spirit. And may this blessing remain upon this home and upon all who dwell herein. Through Christ our Lord.

All: Amen.
We then marked our door.
Laci and Catholic Icing explains the meaning of the markings. (She also has some great Epiphany crafts here.)
Here's what the chalked markings on the door mean: The "20″ is for the first 2 numbers of the year, the 3 letters are the first Initial of each of the kings (Caspar, Melchior, and Balthasar) and the last 2 numbers are the last half of the year. The "C, M, B also stands for the Latin blessing Christius Mansionem Benedicat which means "May Christ Bless this House".
The writing for 2015 would look like this:
20 + C + M + B + 15
As a small gift to each family, we placed in a ziploc bag a copy of the blessing prayer and a stick of chalk to bless their own house.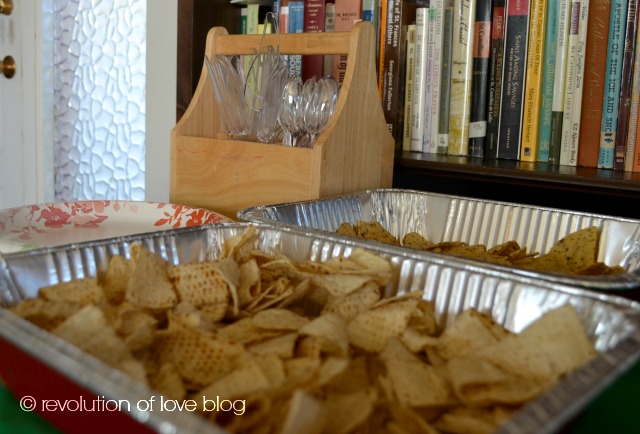 Once the prayers and blessings were said, the party could start. To keep the food simple, I set up a table with a taco salad bar with the basics – tortilla chips, ground turkey meat, homemade – healthier refried beans, lettuce, cheese, tomatoes, guac, salsa and sour cream. I also had the tortilla grill ready to make quesadillas for any of the littles who preferred that.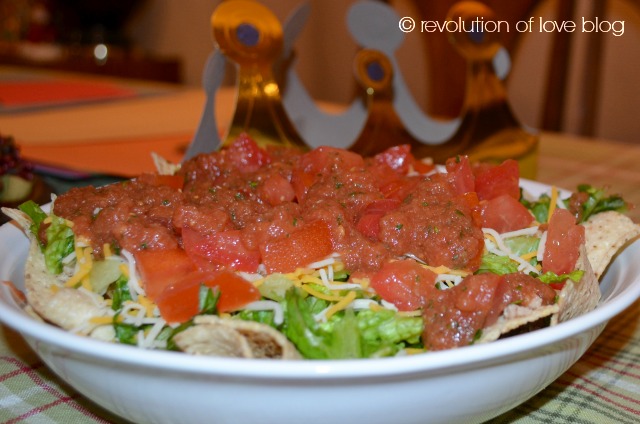 I forgot to take a photo of the table before all the food was devoured but I did get a snap of someone's taco salad.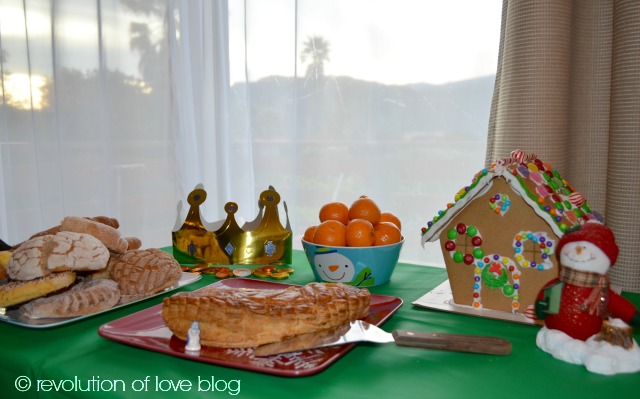 For the dessert table, we had fruit, Mexican sweet bread and an Epiphany cake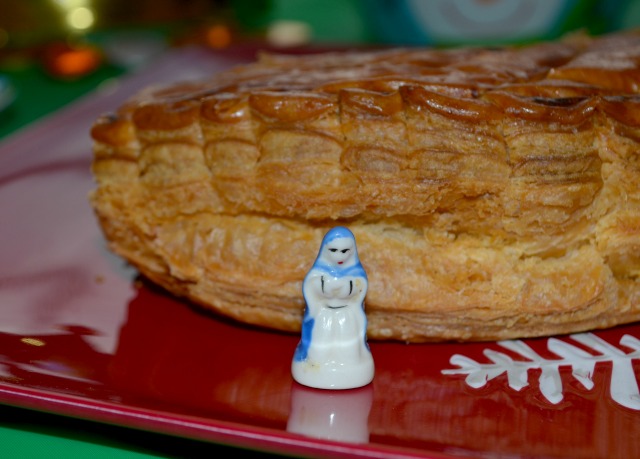 For the epiphany cake, my friend found a bakery (for you locals, it's Parker Lusseau in Monterey, CA) that made a gluten free version, complete with a little figurine baked inside for someone to find. It was delicious!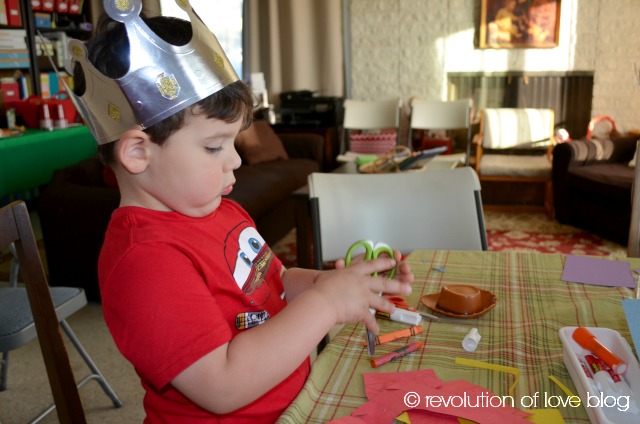 When the meal was finished we had simple crafts for the kids. They could make cards or little gift boxes for Baby Jesus.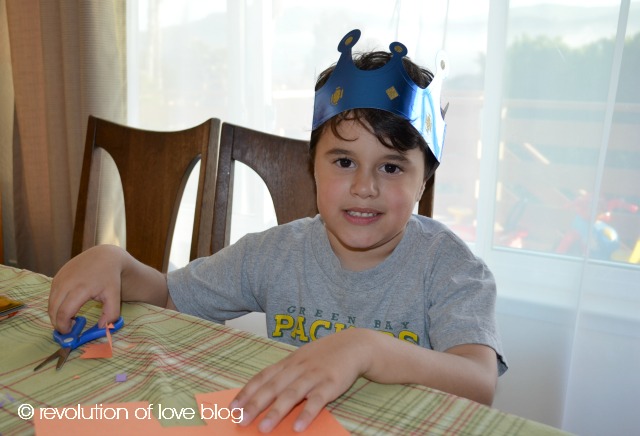 We also had crowns – plain ones to be decorated and colored ones for those who wanted them already complete.
Since it was the beginning of the year, I wanted to do a tradition we often did in our home when we were older kids. We'd each pick out of a hat a card with the name of a saint and a virtue we'd work on that year. It was always a fun activity and sometimes the virtue we'd pick was spot on. (Why did I keep getting patience? I'd ask myself. 😉 )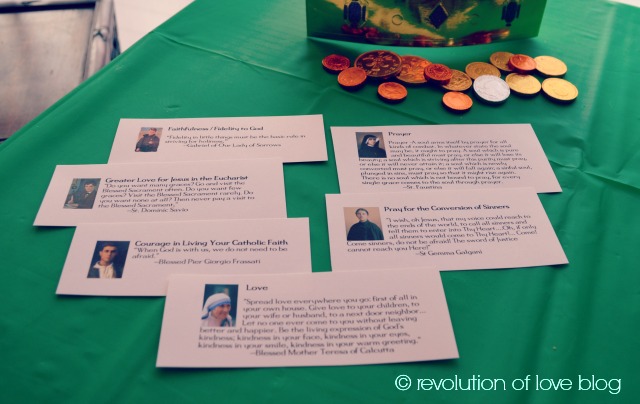 I made a Word document with a saint photo, quote and virtue then cut the cards out. I made enough for each person on the guest list. I separated the cards by groups – moms, dads, teen girls and teen boys, then had the guests chose a random card.
For the moms I picked saints and quote like these:
Love – "Spread love everywhere you go: first of all in your own house. Give love to your children, to your wife or husband, to a next door neighbor… Let no one ever come to you without leaving better and happier. Be the living expression of God's kindness; kindness in your face, kindness in your eyes, kindness in your smile, kindness in your warm greeting." –Blessed Mother Teresa of Calcutta
Perseverance – "Let us love the Cross and let us remember that we are not alone in carrying it. God is helping us. And in God who is comforting us, as St. Paul says, we can do anything." –St. Gianna Beretta Molla
Greater Love of God – "Pure love is capable of great deeds, and it is not broken by difficulty or adversity. As it remains strong in the midst of great difficulties, so too it perseveres in the toilsome and drab life of each day. It knows that only one thing is needed to please God: to do even the smallest things out of great love – love, and always love." –St. Faustina
Silence – "We need to find God, and he cannot be found in noise and restlessness. God is the friend of silence. See how nature – trees, flowers, grass- grows in silence; see the stars, the moon and the sun, how they move in silence… We need silence to be able to touch souls." — Blessed Mother Teresa
Prayer – "A soul arms itself by prayer for all kinds of combat. In whatever state the soul may be, it ought to pray. A soul which is pure and beautiful must pray, or else it will lose its beauty; a soul which is striving after this purity must pray, or else it will never attain it; a soul which is newly converted must pray, or else it will fall again; a sinful soul, plunged in sins, must pray so that it might rise again. There is no soul which is not bound to pray, for every single grace comes to the soul through prayer." –St. Faustina
Make Small Sacrifices for Love of Christ – "Miss no single opportunity of making some small sacrifice, here by a smiling look, there by a kindly word; always doing the smallest right and doing it all for love." –St. Thérèse de Lisieux
For the dads, saints like these:
Forgiveness – "If a man finds it very hard to forgive injuries, let him look at a Crucifix, and think that Christ shed all His Blood for him, and not only forgave His enemies, but even prayed His Heavenly Father to forgive them also." –Saint Philip Neri
Love – "Real love is demanding. I would fail in my mission if I did not tell you so. Love demands a personal commitment to the will of God." –Pope John Paul II
Peace – "Keep your soul at peace, in order to be able to be attentive and very faithful to the inner movement of the Holy Spirit." –Saint Peter Julian Eymard
Patience – "The truly patient man neither complains of his hard lot nor desires to be pitied by others. He speaks of his sufferings in a natural, true, and sincere way, without murmuring, complaining, or exaggerating them." — St. Francis de Sales
Obedience to God – "Obedience is a virtue of so excellent a nature, that Our Lord was pleased to mark its observance upon the whole course of His life; thus He often says, He did not come to do His Own will, but that of His Heavenly Father." –Saint Francis of Sales
Prayer – 'We must speak to God as a friend speaks to his friend, servant to his master; now asking some favor, now acknowledging our faults, and communicating to Him all that concerns us, our thoughts, our fears, our projects, our desires, and in all things seeking His counsel.' –St. Ignatius of Loyola
For the teen girls, saints like these:
Purity – "Those whose hearts are pure are the temples of the Holy Spirit." –St. Lucy
Obedience – "My daughter, know that you give Me greater glory by a single act of obedience than by long prayers and mortifications." –St Faustina
Pray for the Conversion of Sinners – "I wish, oh Jesus, that my voice could reach to the ends of the world, to call all sinners and tell them to enter into Thy Heart….Oh, if only all sinners would come to Thy Heart!… Come! Come sinners, do not be afraid! The sword of Justice cannot reach you Here!" –St Gemma Galgani
Courage in Living Your Faith – "Proclaim the truth and do not be silent through fear." — St. Catherine of Siena
Be a Witness for Christ – "Be who God meant you to be and you will set the world on fire." ― St. Catherine of Siena
For the teen boys, saints like these:
Faithfulness / Fidelity to God – "Fidelity in little things must be the basic rule in striving for holiness," –Gabriel of Our Lady of Sorrows
Courage in Living Your Catholic Faith – "When God is with us, we do not need to be afraid." –Blessed Pier Giorgio Frassati
Greater Love for Jesus in the Eucharist – "Do you want many graces? Go and visit the Blessed Sacrament often. Do you want few graces? Visit the Blessed Sacrament rarely. Do you want none at all? Then never pay a visit to the Blessed Sacrament," –St. Dominic Savio
I think the party was a success. I know we had fun and enjoyed everyone's company. The moms in our group usually get together but it was nice to do something where the dads and kids were involved too. Hopefully we can host another Epiphany party next year. 🙂
Okay, that was my idea for the month. You can find the Pinterest pin for this party here – http://www.pinterest.com/pin/239676011395224224/.
You can find me on Pinterest here – http://www.pinterest.com/rol_bobbi.
* * * * *
Now it's your turn! Share something creative you've done. 🙂
1. Choose your creation, share about it and snap a photo if you can.
2. In your post, link back the original blogger/idea, rather than your Pinterest pin. That way credit goes to the proper person. 🙂 (But feel free to add your Pinterest profile link so we can follow you!)
3. Add a link back here so others can play along.
4. If you want to use it, here is the html code for the logo:
<a href="http://www.revolutionoflove.com/blog/?p=2157″><img title="Revolution of Love Blog – Pinterest Party & Link-up" src="http://www.revolutionoflove.com/blog/wp-content/uploads/2013/04/pinterest_2_medW32-300×240.jpg" alt="" width="300″ height="240″ /></a>
5. Link up below. Make sure you're sending us to your actual post, and not to your general blog address.
The link up will be active the whole month. Have fun!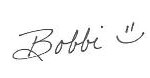 PS – You can follow RoL on Bloglovin, Feedly or another news feed. If you are a social media fan like me, we can stay in touch through Facebook, Twitter, Pinterest, GoodReads, Letterboxd or Instagram. 😉
PPS – This post may contain affiliate links.
(Visited 26 times, 1 visits today)