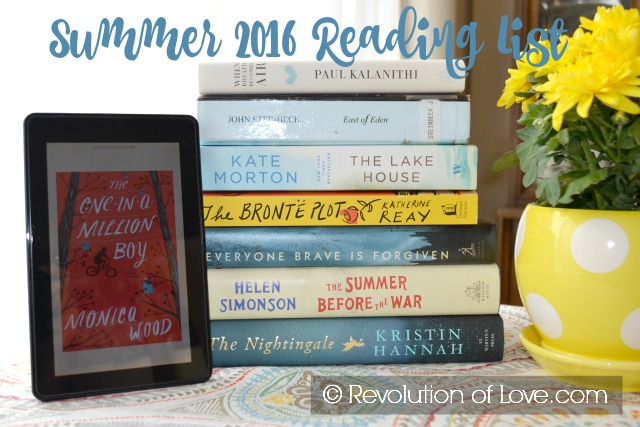 One of my goals for 2016 is to watch less TV and read more. I pledged on Goodreads to read 12 books in 2016 but my reading has been going so well I hope to double that number by the end of summer. It is an ambitious list for me but I added two extra books because I know I will be able to listen to a book on Audible during the drive up to Lake Tahoe and another book on the trip back.
Here is the list of my summer reads. I added Amazon descriptions and links to give you more info. Enjoy!
(Note: I was supposed to post this before my trip to Lake Tahoe but…life happened. I already have three of these books finished for June. I'll post the reviews later this week.)

I am a fan of the author Katherine Reay. I enjoyed her book Dear Mr. Knightly and loved her book Lizzy and Jane so I was eager to add her third book to my summer reading list.
Author: Katherine Reay
Length: 352 pages
Publisher: Thomas Nelson (November 3, 2015)
Amazon Summary:

When Lucy's secret is unearthed, her world begins to crumble. But it may be the best thing that has ever happened to her.
Lucy Alling makes a living selling rare books, often taking suspicious liberties to reach her goals. When her unorthodox methods are discovered, Lucy's secret ruins her relationship with her boss and her boyfriend, James—leaving Lucy in a heap of hurt and trouble. Something has to change; she has to change.
In a sudden turn of events, James's wealthy grandmother, Helen, hires Lucy as a consultant for a London literary and antiques excursion. Lucy reluctantly agrees and soon discovers Helen holds secrets of her own. In fact, Helen understands Lucy's predicament better than anyone else.
As the two travel across England, Lucy benefits from Helen's wisdom as Helen confronts ghosts from her own past. Everything comes to a head at Haworth, home of the Brontë sisters, where Lucy is reminded of the sisters' beloved heroines who, with tenacity and resolution, endured—even in the midst of impossible circumstances.
Now Lucy must face her past in order to move forward. And while it may hold mistakes and regrets, she will prevail—if only she can step into the life that's been waiting for her all along.


I have seen movies of John Steinbeck's works but I have never actually read one of his books. The fact that I live on the Central Coast of CA, where his stories take place, it is even more fitting that I correct this error. So for the Modern Mrs. Darcy Reading Challenge, I chose this for the "a book that was banned as some point" category.
Author: John Steinbeck
Length: 640 pages
Publisher: Penguin Classics; Reissue edition (October 1, 1992); Original Publication (1952)
Amazon Summary:
In his journal, Nobel Prize winner John Steinbeck called East of Eden "the first book," and indeed it has the primordial power and simplicity of myth. Set in the rich farmland of California's Salinas Valley, this sprawling and often brutal novel follows the intertwined destinies of two families—the Trasks and the Hamiltons—whose generations helplessly reenact the fall of Adam and Eve and the poisonous rivalry of Cain and Abel.
The masterpiece of Steinbeck's later years, East of Eden is a work in which Steinbeck created his most mesmerizing characters and explored his most enduring themes: the mystery of identity, the inexplicability of love, and the murderous consequences of love's absence. Adapted for the 1955 film directed by Elia Kazan introducing James Dean and read by thousands as the book that brought Oprah's Book Club back, East of Eden has remained vitally present in American culture for over half a century.



I have been on a kick of reading books set in wartime and this is the first of three such books on my summer list. Also, for the Modern Mrs. Darcy Reading Challenge, I chose this for the "a book published this year" category.
Author: Chris Cleave
Length: 432 pages
Publisher: Simon & Schuster; First Edition edition (May 3, 2016)
Amazon Summary:
London, 1939.
The day war is declared, Mary North leaves finishing school unfinished, goes straight to the War Office, and signs up.
Tom Shaw decides to ignore the war—until he learns his roommate Alistair Heath has unexpectedly enlisted. Then the conflict can no longer be avoided.
Young, bright, and brave, Mary is certain she'd be a marvelous spy. When she is—bewilderingly—made a teacher, she finds herself defying prejudice to protect the children her country would rather forget.
Tom, meanwhile, finds that he will do anything for Mary.
And when Mary and Alistair meet, it is love, as well as war, that will test them in ways they could not have imagined, entangling three lives in violence and passion, friendship and deception, inexorably shaping their hopes and dreams.
Set in London during the years of 1939–1942, when citizens had slim hope of survival, much less victory; and on the strategic island of Malta, which was daily devastated by the Axis barrage, Everyone Brave is Forgiven features little-known history and a perfect wartime love story inspired by the real-life love letters between Chris Cleave's grandparents. This dazzling novel dares us to understand that, against the great theater of world events, it is the intimate losses, the small battles, the daily human triumphs that change us most.


I've never read a Kate Morton book so I chose this since it seems like the proverbial beach read.
Author: Kate Morton
Length: 512 pages
Publisher: Washington Square Press; Reprint edition (June 7, 2016)
Amazon Summary:
Living on her family's idyllic lakeside estate in Cornwall, England, Alice Edevane is a bright, inquisitive, and precociously talented sixteen-year-old who loves to write stories.
One midsummer's eve, after a beautiful party drawing hundreds of guests to the estate has ended, the Edevanes discover that their youngest child, eleven-month-old Theo, has vanished without a trace. He is never found, and the family is torn apart, the house abandoned.
Decades later, Alice is living in London, having enjoyed a long successful career as a novelist. Miles away, Sadie Sparrow, a young detective in the London police force, is staying at her grandfather's house in Cornwall. While out walking one day, she stumbles upon the old Edevane estate—now crumbling and covered with vines. Her curiosity is sparked, setting off a series of events that will bring her and Alice together and reveal shocking truths about a past long gone…yet more present than ever.
A lush, atmospheric tale of intertwined destinies from a masterful storyteller, The Lake House is an enthralling, thoroughly satisfying read.


Another WWII book, I read a lot of great reviews of this book so added it to my list.
Author: Kristin Hannah
Length: 440 pages
Publisher: St. Martin's Press; 1st edition (February 3, 2015)
Amazon Summary:
In love we find out who we want to be. In war we find out who we are.
FRANCE, 1939
In the quiet village of Carriveau, Vianne Mauriac says goodbye to her husband, Antoine, as he heads for the Front. She doesn't believe that the Nazis will invade France … but invade they do, in droves of marching soldiers, in caravans of trucks and tanks, in planes that fill the skies and drop bombs upon the innocent. When a German captain requisitions Vianne's home, she and her daughter must live with the enemy or lose everything. Without food or money or hope, as danger escalates all around them, she is forced to make one impossible choice after another to keep her family alive.
Vianne's sister, Isabelle, is a rebellious eighteen-year-old girl, searching for purpose with all the reckless passion of youth. While thousands of Parisians march into the unknown terrors of war, she meets Gäetan, a partisan who believes the French can fight the Nazis from within France, and she falls in love as only the young can … completely. But when he betrays her, Isabelle joins the Resistance and never looks back, risking her life time and again to save others.
With courage, grace and powerful insight, bestselling author Kristin Hannah captures the epic panorama of WWII and illuminates an intimate part of history seldom seen: the women's war. The Nightingale tells the stories of two sisters, separated by years and experience, by ideals, passion and circumstance, each embarking on her own dangerous path toward survival, love, and freedom in German-occupied, war-torn France–a heartbreakingly beautiful novel that celebrates the resilience of the human spirit and the durability of women. It is a novel for everyone, a novel for a lifetime.


This book definitely didn't seem like a book I would be interested in but Modern Mrs. Darcy chose it as one of her 5 books in her Summer Reading Club and recommend it in her 2016 Reading Guide under the "Engrossing Books" category so I thought I'd give it a try.
Author: Monica Wood
Length: 336 pages
Publisher: Houghton Mifflin Harcourt; 1 edition (April 5, 2016)
Amazon Summary:
The incandescent story of a 104-year-old woman and the sweet, strange young boy assigned to help her around the house — a friendship that touches each member of the boy's unmoored family
For years, guitarist Quinn Porter has been on the road, chasing gig after gig, largely absent to his twice-ex-wife Belle and their odd, Guinness records–obsessed son. When the boy dies suddenly, Quinn seeks forgiveness for his paternal shortcomings by completing the requirements for his son's unfinished Boy Scout badge.
For seven Saturdays, Quinn does yard work for Ona Vitkus, the wily 104-year-old Lithuanian immigrant the boy had visited weekly. Quinn soon discovers that the boy had talked Ona into gunning for the world record for Oldest Licensed Driver — and that's the least of her secrets. Despite himself, Quinn picks up where the boy left off, forging a friendship with Ona that allows him to know the son he never understood, a boy who was always listening, always learning.
The One-in-a-Million Boy is a richly layered novel of hearts broken seemingly beyond repair and then bound by a stunning act of human devotion.


I already had two war time books on my list and was reluctant to add a third but then I found out that Tiffany and Cristina were hosting the Late Summer Book Club and this was the book that was voted as the fave and it was said to have a Downton Abbey feel. Well, I had to be a part of that so it was happily added. 🙂
Author: Helen Simonson
Length: 496 pages
Publisher: Random House (March 22, 2016)
Amazon Summary:
East Sussex, 1914. It is the end of England's brief Edwardian summer, and everyone agrees that the weather has never been so beautiful. Hugh Grange, down from his medical studies, is visiting his Aunt Agatha, who lives with her husband in the small, idyllic coastal town of Rye. Agatha's husband works in the Foreign Office, and she is certain he will ensure that the recent saber rattling over the Balkans won't come to anything. And Agatha has more immediate concerns; she has just risked her carefully built reputation by pushing for the appointment of a woman to replace the Latin master.
 
When Beatrice Nash arrives with one trunk and several large crates of books, it is clear she is significantly more freethinking—and attractive—than anyone believes a Latin teacher should be. For her part, mourning the death of her beloved father, who has left her penniless, Beatrice simply wants to be left alone to pursue her teaching and writing.
 
But just as Beatrice comes alive to the beauty of the Sussex landscape and the colorful characters who populate Rye, the perfect summer is about to end. For despite Agatha's reassurances, the unimaginable is coming. Soon the limits of progress, and the old ways, will be tested as this small Sussex town and its inhabitants go to war.


For the Modern Mrs. Darcy Reading Challenge, I chose this for the "book that intimidates you" category. My husband has already battled cancer and I just found out my mom was diagnosed with cancer. I wasn't sure if I was emotionally strong enough to read a book about a man that dies of cancer but I added it to the list despite my reservations.
Author: Paul Kalanithi
Length: 256 pages
Publisher: Random House; 1 edition (January 12, 2016)
Amazon Summary:
At the age of thirty-six, on the verge of completing a decade's worth of training as a neurosurgeon, Paul Kalanithi was diagnosed with stage IV lung cancer. One day he was a doctor treating the dying, and the next he was a patient struggling to live. And just like that, the future he and his wife had imagined evaporated. When Breath Becomes Air chronicles Kalanithi's transformation from a naïve medical student "possessed," as he wrote, "by the question of what, given that all organisms die, makes a virtuous and meaningful life" into a neurosurgeon at Stanford working in the brain, the most critical place for human identity, and finally into a patient and new father confronting his own mortality.
What makes life worth living in the face of death? What do you do when the future, no longer a ladder toward your goals in life, flattens out into a perpetual present? What does it mean to have a child, to nurture a new life as another fades away? These are some of the questions Kalanithi wrestles with in this profoundly moving, exquisitely observed memoir.
Paul Kalanithi died in March 2015, while working on this book, yet his words live on as a guide and a gift to us all. "I began to realize that coming face to face with my own mortality, in a sense, had changed nothing and everything," he wrote. "Seven words from Samuel Beckett began to repeat in my head: 'I can't go on. I'll go on.'" When Breath Becomes Air is an unforgettable, life-affirming reflection on the challenge of facing death and on the relationship between doctor and patient, from a brilliant writer who became both.

Have you read any of these already? Did you like them? What are you reading this summer?
Save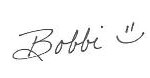 PS – You can follow RoL on Bloglovin, Feedly or another news feed. If you are a social media fan like me, we can stay in touch through Facebook, Twitter, Instagram, Pinterest, GoodReads, Letterboxd, or Spotify, 😉
PPS – Disclaimer: "Revolution of Love.com is a participant in the Amazon Services LLC Associates Program, an affiliate advertising program designed to provide a means for sites to earn advertising fees by advertising and linking to Amazon.com."
In other words, if you click on my affiliated links and make a purchase, I get a small compensation that goes towards keeping the blog online. Big hugs to those who click and help support the blog! xoxo 🙂
Save
(Visited 18 times, 1 visits today)