Hey everyone, my week long blogging break turned into a month long break but life has been busy and I needed that time to put all my energy into other obligations. However, I have a little more wiggle room in my schedule and have been itching to get back here so I thought a post was in order.
Since today is Veteran's Day I thought it would be a perfect day to feature an organization that I have grown to love!  It is AnySoldier.com.

I first heard about this organization when I was watching one of my favorite Hallmark Christmas movies – The Christmas Card.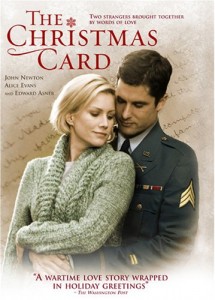 This particular day I happened to also watch the bonus features on the DVD and they had a clip about AnySoldier.com. I went onto the website to get more info and was touched by how the outreach started.
Here is how it began. From their website:
It was March 26th, 2003. Army Sergeant Brian Horn, one of 1,000 soldiers, parachuted into enemy territory in Northern Iraq.
Five months later, Brian Horn was able to call his parents. They had been sending their son an average of six care packages per week. So when Brian asked his parents to send more, "my wife and I thought he was kidding!" Marty Horn told me. "But Brian said, 'no — its for the soldiers that don't get any.'"
Both Brian's parents had spent their careers in the Military, so they immediately understood what Brian was saying. Millions of men and women serving overseas never receive any mail. Besides often lacking basic necessities, these men and women have to cope with the harsh conditions of serving overseas without signs of support from friends and family back home.
The Horns developed the idea for AnySoldier.com during that phone call. Marty created a website that explained the project and offered Brian's address — including the words "Attn: Any Soldier". Brian would give these packages to the soldiers not receiving any mail. After his service in the Military, Marty had gotten involved in the still-young Internet. He knew how much opportunity the Internet offered, but even he was amazed at the results. "Within two weeks, we were getting flooded with email from all over the world. It was like an avalanche."
Read the rest of the story here.
* * * * *
Ten years later, the organization is still going strong and helping countless soldiers around the world.
Check out this AnySoldier.com slide show on YouTube.
So how do you get involved?
In a nutshell, first you look through the site, particularly their Overview page and the FAQ page. This gives you ALL the info you need and I'm sure you'll also laugh a bit over Marty's sense of humor and no nonsense approach. 😉 Next, go to the Where to Send page. Browse the contact names or use the search feature to find a troop that touches your heart. Many list specific items they need so there is no "what should I send?" stress. Then request the contact's address. Lastly, make a donation so the website can stay online. (Don't worry, it can be an small as a dollar or two!) Just remember that running the website and organization is not cheap! Their servers alone cost $1,000 a month!
But your donation is put to good use! There are a number of other great organizations serving our troops but what I like about AnySoldier.com  is that you are able to search the list until you find the perfect match for you and your family.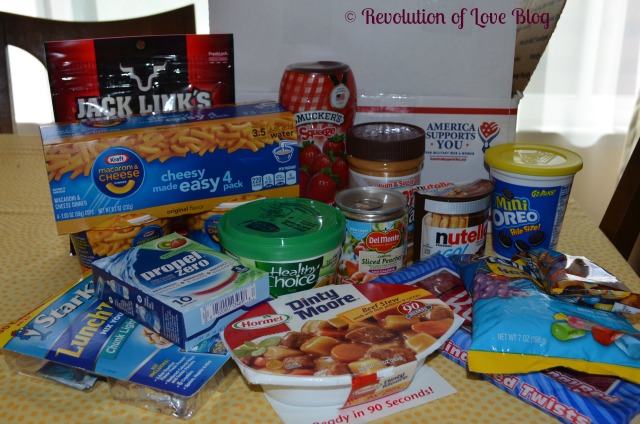 For example, for my first package I went through the contacts and found names that said that some of their soldiers receive little or no mail or are struggling and need a boost in morale.  (There is also a great feature that shows how many people requested an address. I skipped the ones that had lots of people and chose the ones that had few inquire about them.)
Another package went to female soldiers who needed female products and special hair products because their hair was falling out with the harsh conditions. As a girl with unruly hair, I have trouble taming the beast in a mild climate. I can't imagine what it would be like in the harsh conditions of Afghanistan or Kuwait!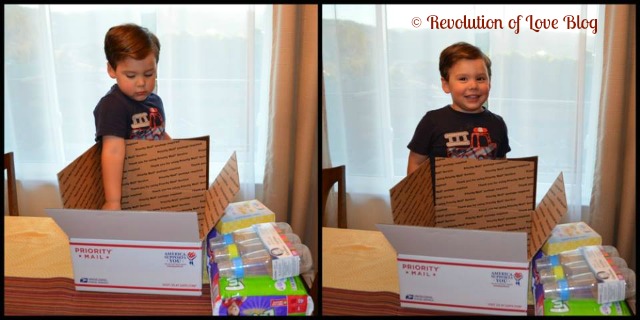 Another package was sent to some pregnant soldiers in South Korea. Since that country is technically not in a war zone, they remain there during their pregnancies. Matthew was eager to help me pack a box with diapers, baby wipes, bottles, etc.
I put in each box a letter and this picture that Bella drew. (I just added the text.)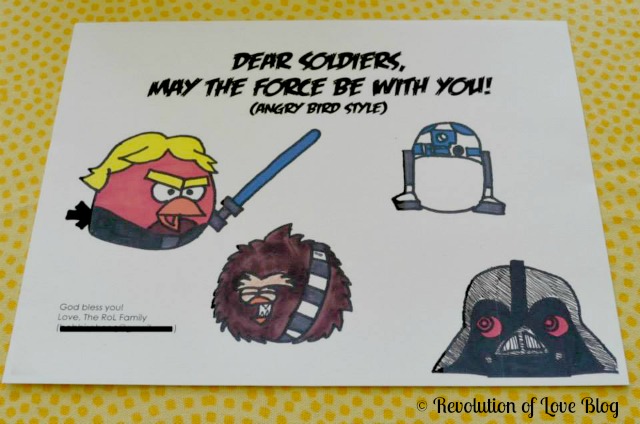 But don't think you have to spend lots of money or send elaborate care packages! You can send a small package with a couple snacks or some travel sized toiletries. And you don't have to send a package at all!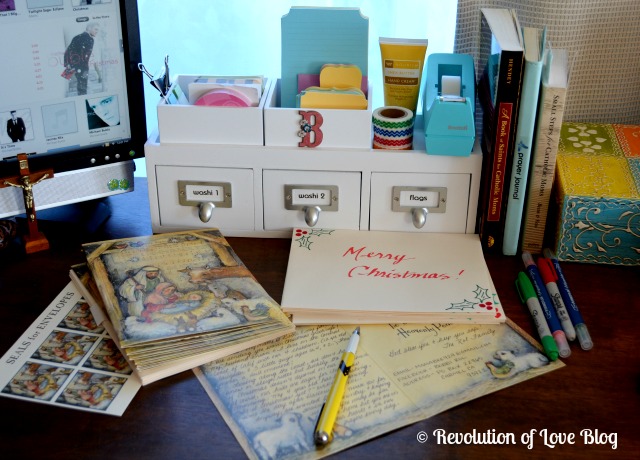 Write a letter or send a Christmas card. You hear over and over from the soldiers that the packages sent are great but what really touches them are the letters and support. 🙂
AnySoldier.com also has a Facebook Page and a Facebook Group. I'm part of the group and there's lots of support and great ideas from members who have been sending lots of care packages over the years. For those who love being creative, there are also members who personalize their boxes by themes and decorate them for added fun. They are inspiring!  I'll see if I can get permission to post some of the pics. 🙂
Operation Christmas Stocking
You'll also find an Events Tab on the Facebook Group. That is where I found out about Operation Christmas Stockings which is a project to help one of the AnySoldier.com contacts receive Christmas stockings for his entire unit – over 700 stockings! So far we've covered 75% of the request. There is still time to get involved. (Items need to be shipped out by Dec 3 using Priority Mail.)  Just go to their FB page if you can contribute filled stockings, empty stockings, or items to put into stockings! (Read make sure you read the AnySoldier.com site first so you know how things work. 😉 )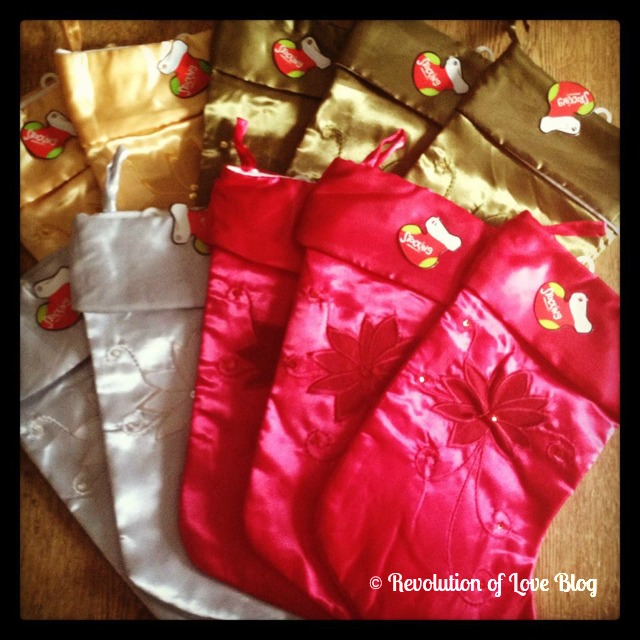 I went to the $1 store to buy 10 stocking to stuff with supplies for our troops. When I paid, they rang up as 1 cent instead of $1. I told them they were for a "support the troops" project and if I saved that money I could spend more on supplies. So he gave me the 10 stockings for 10 cents. Praise God!
Oh, and one final note. The first time you put together a package, it can be intimidating! I had to remember to not mix food with toiletries (deodorant tasting cookies, anyone?) and not to pack certain items (ie no pork to the Middle East, no aerosols anywhere, no baked goods). (The FAQ page helped a lot!) Then I had to figure out which custom form to fill out (there's one for smaller packages and another for over 4 lb packages) and how to fill them out. I found this website really helpful in filling out the PS Form 2976 – A. However, once you've get through your first package, it becomes so much easier and filling out the forms are a mere minor inconvenience. So don't get discouraged. It gets easier and is worth it.  😉
If you are interested in supporting our soldiers too, go and check out AnySoldier.com! It's an incredible organization and I am proud to be involved. 🙂
Lastly, don't forget to keep our soldiers (and veterans) in your prayers each day!
UPDATE: After I posted this my sister-in-law shared this link: Budget-Friendly Tips for Packing and Sending Care Packages to Military Overseas. There are a lot of great tips and ideas.
Also, here is the link to order free APO Flat Rate Priority Boxes. They are a couple dollars cheaper to ship than regular flat rate.
Lastly, some companies such as Hickory Farms, ships free to APO addresses. If you have Amazon Prime (or else order over $25) you can have your package shipped directly to the APO address for free. (As long as the item is sold by Amazon and not a third party.)
All these little things help. 🙂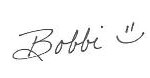 PS – You can follow RoL on Bloglovin, Feedly or another news feed. If you are a social media fan like me, we can stay in touch through Facebook, Twitter, Pinterest, GoodReads or Instagram. 😉
(Visited 10 times, 1 visits today)