2018 UPDATE: This post is about a previous version of the the Blessed Is She Planner. The new 2018-2019 Blessed Is She Planner is now available for pre-order. Order here.
* * * * *
To many people, the start of the new year is on January 1st but for many (including moms with kids in school) the new year is more likely from Aug/Sept to the end of summer vacation. That means that in August and September we are looking for new planners or updating our old ones. Well, if you are looking for a beautiful, functional and Catholic planner, look no further! The new Blessed Is She Liturgical Planner is now ready for pre-order and let me tell you, it is gorgeous!! Take a look!
A Look at the 2016-2017 Blessed Is She Planner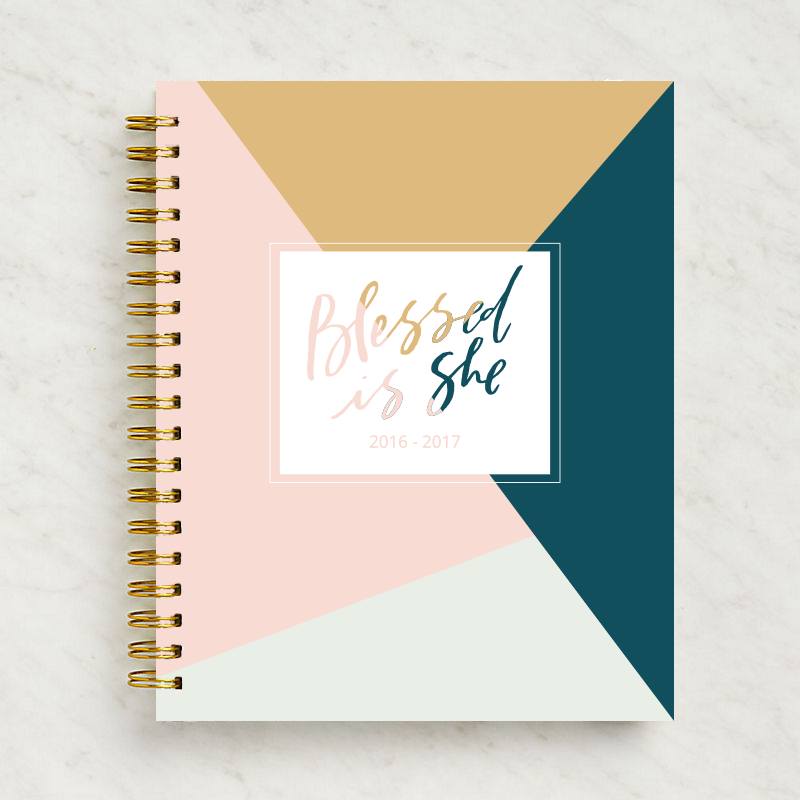 The Blessed is She Liturgical Planner runs through September 1, 2016 – September 3, 2017. (This one is sold out. Order the new one here.)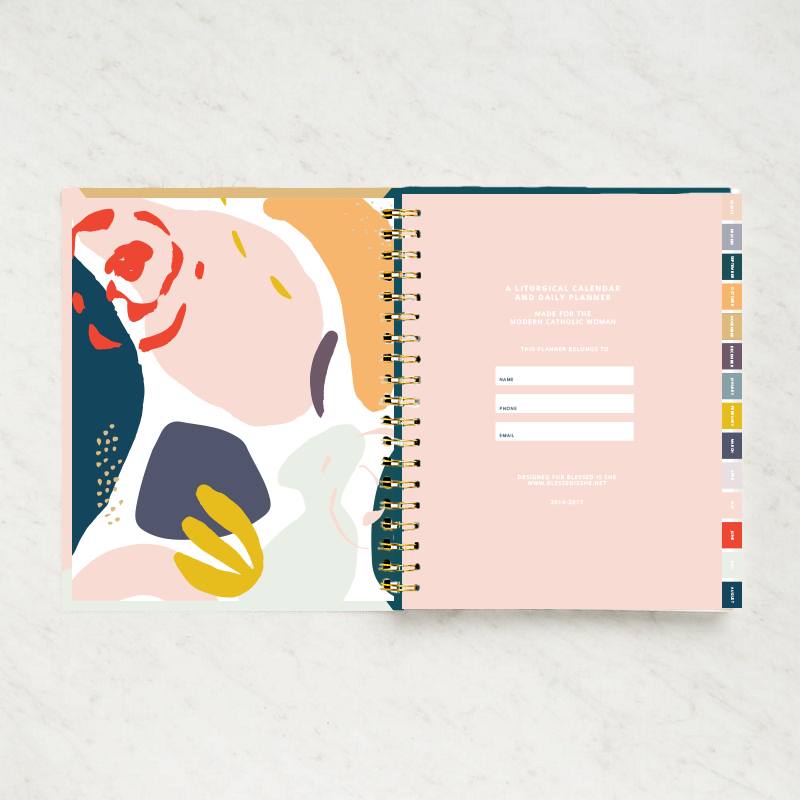 The inside cover.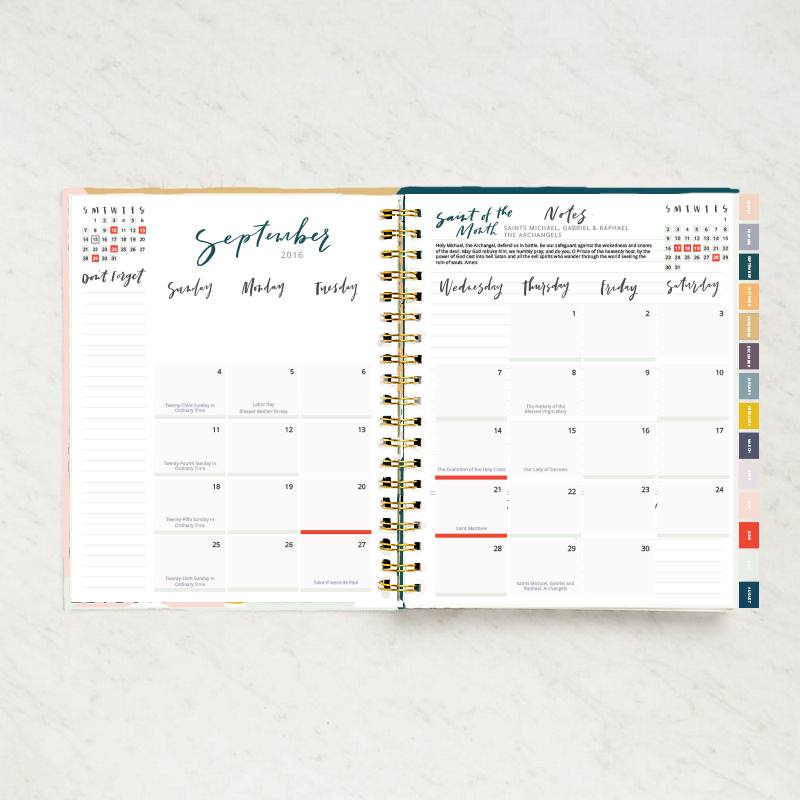 Artwork and handlettering by the lovely artist Erica of Be a Heart. (I interviewed her for Saturday Spotlight here.)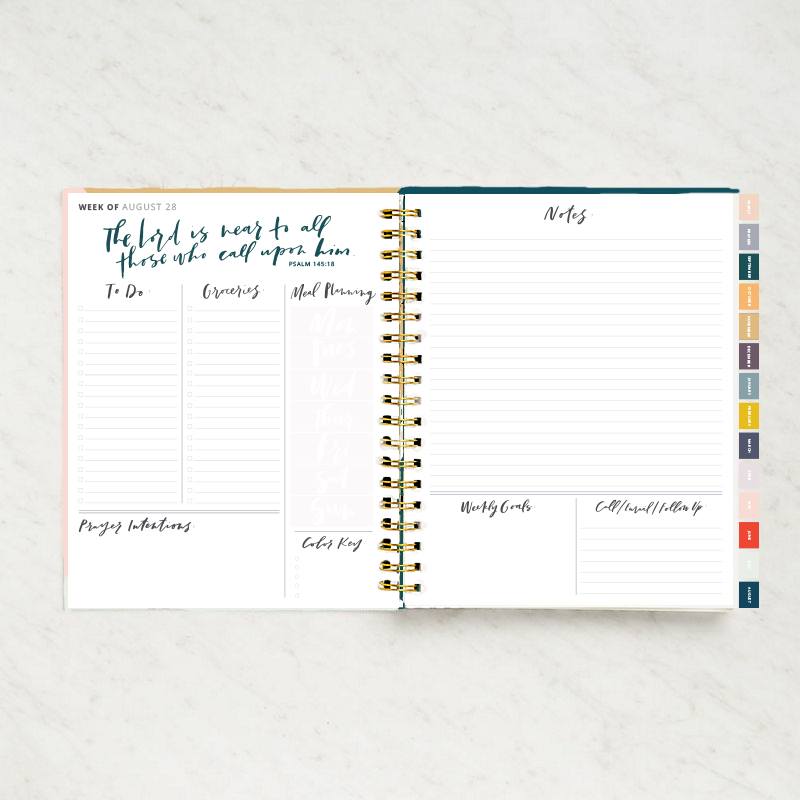 Weekly layout with sections for: To Do, Groceries, Meal Planning, Prayer Intentions, Notes, Goals and more.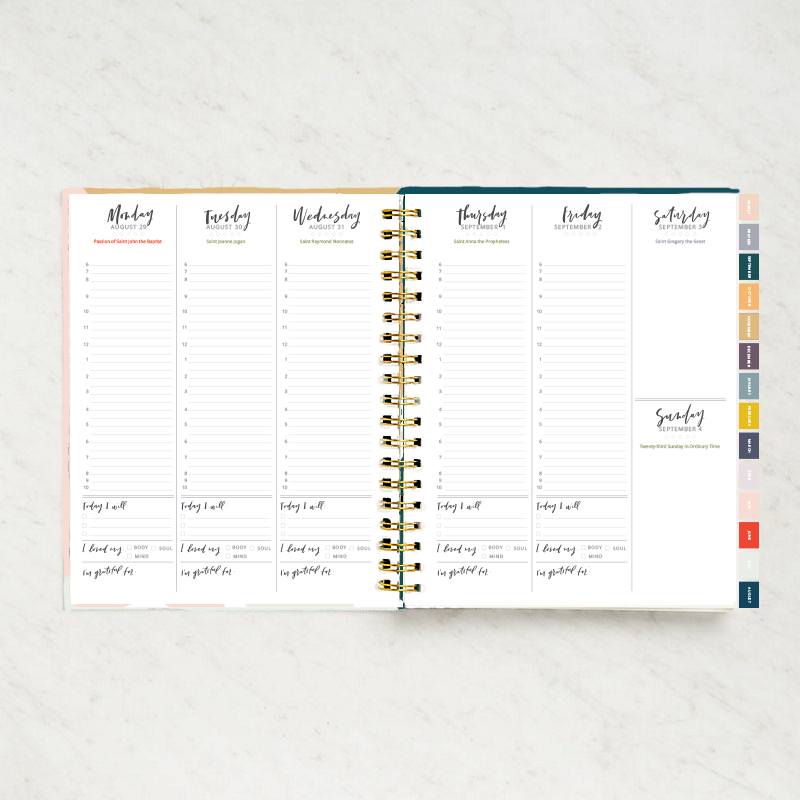 Daily hourly layout.
Other features:
reminder to start specific novenas
liturgical colors for the entire year
handlettered bible verses for inspiration / memorization
Saints of the day and month
helpful prayer reminders
There is also a prayer section with favorite Catholic prayers of the Blessed Is She writers. (Including yours truly.) 🙂
The planner is $60.  The price may seem high but it comparable to other name brand planners and unlike some less expensive ones, this was Made in the USA!
I love my bullet journal and don't plan on changing but I am purchasing this one to use as a blogging planner. (Although, to be perfectly honest with you, this planner is so beautiful and inspirational, I am seriously considering keeping my bullet journal for all my lists and goal tracking and using this for my day to day planning. I'll keep you posted!) In the meantime, place your order before they run out!
Lastly, if you use the links on this post, they are affiliate links, meaning I get a small percentage of the sales. Through the months of July and August, all proceeds made from this blog post will be donated to the St. Bryce Missions. 🙂
Happy planning!
UPDATE: I decided to use the BIS planner and a bullet journal. Find out how it works for me at How I Use a (Blessed Is She) Planner and a Bullet Journal.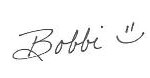 PS – You can follow RoL on Bloglovin, Feedly or another news feed. If you are a social media fan like me, we can stay in touch through Facebook, Twitter, Instagram, Pinterest, GoodReads, Letterboxd, or Spotify, 😉
Save
Save
Save
Save
Save
Save
Save
Save
Save
Save
Save
Save
Save
Save
Save
Save
(Visited 1,905 times, 1 visits today)