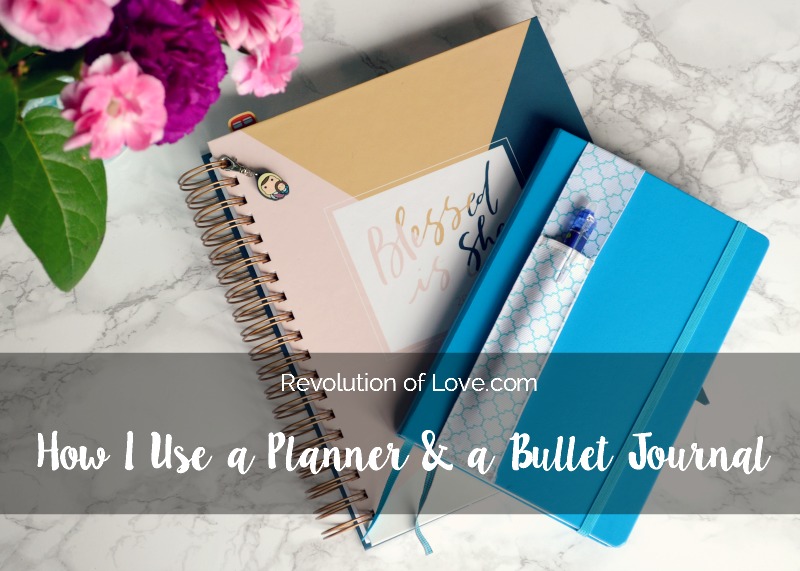 I have been a planner and journal lover since I was a little kid and learned how to staples pieces of paper together to make my own journal. In the winter of 2015, I switched from a traditional planner to a bullet journal and fell in love all over again. I had no intentions of going back to a regular planner. However, when Blessed Is She came out with their gorgeous liturgical planner I was really tempted to give it a try but didn't want to give up my bullet journal.
As I debated about it and reviewed over the bullet journals I had filled over the year, there was one thing that bothered me. I loved looking back at my monthly logs, various lists and journal entries but I really had no need to go over all my daily To Do lists. They were taking up space.
That's when I decided to use a traditional planner to keep track of all the appointments, To Do lists, grocery lists and such that I didn't want to keep for the future. For my bullet journal I would keep all my monthly logs, monthly reviews, journal entries, workshop/podcast notes and the things I wanted to keep for the future. Here is a peek at how I set it up. First, here is my planner.
Blessed Is She Planner
2018 UPDATE: This post is about a previous version of the the Blessed Is She Planner. The new 2018-2019 Blessed IsShe Planner is now available for pre-order. Order here.
* * * * *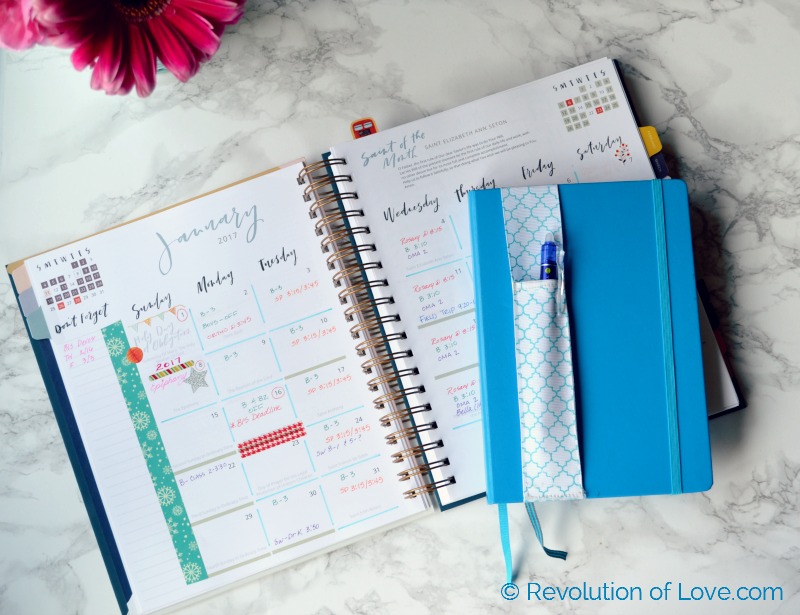 My Blessed Is She planner has a traditional calendar, which I prefer.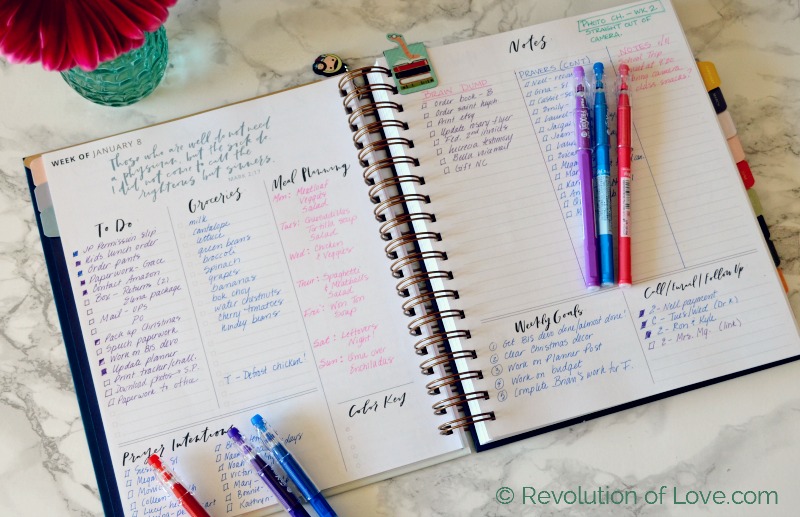 The weekly overview has my Sunday brain dump/TO DO list, meal planning, grocery list, prayer intentions, weekly goals and contact list. There is also a color key to keep track of daily goals (ie. prayer, drinking water, exercising, etc) but I'm not using it at the moment since I have a larger tracker in my bullet journal.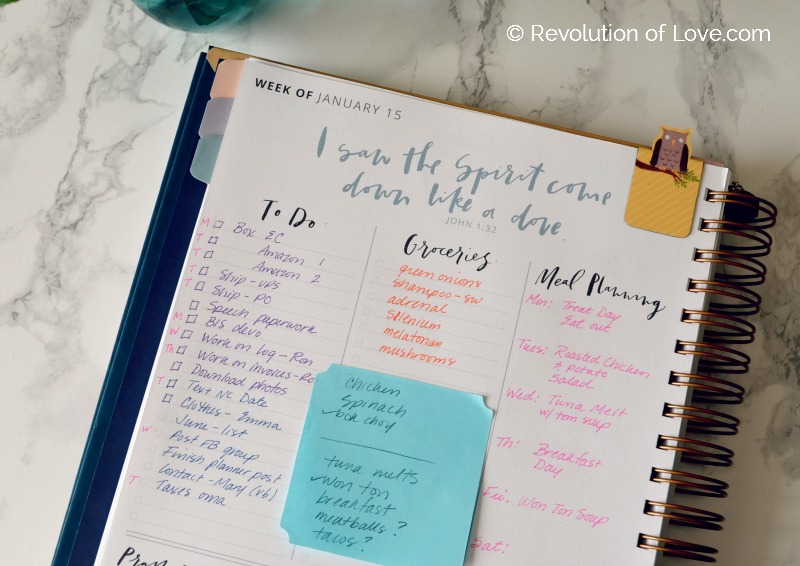 On Sunday night, I sit down and do a brain dump, literally writing down everything in my head that I need to get done in the future. Then I go back and mark which days that task should be assigned. I leave blank the items that can wait until the important stuff is done.
When I plan my weekly meals, I use a post it to jot down food I need to eat up that week and meal ideas. Then I look over my schedule for the week and see which meals can be cooked when. Once I assign a meal a day, I can toss the post it. And if I do need to update the menu, my pens are erasable so no problem. 😉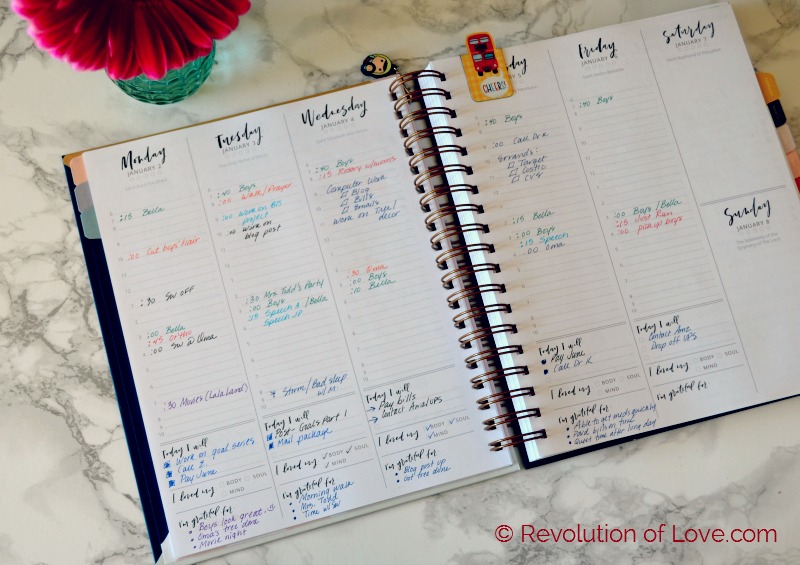 In the weekly schedule page, I keep track of the places I need to be or work I have to do.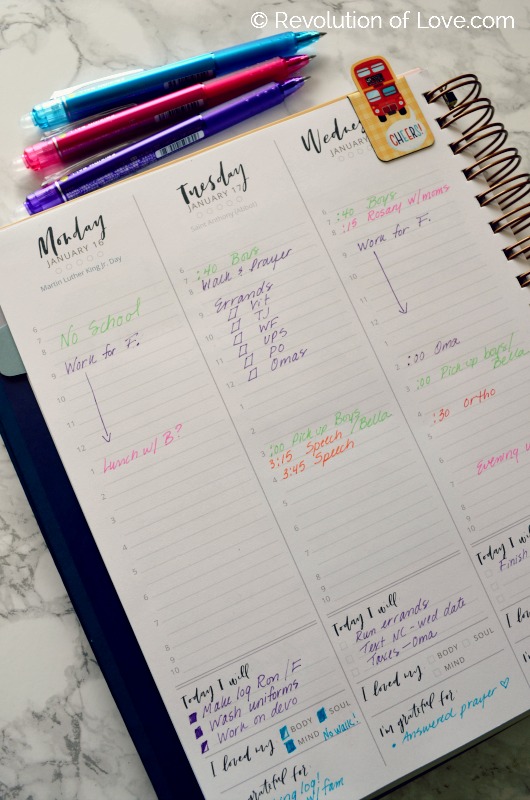 There is a space for the things I must get done that day. I color code my schedule. Purple for work and errands, green for school, orange for speech therapy and doc appointments and pink (or red) for activities to attend.
Then I take the items from my earlier brain dump and assign them to their days. If I have a long list of errands, I just add it on the schedule.
At the end of the day I check of my must do's, if I took care of myself and two or three things I'm grateful for (that I later add to the gratitude log in my bullet journal.)
My Bullet Journal
Next up is my bullet journal. I use the Leuchtturm2017 Medium Sized Hardcover journal. I prefer graphed but there are also lined and dotted versions. I talk about why I chose this journal here.
I started a new book for 2017.
The index and key.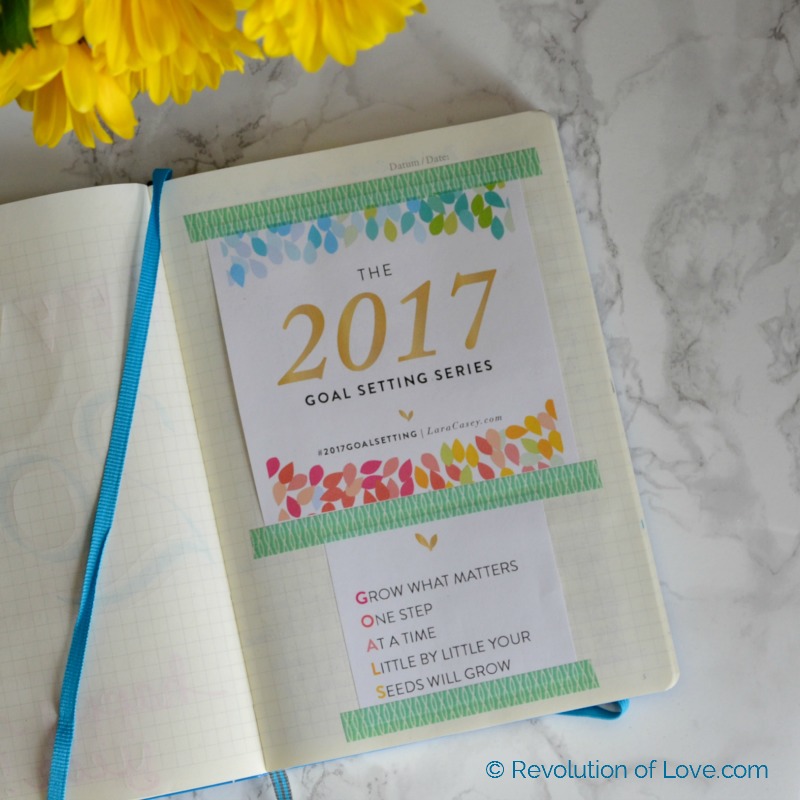 For the new year, I completed Lara Casey's Goal Setting Series. (I blogged all about it here.) Instead of filling out her powersheets, I used my bullet journal. Here are some sample pages.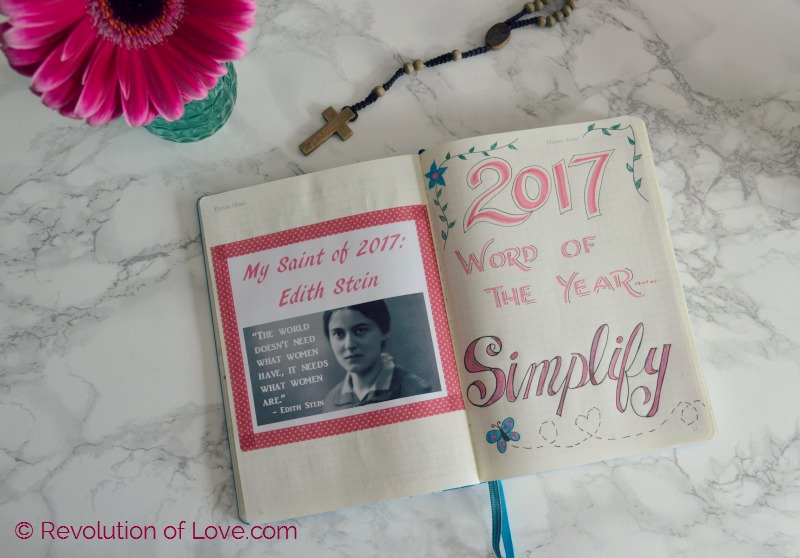 My saint of the year. (I used Jen's Saint Name Generator to find one.) My word of the year – Simplify. (I explain how I chose this word here.)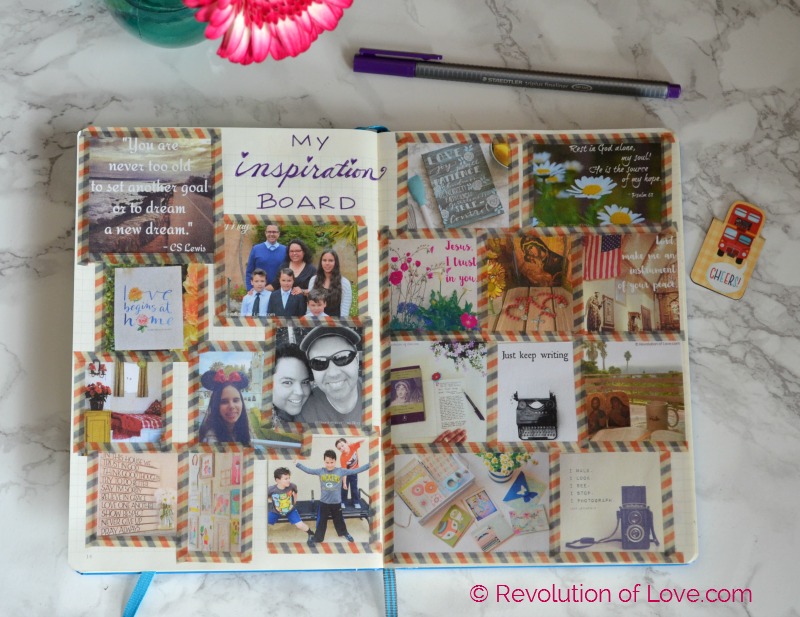 My inspiration board. (I wrote more about that here.)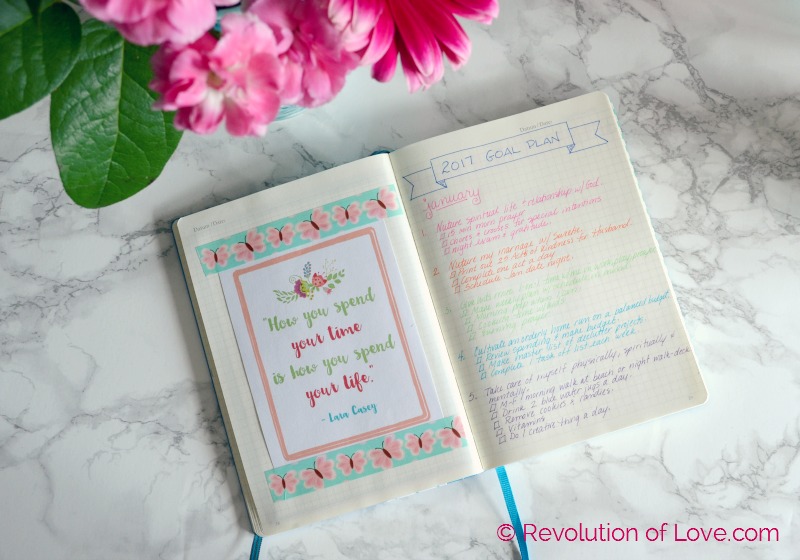 On the fifth day of the series, I finally decided on my goals for 2017.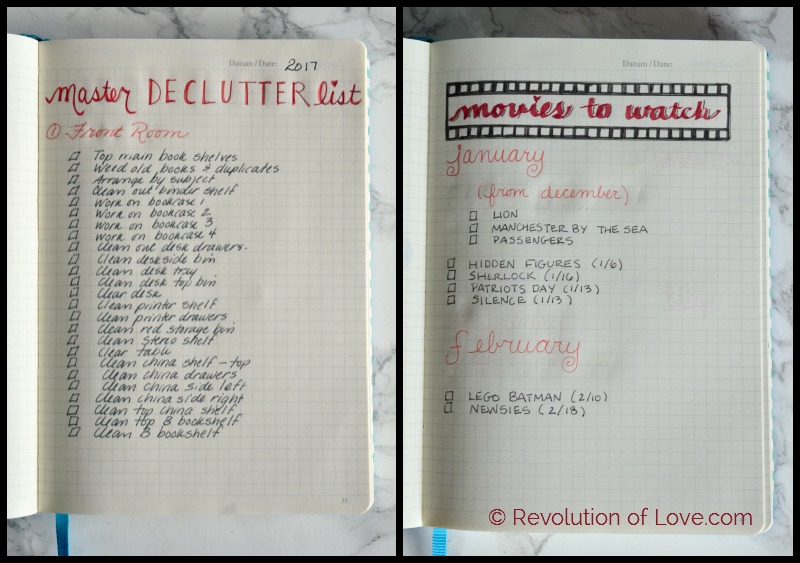 After my goal section, came my lists such as my house project list and movies to watch.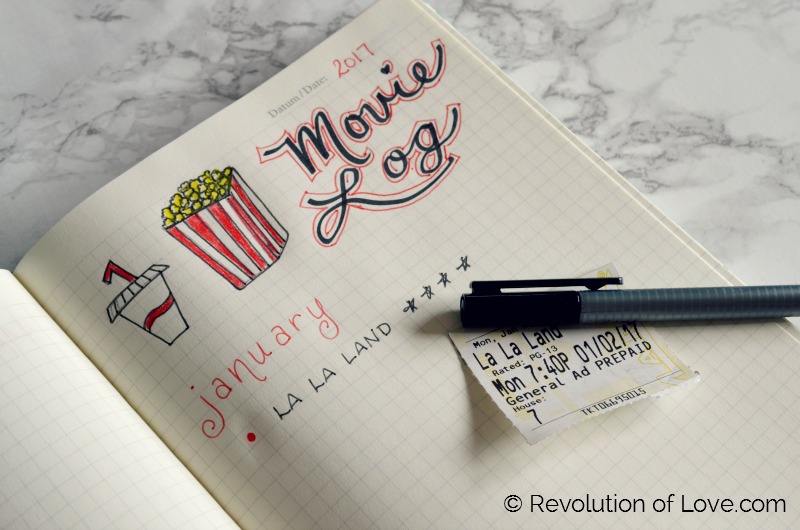 My movie log of the movies I've watched.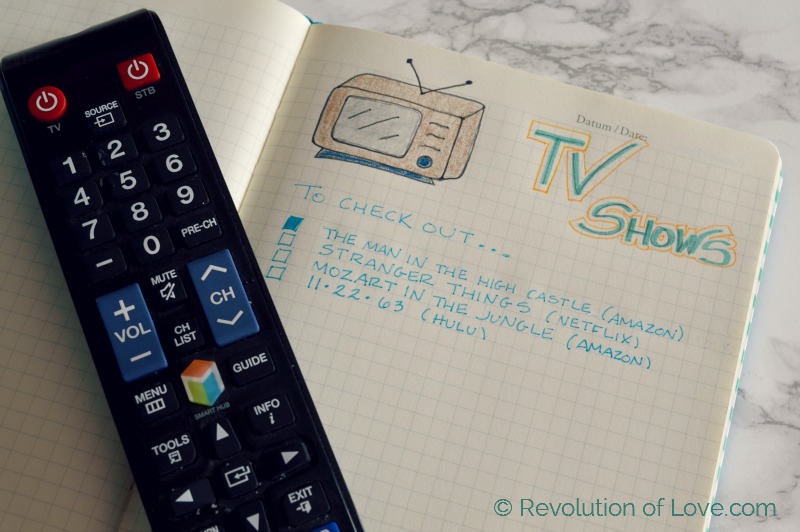 My list of TV shows to check out.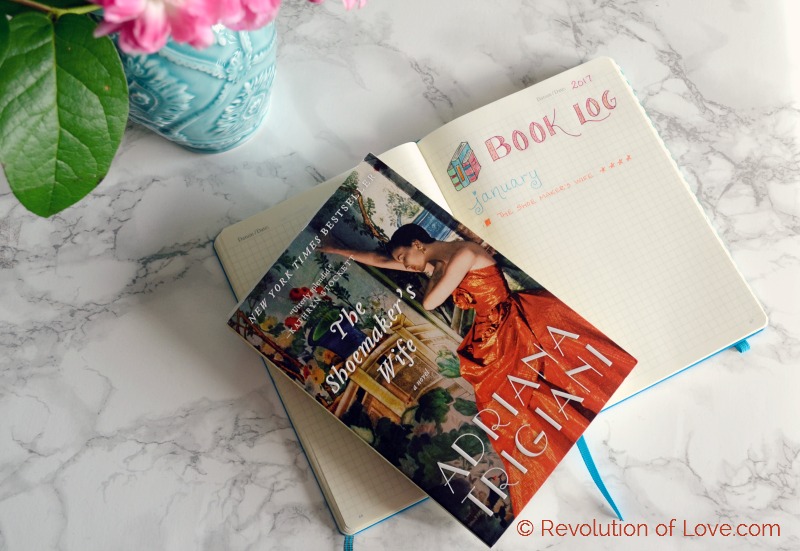 My book log for the books I've read.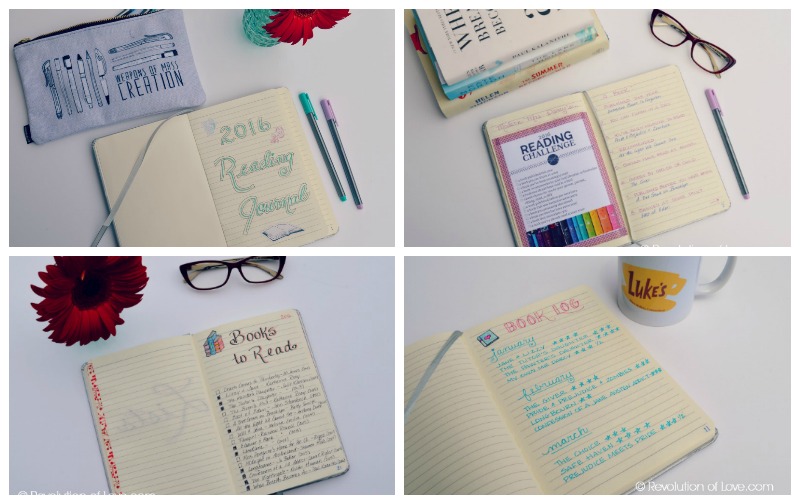 Last year I started a separate bullet journal for reading where I keep greater details such as book challenges, lists of books to read and character notes and book quotes.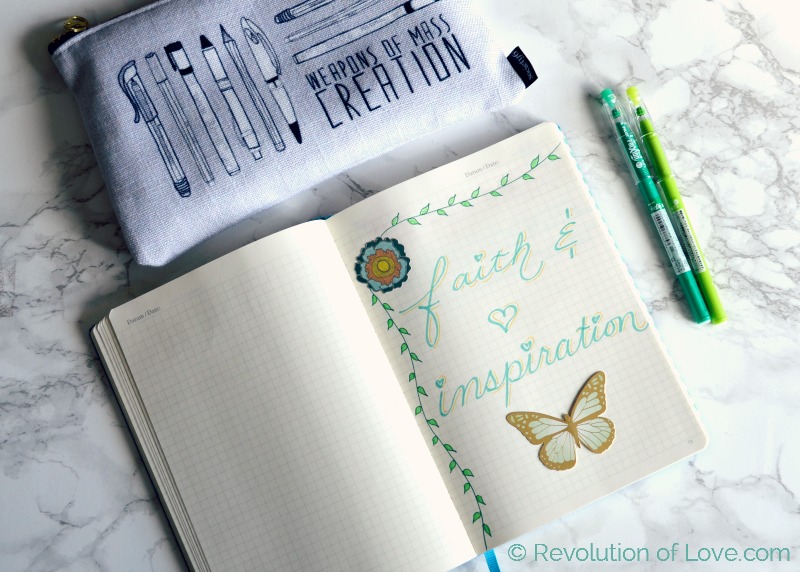 After my lists I have my faith and inspiration section.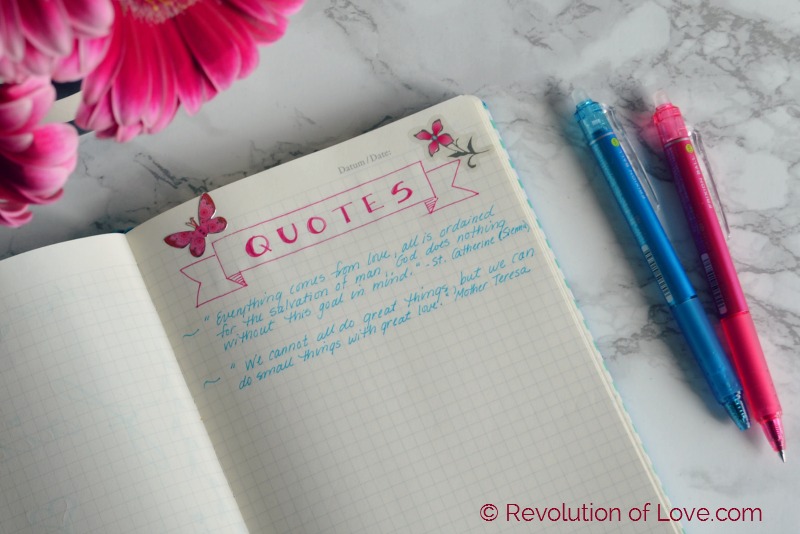 I have things like favorite quotes.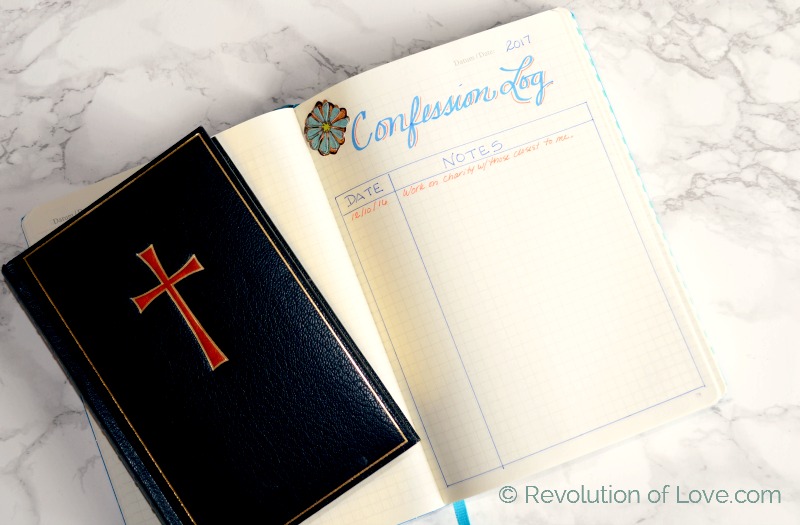 I don't need a list of liturgical feast days since I have one in my BIS planner but I added a confession log.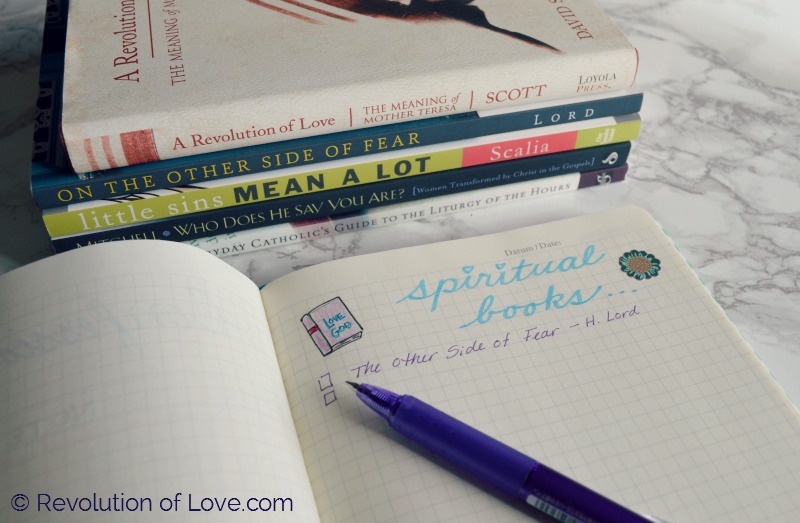 And a list of spiritual books I'd like to read this year.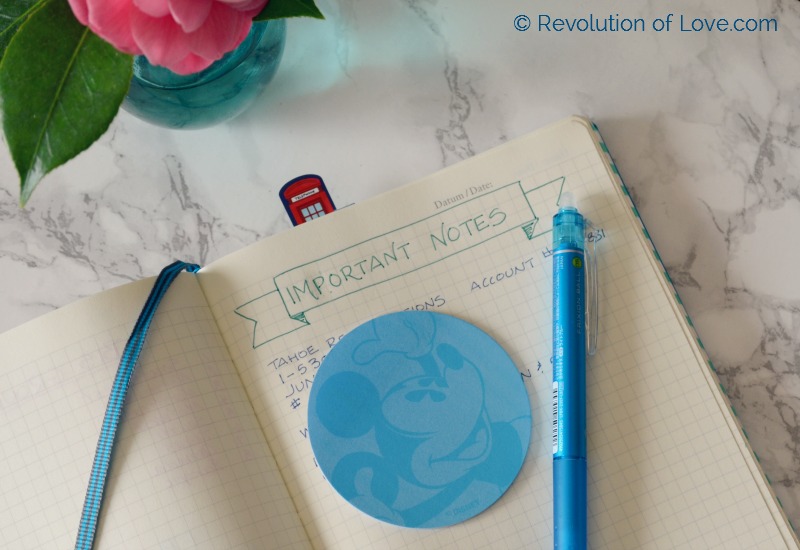 After that I have other information such as Important notes, pen pal addresses, and podcast and workshop notes.
In my monthly section I have…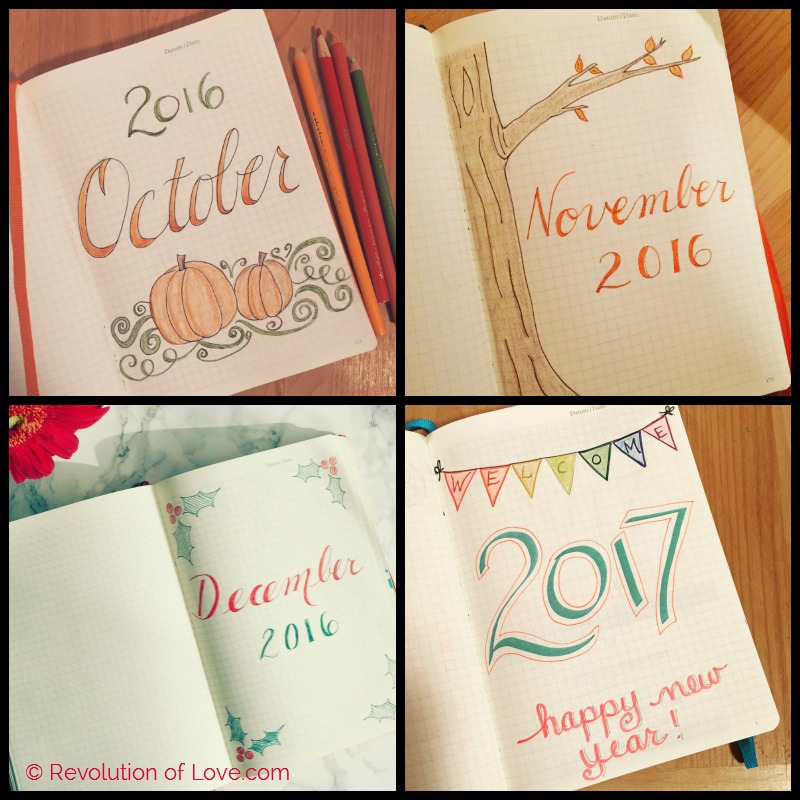 My monthly title page.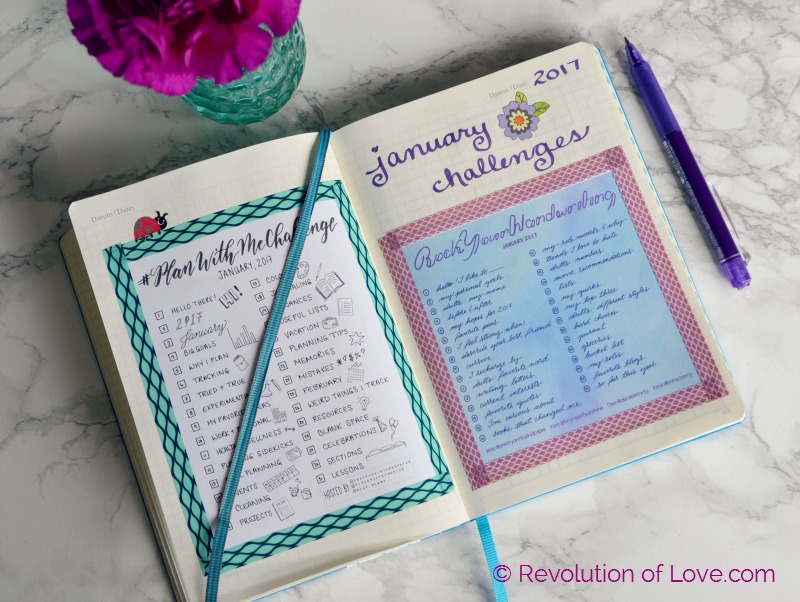 Monthly challenges such as Plan with Me Challenge, Rock Your Handwriting Challenge and the 52 Week Dogwood Photography Challenge.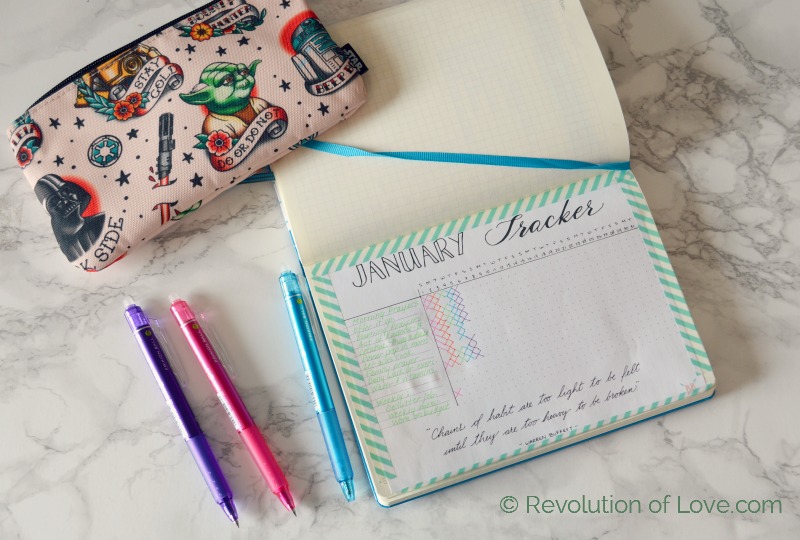 When I review my day at night, I mark off it in my monthly tracker if I completed my goals of the day. I printed this tracker from Bohoberry.com.  It is free to those who subscribe to her Tribe Resource Library.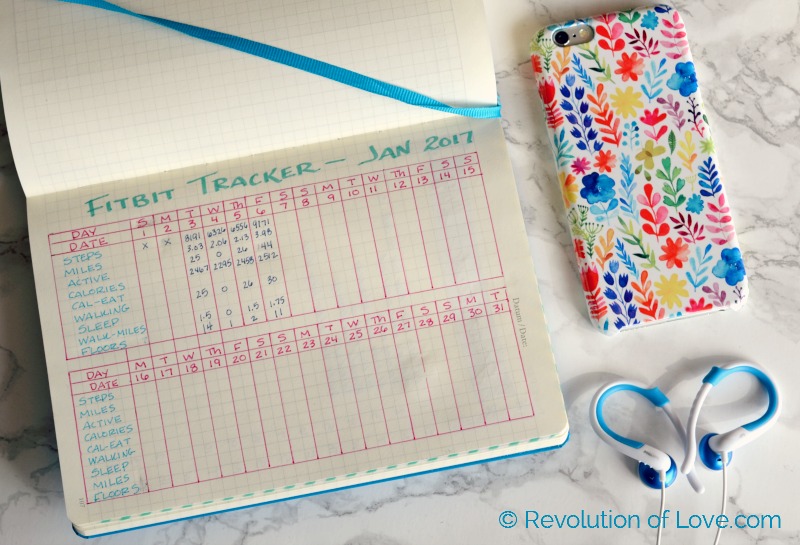 Next is my Fitbit tracker log.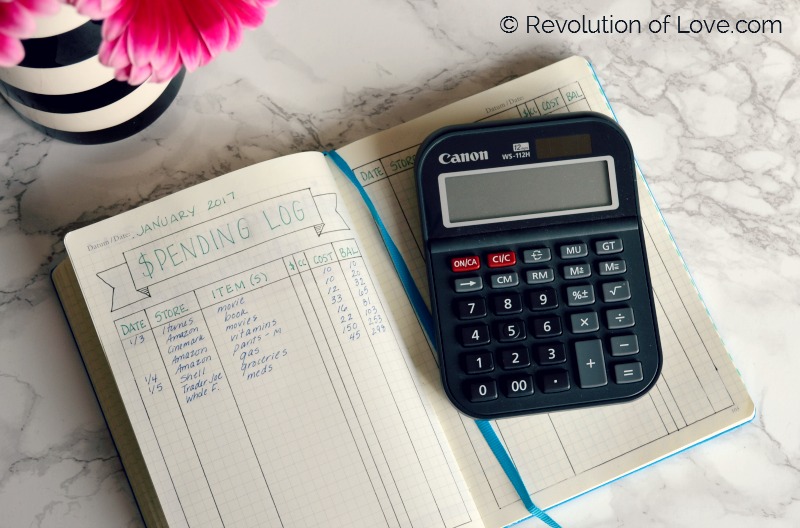 Monthly spending log.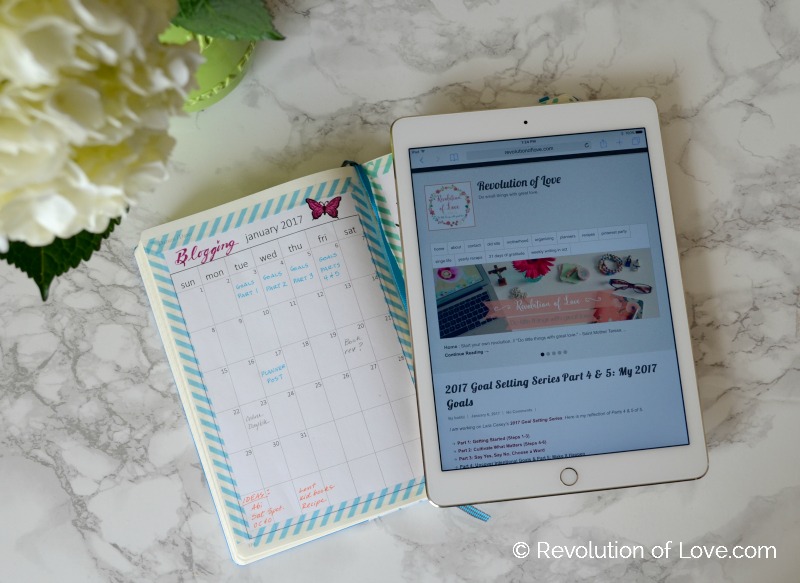 Monthly blogging calendar.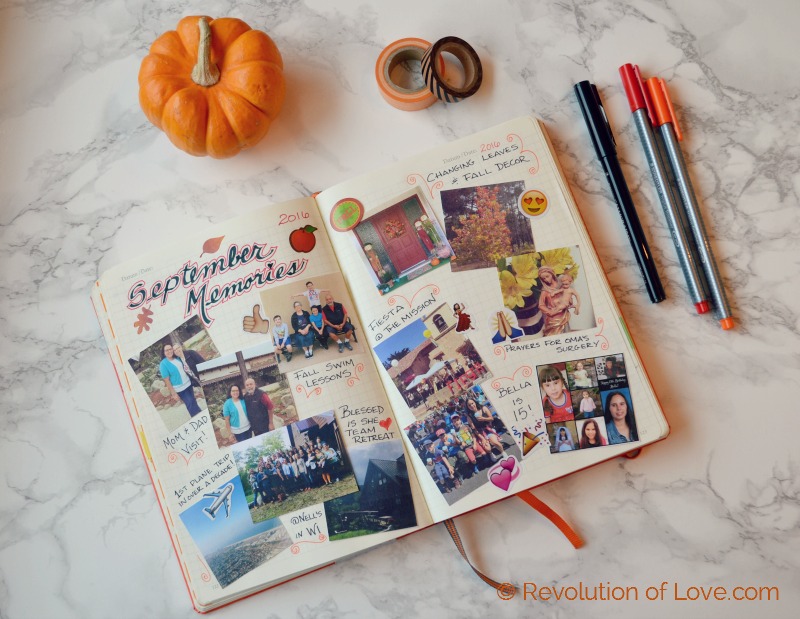 At the end of the month, I add highlights of the month. Here is a sample from September 2016.
I'm two weeks into January and so far it has been going really well but it will take a few more months to see just how much I like using both systems. I'll keep you posted!
Daily/ Nightly Review
If you are not used to planning, pick a time that works for you. Maybe it is in the morning or while the kids nap in the afternoon or on the train going to work or at night. I wrote previously:
Some people like to do their planner review in the morning before the day starts. Since I'm not a morning person, all my energy in the morning is focused on simply getting myself out of bed, ready and my four kids fed and off to school by 7:40 AM. Yeah, a morning planner review if not happening. For me, an evening review after all the kids are tucked in bed and kissed good night, the dishes are done and the next day's lunches are made…this is my me time to unwind.
This still holds true. In the evening I take some time to say my night prayers and write in my prayer journal and then review over my day and planner. If I'm beat, I keep it short. If I have energy and am feeling creative, I'll draw in my bullet journal while Brian reads or while we watch a TV show. The main thing is to make sure I use it every day and I write everything down. (Or I WILL forget.)
It used to be that if I couldn't decorate my bujo and make the page pretty, I wanted to wait until I had more time. I've learned to forget about it. Just get the info down. Besides, that is the essence of a bullet journal. Short and easy to use. I just happen to use a decorated, hybrid version. If I have time to make it pretty, fine. But if I don't, it doesn't matter. Just. Get. It. Done.  😉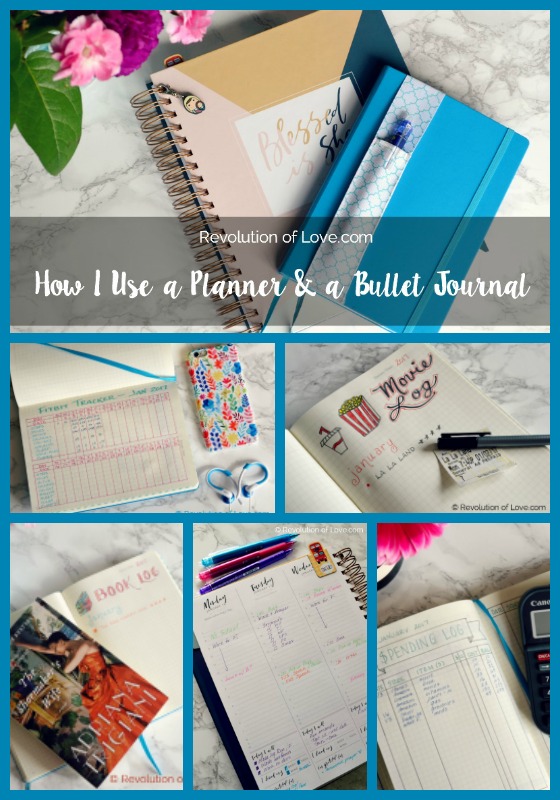 * * * * *
UPDATE: The 2018 Blessed Is She Liturgical Calendar Planner (Jan – Dec 2018) is now available to order here.
For those interested in bullet journaling or want more info on how and when I plan,  you can find my other bujo posts here: How I Use My Bullet Journal and How I Use My Bullet Journal – Spring 2016 Update.
Lastly, I always get emails and messages asking where I bought my supplies, so here is the info in advance.

 Staedtler Color Pen Set, Set of 36 Assorted Colors – These are my favorite regular thin pens.

When I write in my planner, I MUST be able to erase. I used to use pencil until I found these awesome erasable pens. I have three sizes:
The thicker Pilot Frixion Colors Erasable Markers.
The thinner Pilot FriXion Pencil, 0.7mm Ballpoint Pen, 12 Colors Set. (Also available in the 24 pen set.) 
The even thinner Pilot Frixion Ball Knock Retractable Gel Ink Pen, 0.5mm, 10 Colors Set.
(One note: It has been said that the ink of these pens disappear in extreme heat but the ink will reappear if book is placed in the freezer. I have never had an issue but I also don't live in extreme heat.)
Weapons of Mass Creation Pouch – Love this. It's available in three sizes. 🙂
Star Wars Tattoo Flash Nylon Pencil Case 8 x 4in – When I wrote this post, this pencil pouch was sold out. I am adding the link anyway in case they get more or you find another Star Wars style you may like. 
YOUSHARES 120 Slots Pencil Case – I use the above Star Wars pouch for one set of erasable pens that stay with me and my planner in my purse. The other pens and pencils I keep in this larger case that stays at home. I bring it out when I have time to decorate my bullet journal.
London Magnetic Bookmarks – These little book magnets are cute ways to mark my pages. 🙂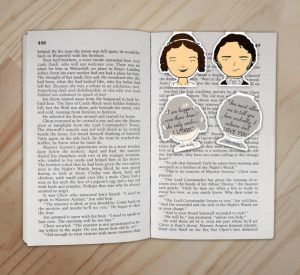 Photo credit: Jane's Tiny Things
I just found these and added them to my planner – Elizabeth and Mr. Darcy from Jane's Tiny Things. So cute!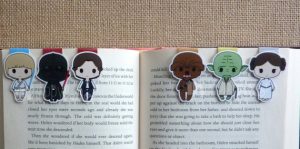 I LOVE these Star Wars book markers. I change them around my planner to suit my mood. (Dath Vader hangs out by the Mondays. Han by the Fridays. 😉  ) You can find them at HappyHelloCo at Etsy.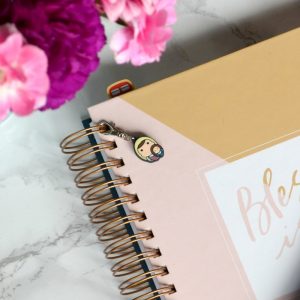 Tiny Saints Charm – We have lots of these cute saint charms on backpacks and adding my patron saint (also patron of mothers) to my planner seemed appropriate. 🙂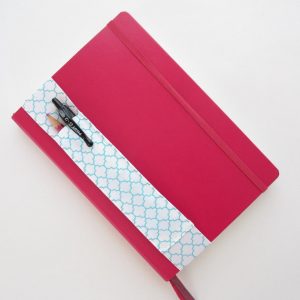 Photo credit: LuckyDuckDesigns. – I purchased this bullet journal pen holder from this great etsy shop. I love her holders and have a few designs. I also recently found this shop that sells journal pen holders. I ordered one but haven't received it yet.
Luke's Diner Mug – Just for fun!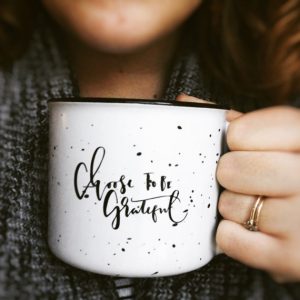 Although, this mug from FawnlyPrints is my current fave.
Okay, I hope you enjoyed this peek into my planners. If you have a question I didn't cover, just let me know. Happy planning!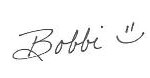 PS – You can follow RoL on Bloglovin, Feedly or another news feed. If you are a social media fan like me, we can stay in touch through Facebook, Twitter, Instagram, Pinterest, GoodReads, Letterboxd, or Spotify, 😉
PPS – Disclaimer: "Revolution of Love.com is a participant in the Amazon Services LLC Associates Program, an affiliate advertising program designed to provide a means for sites to earn advertising fees by advertising and linking to Amazon.com."
In other words, if you click on my affiliated links and make a purchase, I get a small compensation that goes towards keeping the blog online. Big hugs to those who click and help support the blog! xoxo 🙂
Save
Save
Save
Save
Save
Save
Save
Save
Save
Save
Save
Save
Save
Save
Save
Save
(Visited 1,554 times, 1 visits today)